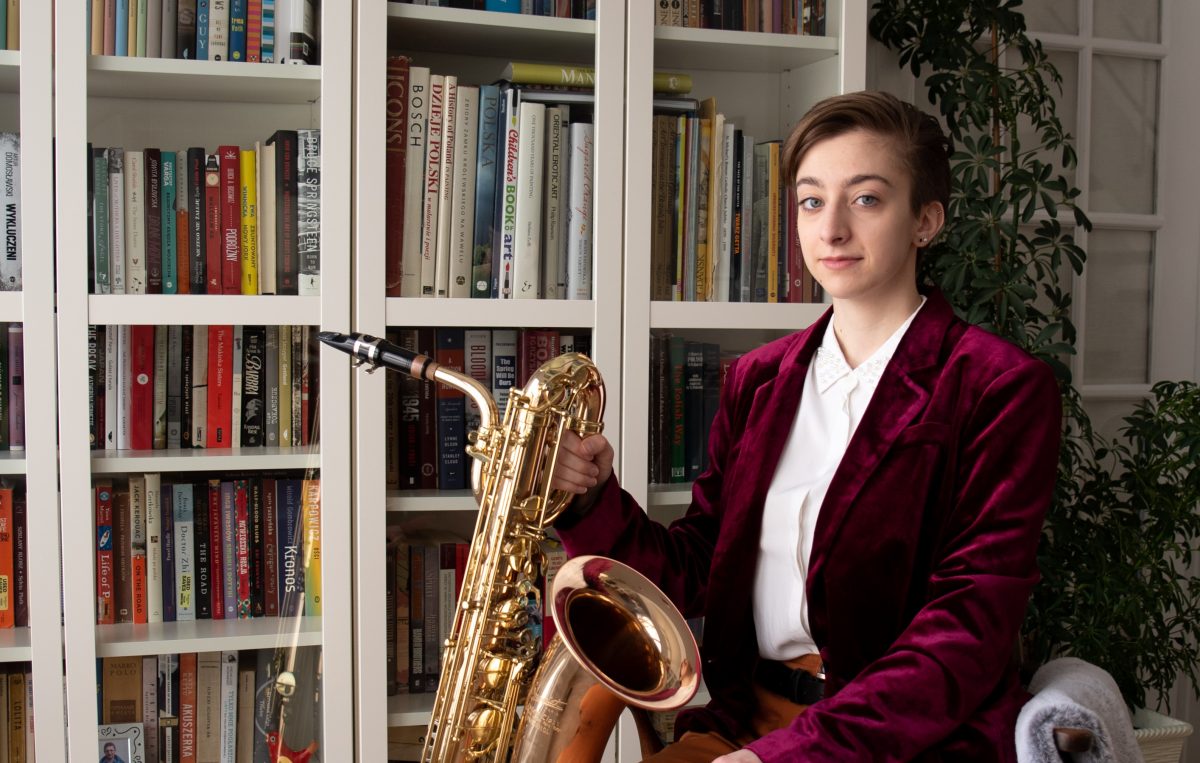 Anna Blackmore pours empathy into her art
2020 DFOM graduate Anna Blackmore is multi-instrumentalist and multi-disciplinary artist
June 8, 2020 —
NOTE: We in the Desautels Faculty of Music are incredibly proud of our students. While COVID-19 is sidelining in-person commencement ceremonies around the globe, we want to find alternate ways to celebrate our graduates and give them the recognition due to them. Until we can gather together to properly applaud the years of study and practice that have led to this milestone, please join us in congratulating our 2020 Desautels Faculty of Music graduates.
Today we celebrate Anna Blackmore!
We could say to be on the lookout for rising star Anna Blackmore, but chances are, you've already seen her. Even before she entered the Desautels Faculty of Music, she was already turning heads with her art.
Empathy in the notes
As a student at Glenlawn Collegiate in Winnipeg, Blackmore contributed to the school's literary magazine, Ignite. A poem she wrote, called "And I am Fine" was made into a short film featuring Blackmore on screen reading her poem. Incredibly, the heartbreaking and poignant piece, written from the perspective of a child witnessing domestic violence, has garnered over 573,000 views on YouTube since it was released in 2014.
The world's most successful artists, whether visual, literary, or musical, have keen insight and empathy regarding the lives, minds, and feelings of others, which they then harness in their art. Even before reaching adulthood, Blackmore had already shown that she had mastered the ability to observe and relate.
In the Desautels Faculty of Music, Blackmore, who has earned her Bachelor of Jazz Studies, focused on baritone saxophone, an instrument she has played since high school. However, like any talented jazz woodwind player, she is a multi-instrumentalist who also can be called upon to deftly play clarinet, bass clarinet, alto saxophone, and flute, as well.
She performed in both the faculty's small jazz ensembles and the University of Manitoba Jazz Orchestra, where she regularly charted arrangements for the ensembles and contributed her own original compositions. Though it must have been a thrill to hear her peers perform her works, she is humble when it comes to listing her favourite pieces.
"It was an inspirational experience getting to play compositions written and arranged by my professors Derrick Gardner and Jon Gordon throughout my degree," she says.
Blackmore has recently begun uploading some of her jazz ensemble's stunning performances to YouTube, which can be seen HERE.
While playing with Desautels ensembles as a student, Blackmore was already diving into her professional career. Known as a fantastic player, she was recruited to perform with the Winnipeg-based band Apollo Sun during their 2018 summer tour. She was also chosen to perform Jacek Beimcik's soulful, sax-driven "Broken Heart," in 2016.
Faculty mentors
Blackmore's talent was evident early on, and while in high school, she began exploring the idea of studying music at university, and explored the Desautels Faculty of Music.
"I knew I wanted to pursue music as a career after attending the U of M Summer Jazz Camps in high school where I met my current professors," she said of the moment that sealed the deal for her.
"Jon Gordon was my mentor throughout my degree and I'm grateful for the support, nurturing, wisdom and kindness that he gave me," says Blackmore of her time spent working with Gordon, associate professor of jazz saxophone in the Desautels Faculty of Music, who was also Blackmore's ensemble leader and major practical study instructor.
"Anna is a very special musician and a very special person," says Gordon of Blackmore.
"I enjoyed getting to know and work with her immensely! Her growth as a saxophonist, doubler, improviser, composer and arranger during our years together has been exceptional!" he says of her many musical talents.
"I'm very proud of her and her journey thus far," he adds.
Credit Recital
Due to the disruption caused by COVID-19, the Desautels Faculty of Music had to cancel all of its remaining events for the 2019-2020 season. In addition to final ensemble performances, about 40 student credit recitals were cancelled, including those of graduating students, whose final credit recitals serve as a sort of capstone project showcasing what they have learned throughout their studies.
Fortunately, Blackmore's recital was scheduled just prior to the closures, and she performed beautifully, giving the world a preview of what the future holds for her, musically.
"Anna has a real artistic vision that has begun to emerge in her music in recent years, as was clearly in evidence during her recital," says Gordon.
"She has a great deal to offer on many levels as a musician, and I can't wait to see what the next few years bring for her!" he adds.
Acknowledgements
"I would like to thank my friends and family for their support," says Blackmore.
Whatever the future of jazz holds, we know that Anna Blackmore will be at center of it, serving as the very heartbeat that pours emotion and beauty into every note. Congratulations, Anna!