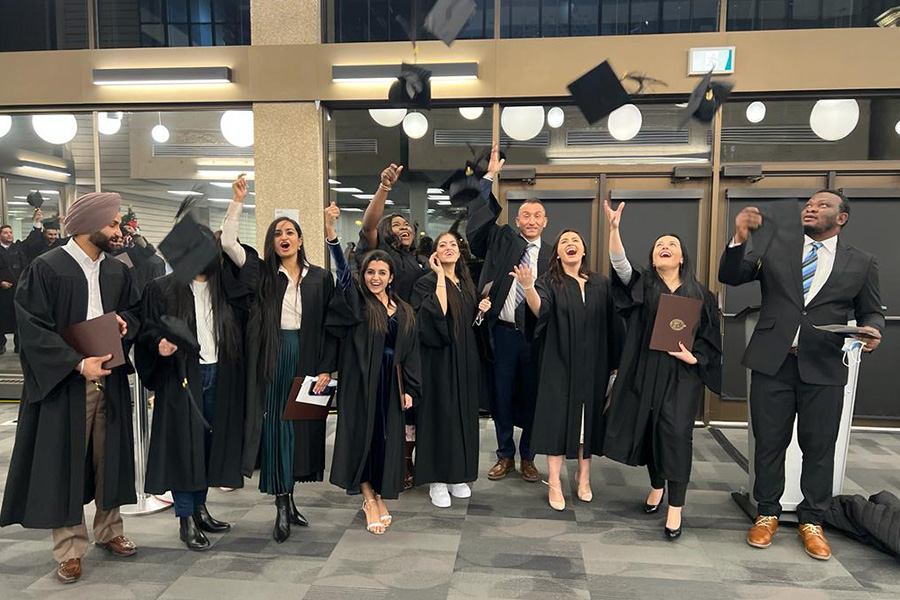 An evening to celebrate graduation
Intensive program package students mark their grad
December 5, 2022 —
For Applied Business Analysis (ABA) grad, Claudia Martinez, celebrating her graduation was a moving and emotional experience for both her and her family.
"My husband was so proud of me. My oldest son – he is attending actuarial studies at UM – finally saw the results of my effort. It was not easy. It has been something challenging for us. We have been waiting for this moment. It was a beautiful night," says Martinez.
The Nov. 28 evening celebration, held in University Centre, marked the graduation of 156 students from the ABA, Applied Human Resource Management, and Applied Business Management intensive program packages offered by Extended Education. An additional 52 students also graduated from Extended Education's part-time programs.
Claudia Martinez, Applied Business Analysis
"The program really performed for me. I was looking for a program to complete me, to open a future pathway here," says the Certified Public Accountant (CPA) who worked at a bank back home in Columbia and completed an Industry Placement with Cambrian Credit Union. "I worked on projects to make processes more efficient and more profitable for companies. Now I am working as a Business Analyst (BA) for Bison Transport. I am so lucky."
The best part of being a BA is the opportunity to improve and create new things, she says. "I help people to understand what they need. I help create new services to increase profits, grow the company and fulfill their goals."
A friend recommended the program to her, and she also recommends it. "With ABA, you have a good opportunity to find a job and to grow. Business Analysis is not something monotonous. You need to think, speak with others, find new ways to do things differently. You can also add it to your resume. It helps."
During her studies, she met others in the financial services and accounting industries and appreciated the support of her instructors and Extended Education staff. "I had good conversations with them about the future. Their advice was so useful for me, as a new person here. They were so supportive."
Martinez encourages everyone to continue their lifelong learning. "I would recommend you get out of your comfort zone. Do something different. Find something you enjoy. Maybe you don't know what that is yet. Find opportunities."
Theodora Vavrinek, Applied Human Resource Management
Applied Human Resource Management (AHRM) grad, Theodora Vavrinek was also excited to celebrate her graduation.
"I am more than happy to have come this far. Here I am today. I am so full of joy. It was worth the journey," says the graduate from southern Nigeria.
A friend referred her to the program after applying to it herself. In Nigeria, Vavrinek had earned two degrees: a BA with a major in religion and a minor in business administration, and an MBA in business administration. She had also worked in the financial industry and was a bank manager.
"I managed people and liabilities. I met targets," she says. "I was interested in studying human resources because I did a bit of HR in my previous job experience. This was an awesome program. When it was done, I didn't want to believe I was finished so soon."
Now Vavrinek will pursue her professional designation with CPHR Manitoba and look to work in HR recruitment, training and development.
"I like to help people, to know where they are, how they need help, and to see what I can offer."
Vavrinek completed her program's Industry Placement at Canadian Red Cross. There, in Shared Services, she took part in onboarding and offboarding volunteers and employees, and she met a lot of people. "I would like to thank them for the opportunity. I would also like to thank the program's instructors and staff. This program opened me up to the Canadian workplace style and laws, so I know how to address the needs of people and match their skills and expectations with jobs. I am better able to advise."
For anyone considering going back to school, she says, she definitely recommends it. "It's never too late to add something to what you already know. If you are eager to learn, give it a shot. You will get a lot out of it."
She also recommends the AHRM program, and has encouraged two friends to apply. "It is definitely worth the money, time and resources."