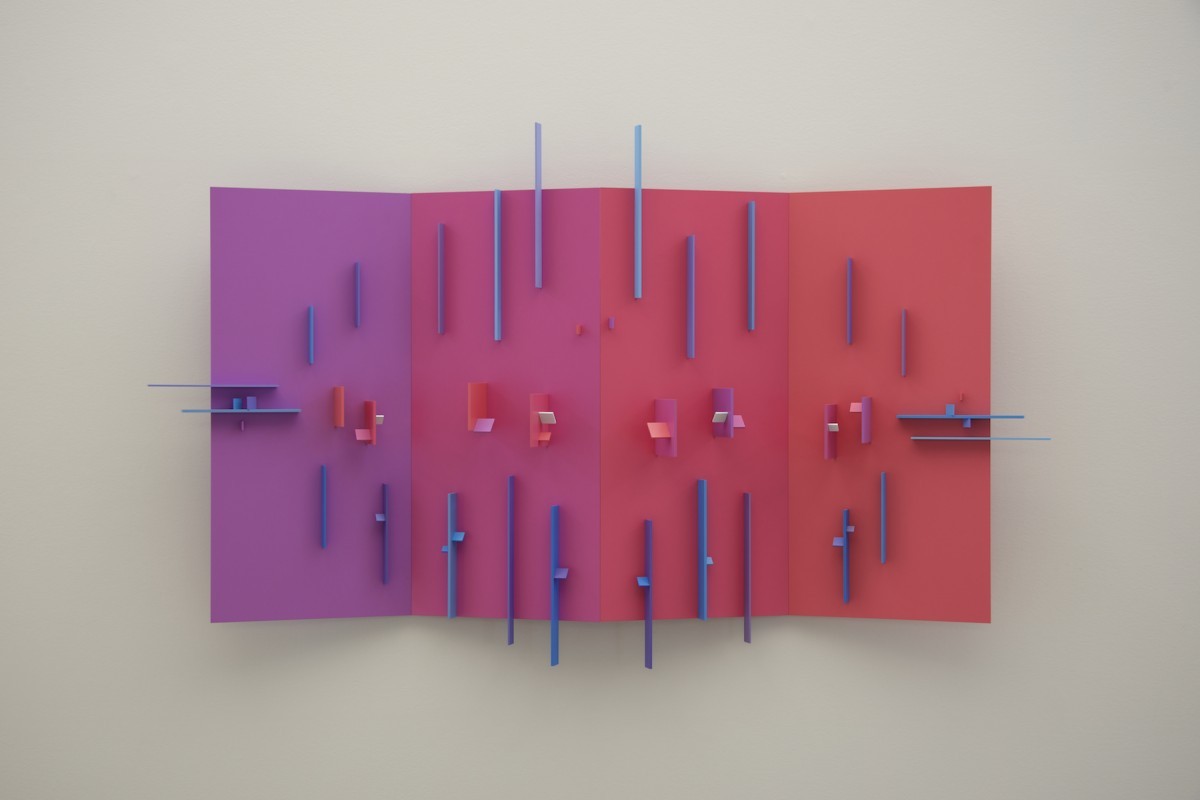 An art at the mercy of light
Exhibition of recent work by Eli Bornstein opens today at the School of Art Gallery
November 12, 2013 —
Curated by U of M's art historian Oliver Botar, An Art at the Mercy of Light opens at the School of Art Gallery on November 12. The exhibition highlights how Eli Bornstein places sensory experience, particularly of colour, light and structure at the centre of attention. One of Saskatchewan's most influential artists for more than five decades, Bornstein is recognized internationally for his work with abstract reliefs.
Bornstein is best known to Winnipeggers as the creator of the large public art project Structurist Relief in 15 Parts (1962) that was formerly displayed on the south wall of the now destroyed modernist architectural icon, the Winnipeg International Airport terminal of 1963-64. This momentous relief is now in the process of being restored prior to being installed on the exterior of the Max Bell Centre at the University of Manitoba's Fort Garry campus in the spring of 2014.
"Despite the fact that Eli Bornstein is now 90 years old, since he is still actively producing art, this is not a retrospective exhibition," remarks curator Botar, "but rather one that focuses on the artist's recent production."
Bornstein: "It is only through a slow, patient process of learning and seeing in [art and nature] that one gradually comes to see differently and with 'new' eyes."
Bornstein has written "It is only through a slow, patient process of learning and seeing in [art and nature] that one gradually comes to see differently and with 'new' eyes." Due to the contemplative nature of this exhibition only 15 reliefs and 5 free-standing constructions have been selected for inclusion.
"Showcasing the talents of one of the prairie's most significant artists," comments Mary Ann Steggles, acting director of the School of Art, "as well as the scholarly efforts of one of our senior faculty members, is a welcome opportunity for the School of Art Gallery."
In this exhibition Botar contextualizes Bronstein's ongoing practice in relation to both early Modernist movements and the current revival of perceptual and experiential art. Botar also calls attention to Bornstein's singular achievement as editor and publisher of Canada's longest-running art journal, The Structurist (1960-2010).
The exhibition catalogue for An Art at the Mercy of Light: Recent Works by Eli Bornstein will be available for purchase by early December 2013. Many issues of The Structurist are currently available in the U of M Book Store and some are available for reading in the "Structurist Study Centre" set up in the gallery.
 (Scroll down for more images.)
Exhibition opening and artist talk and tour: Opening: Tuesday, November 12 from 2:30pm to 4:30 p.m. Bornstein gives a talk on his work and a tour of the exhibition later that day from 7:30pm to 9:00pm.
The exhibition runs to February 21, 2014. The exhibition, artist's talk/tour and reception are all free and open to the public.
School of Art Gallery 255 ARTlab, 180 Dafoe Road, 204-474-9367
Hours: Monday to Friday, 9 a.m. to 4 p.m. Admission is Free.
Parking: ARTlab is located on Dafoe Road next door to Tache Hall and Drake Centre. Find nearby parking by following this link.
More about the Artist:
Born in Milwaukee, Bornstein studied art in Chicago and Paris, and received his Master of Fine Arts from the University of Wisconsin. He moved to Saskatoon in 1950 to teach in the University of Saskatchewan Fine Arts Program, where he made significant contributions as a scholar, lecturer, and writer.
Bornstein is best known for his Structurist reliefs. His early drawings, paintings, prints and sculptures were based on nature, and later incorporated abstract and Cubist techniques. During a sabbatical in Italy and Holland in 1957, Bornstein began to experiment with colour, form, and space within the medium of the relief. Over the course of his career, his approach to the relief has been refined, both with regard to colour and format. The reliefs exhibit subtle shifts in colour under changing light conditions.
Bornstein has participated in solo and group shows in Canada, the United States, and Europe. His works are represented in numerous private and public collections. In addition to the Winnipeg International Air Terminal in Winnipeg (1962), major works have been completed for the Wascana Centre Authority building in Regina (1982), the Canadian Light Source building in Saskatoon (2004), and the Jacobs University in Bremen, Germany.
Images available upon request.
For more information contact Mary Reid, Director / Curator, School of Art Gallery, 204-474-9322 (Mary_Reid [at] umanitoba [dot] ca)