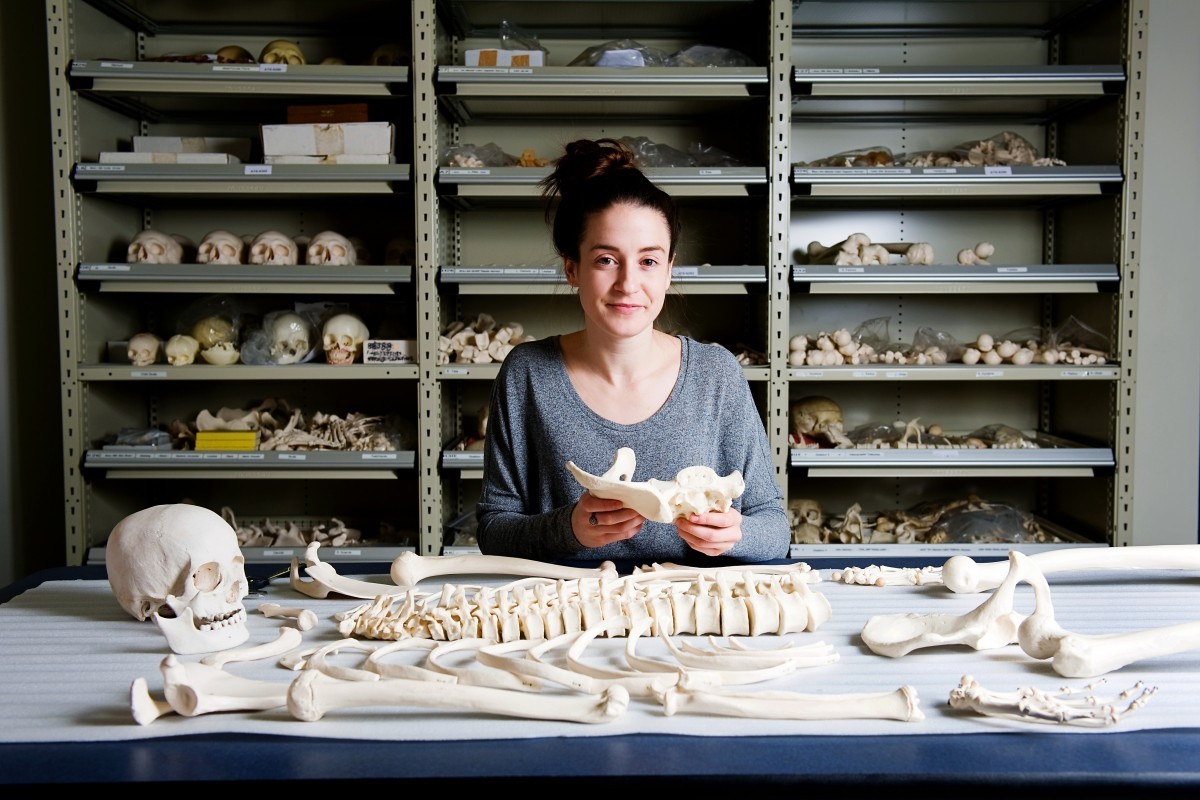 Amy Scott, an explorer into the past
Celebrating U of M graduate students
January 20, 2015 —
University of Manitoba graduate students do meaningful research that shows us time and again: discovery happens here. We have 47 doctoral and 90 master's programs that give students — like Amy Scott — the opportunity to change the way the world thinks.
PhD student of anthropology (Faculty of Arts) in the Faculty of Graduate Studies Amy Scott likes the challenge of trying to solve "the ultimate puzzle."
She studies ancient bones for signs of stress. Her investigative work is providing the world with a clearer picture of health through the centuries and improving our understanding of how humans react to stress today.
"It's the ultimate puzzle of trying to put all of these pieces together: where we've come from and how much we've changed—or how little we've changed," says Scott, 30. "There is so much we can learn from the past."
She hopes to advance our knowledge of the body's underlying stress mechanism and how it alters the skeleton — specifically, where stress strikes first and how that can be tracked archaeologically. She likens the skeleton to a record-keeper. When we're stressed, our bodies release steroids into our biological system, and this release over the long-term causes damage and leaves its mark on our bones. Scott has linked the physical signs of stress — such as lesions and growth stunting — to stressors like malnutrition and disease. A physical anthropologist, she travels to Denmark to analyze bones from the Black Friars 12th to 17th century population, unearthed decades ago during the development of the city centre of Odense.
She's loved learning about history since she was a kid. When Scott sits down to analyze archaeological remains, her thoughts go to the person who once was.
"You piece together these stories," she says. "You can start to picture what their lives would have been like and I think it's just incredible that you can ascertain that kind of detail by looking at a skeleton. By the end of the analysis, I can almost see the person they would have been."
She is most excited about her efforts to pioneer a new method for chemically detecting stress in archaeological bones using ancient proteins. She'll be among the first in the world to do so.
In 2012, Scott received the prestigious Vanier Canada Graduate Scholarship and in 2014 was named one of three finalists for the Social Sciences and Humanities Research Council's Impact (Talent) Award. She credits her supervising professor, Robert Hoppa, for encouraging her to develop her passion and carve her own path in research.
"He taught me to trust my instincts, to trust my ideas and follow them through."

Interested in pursuing graduate studies at the University of Manitoba? LEARN MORE
>> Further reading: See story on graduate student Emily Choy, an explorer in the far North