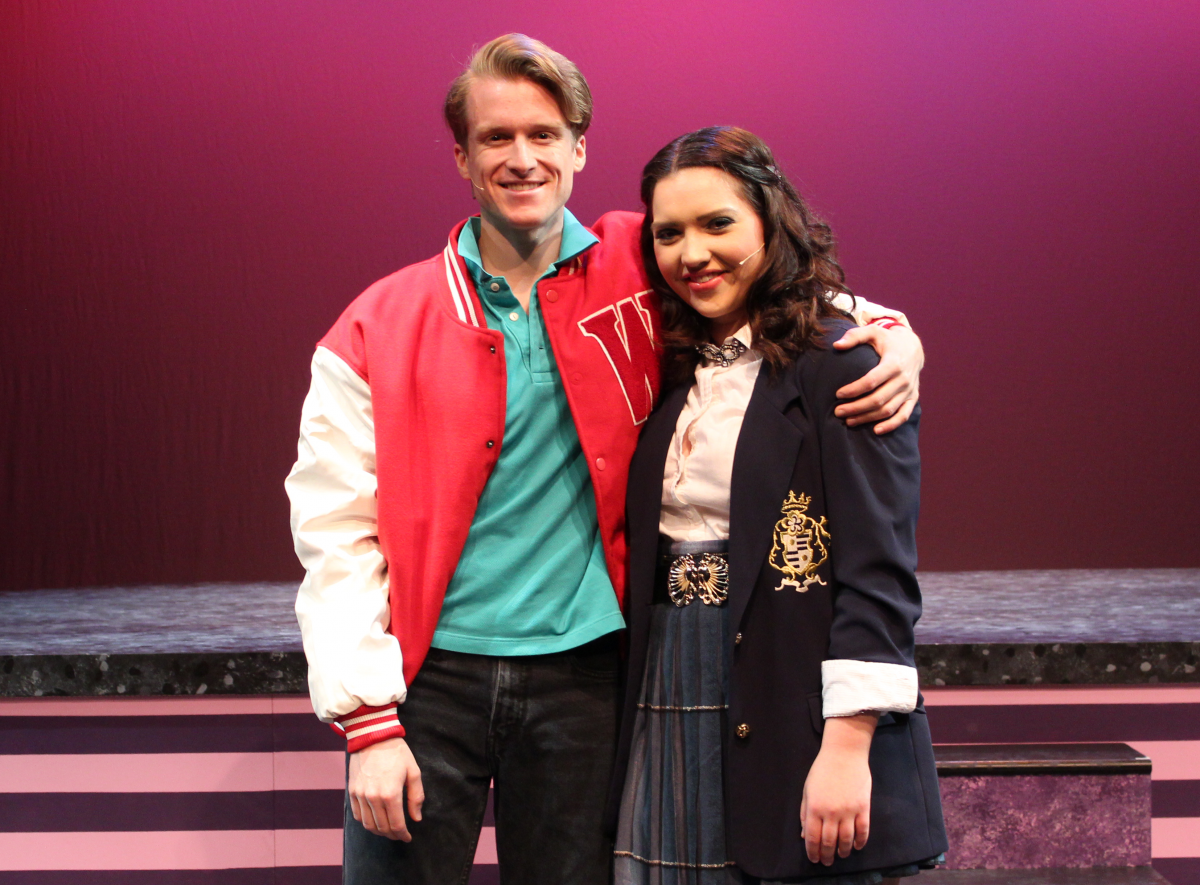 Alumni reunited on stage
U of M alumni Julie Lumsden and Darren Martens reunite on stage for dark comedy
March 31, 2016 —
Two University of Manitoba alumni are reuniting on stage in Winnipeg Studio Theatre's presentation of Heathers: The Musical.
Darren Martens [B Mus Performance/12] and Julie Lumsden [B Mus Performance/15] performed on stage together last summer in Rainbow Stage's Les Misérables.
Now, they're trading in their French Revolution costumes for those of high school students in the 1980s.
Based on the 1988 film of the same name, Heathers is about high school senior, Veronica Sawyer, and her adventures – and battles – with the mean girls (all named Heather).
Lumsden plays Veronica and says learning the character has been fun and, at times, relatable.
"I'm only five years removed from high school," said Lumsden, "so it wasn't too difficult to get into Veronica's ways of thinking."
A challenge Lumdsen faced with this role, however, is learning how to navigate her voice in a way that she hadn't tackled before.
"Veronica has a lot of low singing, a lot of belting out the lyrics," she said. "My time at the U of M was essential in helping me figure out how to sing this way. At my year-end recital, I sang opera in multiple foreign languages. This is completely different than that! The years and hours of coaching at the Desautels Faculty of Music helped me reach the vocal range I needed to play Veronica."
A show like this wouldn't be complete without a tough-guy football quarterback. Martens takes on the role of Kurt Kelly.
"Kurt Kelly is your stereotypical high school jerk," said Martens. "It's a lot of fun to play this role, and I promise I don't take anything from real life!"
Martens performed with Winnipeg Studio Theatre in 2012's Avenue Q. Since graduating from the university he has performed with Manitoba Theatre Centre (Through The Looking Glass And What Alice Found There) and with Dry Cold Productions (The Addams Family).
He's excited to be on stage with Lumsden again and says he wouldn't be where he is today without the training he received from the Desautels Faculty of Music.
"I'm normally singing second tenor, but for Heathers, I'm singing first tenor," said Martens. "I'm not used to it, but I knew I could do it and it's all thanks to my time learning with the Desautels Faculty of Music."
Wes Rambo is another alumnus in the show. Alumnus Paul DeGurse is the show's musical director. Alumna Kayla Gordon is the director. Cast member David Fox trained out of the Black Hole Theatre Company.
Heathers: The Musical runs March 31 through April 9, 2016 at the Tom Hendry Warehouse Theatre (140 Rupert Street). Tickets are $35 each and are available here.
For more information on Winnipeg Studio Theatre click here.