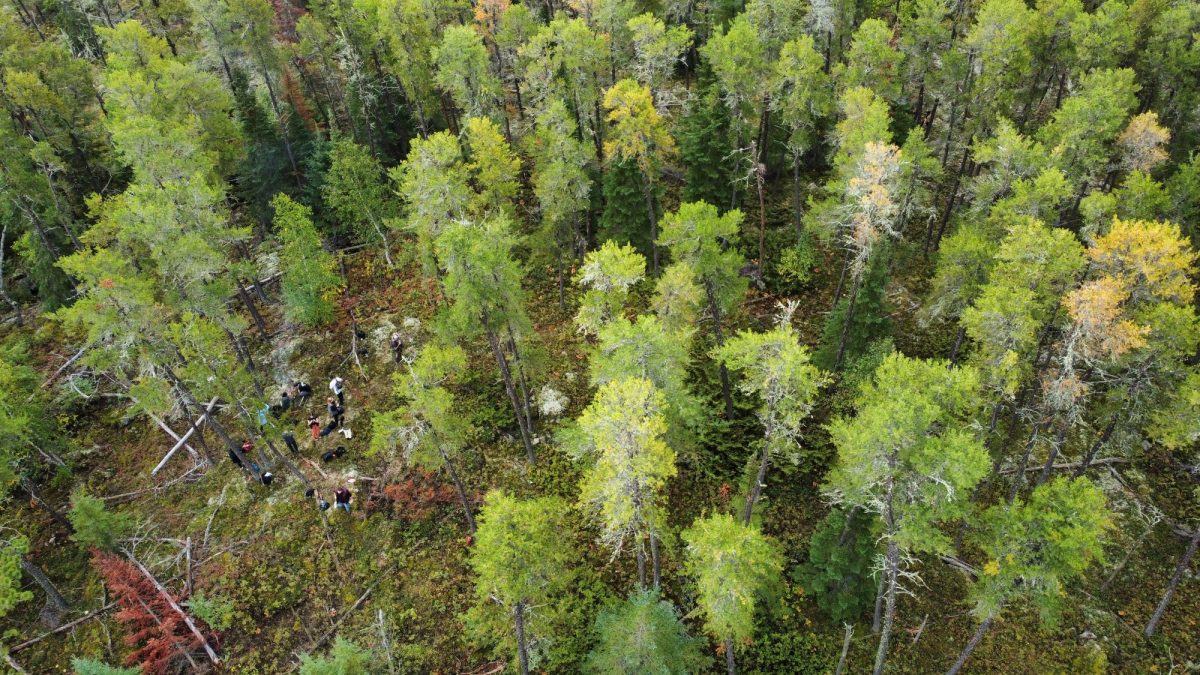 Alumni donation sparks Indigenous Success Fund
January 28, 2022 —
The Faculty of Architecture is pleased to announce the launch of the Indigenous Success Fund, initiated by a generous donation from the family of Laura Fyles (B.I.D./1993) and Brent Whitby (B.E.S./1990, M.Arch./1994). "This all started as our family deeply believes in the efforts of Reconciliation with our First Nations Brothers and Sisters…we understand that money is not the answer to this problem, and this gift is not intending to replace the action that must follow. We believe reconciliation is rooted in listening and learning, and from this learning, find love for one another". The $250,000 donation will be used by the Faculty of Architecture to establish a site for land-based learning, provisionally called the "Forest School."
Initiatives of the Indigenous Success Fund and Forest School will include a gathering space designed and built with students, which will serve as the hub and heart of this project. The Forest School will also feature sleeping facilities, an outdoor kitchen, washroom, and bathing facilities designed by students in consultation with Elders and knowledge keepers, and incorporating the learnings that will come from listening to the land and collaborating with community groups. The fund will support hiring Indigenous student teaching assistants, support for local Indigenous youth to engage with the design studios and workshops, and the hire of a Faculty of Architecture Elder-in-Residence.
"We are so incredibly excited that an initiative as important as this has gained some attention and support. The students are so fortunate to have this opportunity in their near future, and the freedom to explore the realm of Indigenous knowledge openly and freely. We strongly believe that our cultures and teachings highly benefit the outcomes of not only design, but of education and growth, as youth and future teachers. These kinds of projects and initiatives are intended not only to make a difference in how we design but also how we conduct our academic environment. It is a form of political statement in opposition to cultural identity erasure, and revives practices and teachings that are united with the Land.
The Land is the greatest teacher. It has, and continues to teach us what works and what does not. It teaches us the way in which the world should be designed; when it should be intervened and when it should be left alone. We cannot reach these teachings by sitting in the classroom. It is well past the time for us to re-immerse ourselves in the Land and to oppose alienation and separatism between human and environment. As designers of environments, it is our duty to maintain a symbiotic relationship with the Land, not only as Indigenous students and scholars, but as humans." – Danielle Desjarlais and Jordan Cantafio, Co-Presidents of the Indigenous Design and Planning Association
The generous offering from Laura Fyles and Brent Whitby provides the Faculty of Architecture with the opportunity to build meaningful relationships with our community partners through the gift of story. Richard Wagamese says it best … "All we are is of story. What comes to matter then is the creation of the best possible story we can while we're here; you, me, us, together. When we can do that and we take the time to share those stories with each other, we get bigger inside, we see each other, we recognize our kinship – we change the world, one story at a time." – Shawn Bailey Indigenous Scholar
The Faculty of Architecture is grateful for the donation from Laura Fyles and Brent Whitby and looks forward to developing the Forest School and engaging students and staff in learning from the land.
About the donors
Laura Fyles (B.I.D. / 1993) Building on her B.I.D. from the University of Manitoba in 1993 and many years in the architecture and design profession in Calgary and Toronto, Laura received her Master of Design (M.Des.) in Strategic Innovation and Foresight from the OCADu in Toronto in 2012 and leads an independent interior design consultancy, Out Loud Design Strategy. Laura has participated in the certification process of several university accreditation for interior design programs, she was the Chair of Interior Design at Yorkville University, and she now works with many of Ontario's largest development projects in the important work of multi-family housing developments, hospices, and community centres.
Brent Whitby (B.E.S./1990, M.Arch./1994) Having moved to Toronto in 2000 after 6 years in Calgary, Brent is a Partner at Kirkor Architects and Planners in Toronto and Calgary, specializing in large-site mixed used developments, urban infill, remediation and retrofit, and intensification masterplans.