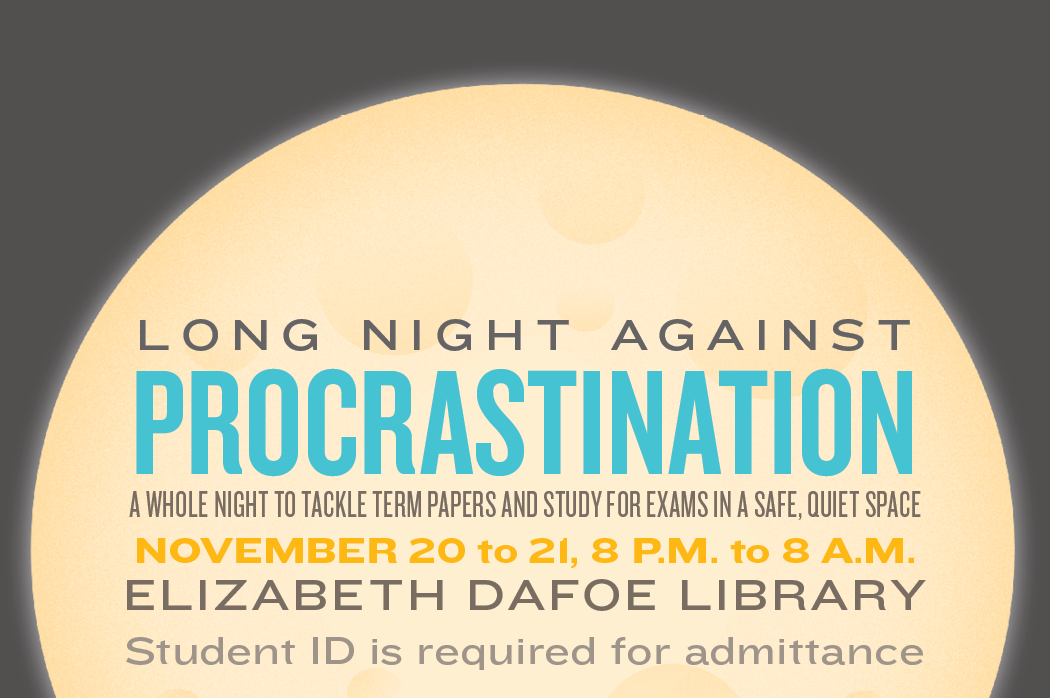 All-nighter helps students fight procrastination
November 20, 2014 —
Final assignments are nearly due and exam season will descend soon at the University of Manitoba. The Long Night Against Procrastination returns for the fifth year on November 20 to help students get a handle on their homework.
This free, all-night event provides a safe and quite study space for students at a critical point in the semester. Reference librarians and writing tutors will be available to work with students to help them make progress on their papers.
The all-nighter begins at 8:00 p.m. on Thursday, November 20 in Elizabeth Dafoe Library and will include light refreshments and organized activities to keep studying students productive. The event officially ends at 8:00 a.m. on Friday, November 21 with students basking in their productivity (and finally getting some much needed sleep).
This event has been held twice a year for the past five years at Dafoe Library, and U of M was the first campus in Canada to host a Long Night against Procrastination. The very first Lange Nacht der aufgeschobenen Hausarbeiten (Long Night against Procrastination) was held at the European University Viadrina in Frankfurt, Germany in 2010 as a way of supporting students.
For more information contact the Academic Learning Centre.