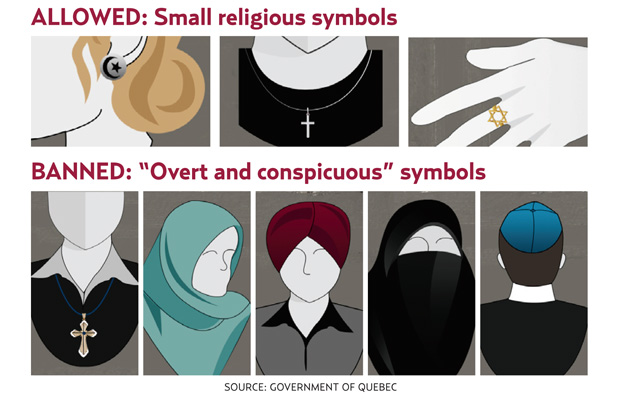 After the conversation, religion and society
January 15, 2014 —
David T. Barnard is the President and Vice-Chancellor of the University of Manitoba.  He hosts the university's award-winning Visionary Conversations series, an ongoing forum where experts from our faculty, researchers and alumni communities share their unique insight on issues affecting our world.
In December 2013, our award-winning Visionary Conversations series asked whether government has gone too far in the secularization of society. The Quebec Charter of Values was one area of focus during this discussion. The charter, which was heavily debated at the opening of public hearings on January 14 2014, would prohibit public employees from wearing the clothing and symbols of religion while in the workplace.
In order to fully comprehend the impact of the proposed charter, consider how the University of Manitoba community could change if a similar charter were implemented on our campuses.
How would we tell our staff, faculty and students from Manitoba and around the world that we have an open and accommodating campus and then deny them the right to wear headscarves, yarmulkes, turbans and large crucifixes?  How broadly would the definition of 'religious symbols' apply? Indigenous students and colleagues may not characterize their own cultural symbols as 'religious', but they are inherently spiritual.
I believe such a charter would make our university less welcoming and less unified. It would subvert the tradition on which our university was built – a tradition that can be traced back over 130 years, when one of our founding donors challenged our university to provide education to all based on intellectual merit, regardless of religion, race, culture, language, ethnicity and sexual orientation. We now leverage our diversity to create a welcoming, inclusive environment for all.
If we had chosen a different path, would we be better off as a university community?  Would we be more successful in attracting students, faculty, staff, and researchers by expecting them to assimilate within our culture instead of inviting them to evolve it by introducing their own? Would we be as successful in forming new partnerships – locally and globally – and bridging gaps of understanding in ways that only institutions like ours can?
I don't believe so.  If a mandate for a similar interpretation of religious neutrality would rob this university of its core values, then we can say the same when considering the impact of this proposed legislation in the province of Quebec and indeed the country of Canada.
I understand the desire to protect and preserve a cultural identity as argued by Quebec Premier and Parti Quebecois leader Pauline Marois. I understand the intention behind asserting the neutrality of the state and promoting values that all citizens of her province purport to share.  And, living in a city with a rich and celebrated francophone history, I sympathize with the concerns Quebecers experience about the erosion of the francophone language and culture, especially given the dominance of the English speaking majority in Canada and throughout the North American continent.
But the argument in favour of the charter is constructed on the premise that the Quebec government can achieve equality by limiting the workplace expression of religious preferences.
As Canadians, we are at our best when we embrace diversity. Sadly, we are not always at our best. There are far too many examples, now as well as in the past, where we as individuals and as a nation have not lived up to our ideals.
The implications of a values charter in the context of our own university community are very troubling. We should be no less troubled about the potential impact on the lives of our fellow Canadians.
-David T. Barnard
For more, visit After the Conversation
Freedom From Religion – Visionary Conversation, Dec. 11, 2013