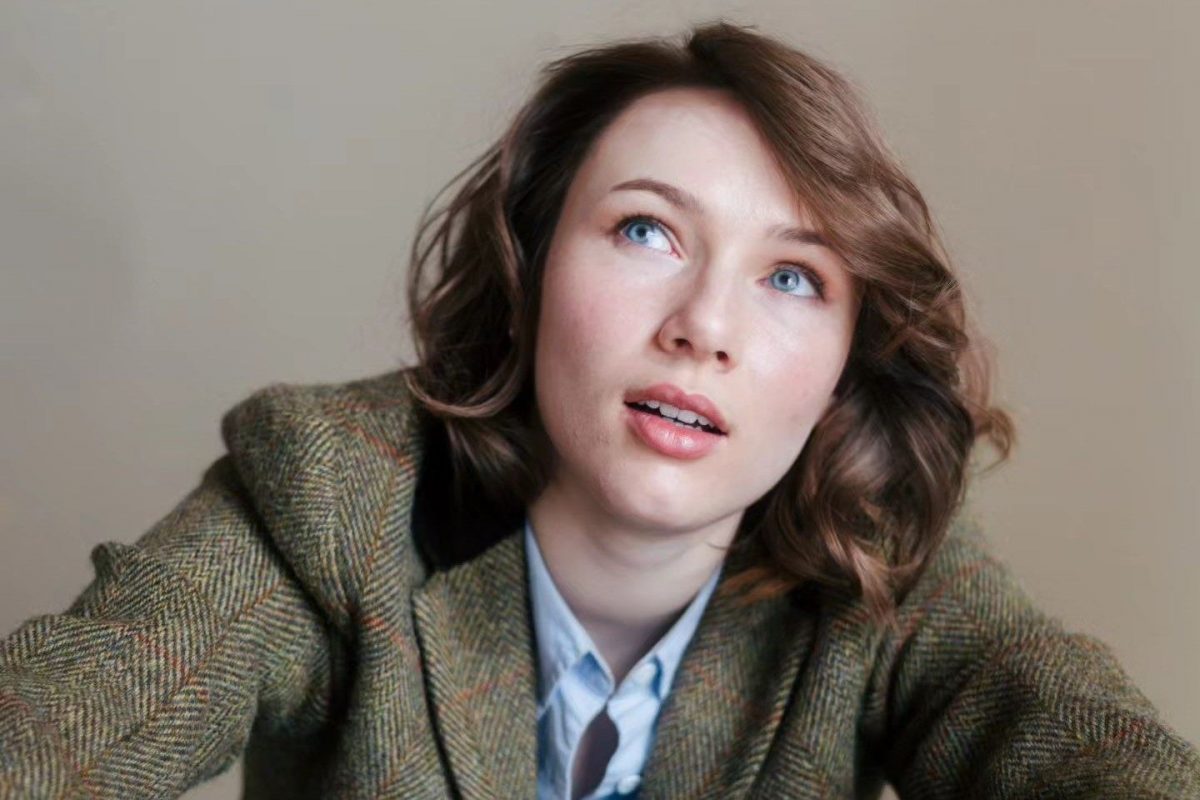 The multi-talented Aemilia Moser takes flight
August 2, 2023 —
When she's not singing, Aemilia Moser can be found exploring fashion, cooking up a storm, or playing violin.
One doesn't often find an accomplished vocalist who could just as easily study a different instrument at the university level, but Aemilia Moser is no ordinary musician.
"I grew up studying violin," says Aemilia, who hails from Edmonton, Alberta.
"Music was always a huge past of my life and family, so when it came time to decide what to do, it just seemed like a natural choice," she says of her decision to pursue music.
Though singing wasn't her primary focus when she was young, she was very adept at it, and it soon held equal ground with violin.
After earning her Bachelor of Music in voice and violin at the University of Alberta, Aemilia decided to pursue a post-baccalaureate diploma in voice.
Keen to study with renowned opera singer Tracy Dahl, Aemilia auditioned for the Desautels Faculty of Music, but that doesn't mean that violin fell to wayside.
"She's played obbligato violin and viola parts for many of her colleagues' recitals," says Mel Braun, professor of music and area head for voice in the Desautels Faculty of Music.
"She has been a large contributor to the musical community at the faculty playing violin or viola at friends' recitals," agrees voice instructor Tracy Dahl, who was also Aemilia's major practical study (MPS) instructor.
In the faculty
Aemilia quickly shone in the University of Manitoba Opera Theatre Ensemble and Desautels Chamber Opera Group, performing as Virtu (L'incoronazione di poppea), Jess (Missing), La Fee (Cendrillon), and Amina (La sonnambula).
As the featured soloist at a University of Manitoba Wind Ensemble concert, she performed Michael Daugherty's "Labyrinth of Love" to a packed audience.
While studying in the faculty, Aemilia competed in the Winnipeg Music Festival, the pre-eminent competition in Winnipeg for classical musicians. There, she was a two-time winner (2022 and 2023) of the Reg Hugo Memorial Trophy, awarded for the most outstanding performance of an opera aria by a grade A or honours level vocalist.
"I was pretty surprised, says Aemilia of find out she had won the Reg Hugo Trophy for a second time.
"I hadn't felt my best about the competition up to that point and was fully expecting my dear friend to win. It was a pleasant surprise!" she said of the result.
"For the finals I sang 'La romance d'Ariel' by Debussy and 'Neghittosi or voi che fate?' By G.F. Handel from his opera Ariodante," says Aemilia.
She also won the 2022 Doris (Mills) Lewis Memorial Trophy, which is awarded for the most outstanding performance of an oratorio aria or J.S. Bach aria by a grade A or honours level vocalist. She was also a runner-up for the 2023 Rose Bowl, the festival's top vocal trophy, and was recommended for the provincial competition.
Beyond competition, Aemilia took advantage of Winnipeg's rich performance opportunities, performing with the Winnipeg Symphony Orchestra for their children's concert "Alligator Pie," and with Dead of Winter in their performance of Andrew Balfour's Medieval Inuit.
Mentors
Aemilia is grateful for the support she has received throughout her time in the faculty, and the professors she has connected with during her studies.
"I have received so much help from the instructors at UM," says Aemila.
"They are some of the most generous individuals and I could never do what I do without them. I brought my repertoire in to them several months before the [Winnipeg Music Festival] as I was using it for other auditions and competitions," she says.
"I typically get around an hour and a half of lesson time a week as well as masterclasses and additional coaching. We will start by working on technical things and then usually move on to musical style things and acting choices," she says of her preparation with her instructors.
"My teachers Tracy Dahl and Mel Braun have been so supportive and essential to the improvements I have made in the last two years. This year, with their help, I also won an Encouragement Award at the Laffont Metropolitan Opera competition, something I only dreamed of achieving a few years ago," she says.
"Aemilia is an amazing young singer as well as a very accomplished violinist," says Braun.
"The silvery quality of her voice is augmented by an extensive vocal range, great flexibility, wonderful musicality, and compelling artistry. She loves digging into the musical and poetic challenges of her repertoire, so that each lesson becomes an exploration," Braun says.
"Her technical facility and musical imagination means audiences are always in for a treat," he says.
Tracy Dahl agrees.
"Aemilia is an extremely musical young lady and is always engaged in her dramatic intentions when she performs," Dahl says.
"She is dedicated to being the absolute best that she can be and is very present in every lesson. She has also been very supportive of the other students and competitors, she adds.
"She is one talented lady," Dahl concludes.
This past May, Aemilia gave the credit recital for her final performance as a post-baccalaureate student, with beautiful, sweeping coloraturas and an emotionally evocative delivery. You can watch the full performance on her YouTube channel.
Up next
Moving her way across Canada in her musical journey, Aemilia will be heading to Ontario this fall.
"I am leaving Winnipeg to pursue a masters in opera at the University of Toronto, she says.
"I am sad to leave Winnipeg as the connections I have made with the faculty and my colleagues have been life changing," says Aemilia.
"I want ideally to work performing as much as I can. The dream is to perform opera roles and concert repertoire on as big of a stage as I can manage," she says of her hopes for the future.
"I already mentioned my teachers, but I want to say a huge thank you to Mel Braun, Tracy Dahl, and my room mates Ashley, Alice, Sonia, Amanda and Sofia," says Aemilia of her fellow Desautels voice classmates, who all lived in what they referred to as "The Sop House," short for "The Soprano House."
The Desautels Faculty of Music will miss Aemilia's voice in the faculty, but we are proud to watch her take flight.
"It's been such a pleasure having Aemilia as part of the Desautels family. Now we get to share her with the rest of the world," says Braun.
Congratulations, Aemilia!
Learn more about Aemilia at her website: https://www.aemiliamoser.com/