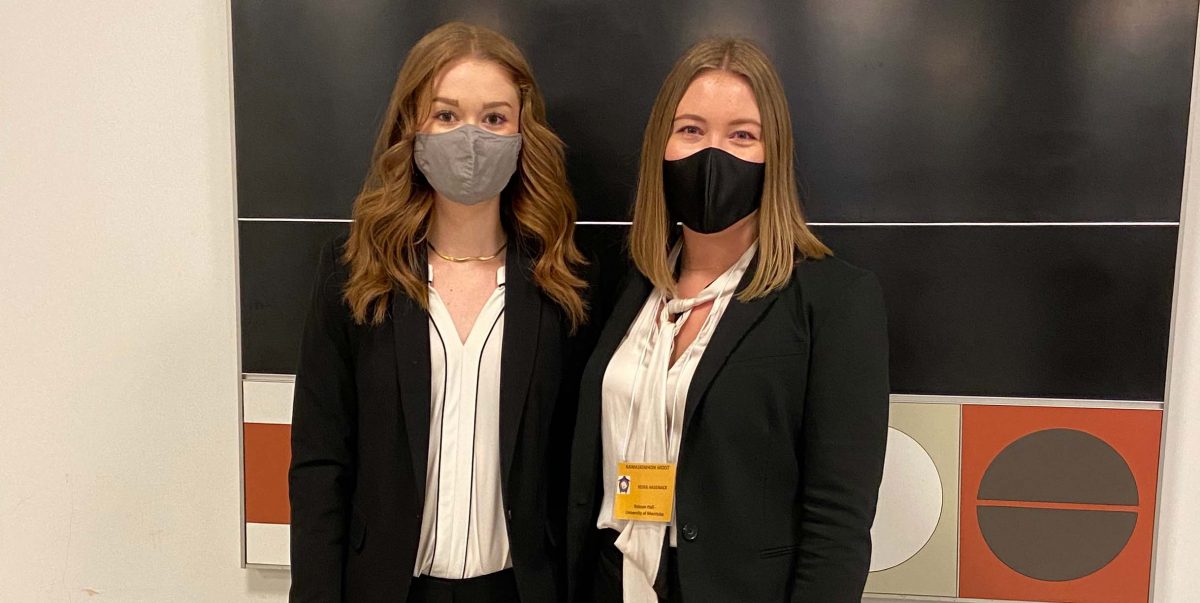 Achieving reconciliation: Kawaskimhon Moot trains law students to advocate for Indigenous rights
April 8, 2022 —
The Kawaskimhon Moot (Kawaskimhon being a word of Cree origin that translates as "speaking with knowledge") incorporates Indigenous legal traditions with federal, provincial and international law. With no winners or losers, mooters take part in roundtable negotiations on a particular topic, representing their assigned party.
At this year's moot which took place in-person at the University of Montreal March 18 – 19, 2022, the problem involved Hydro-Québec wanting to build a new high-voltage transmission line across traditional Cree Nation lands. The parties to the issue included Hydro-Québec, the Provincial and Federal Governments, two First Nations (the Assembly of the Eeyou People, and the Nimepiranan First Nation), and the Assembly of First Nations of Québec-Labrador organization.
"A multi-party negotiation is an experience that you just don't get in the classroom," said team member Katie Rothwell (3L). "It helped us to really learn what it means to advocate for your client and act in your client's best interest, while at the same time thinking quick on your feet to rebut your opponents' arguments and hold your position at the negotiation table."
"Participating in the Kawaskimhon Moot was the highlight of my law school career," said Rothwell's teammate Keira Hasenack (3L). "This non-adversarial multi party negotiation allowed me to develop my negotiation skills while deepening my understanding of Indigenous law and advocating for the rights of Indigenous Peoples."
Team Manitoba was very pleased with their negotiation outcome. "After over 12 hours at the negotiation table, my teammate Katie and I were able to come to a memorandum of agreement with the other parties in the spirit of reconciliation," said Hasenack. "This experience also allowed us to connect with like-minded law students from across Canada, who share a passion for Indigenous rights."
Hasenack extends thanks to team coaches Marc Kruse and Jessica Barlow who were helpful and supportive throughout preparations and the moot itself. "We couldn't have done it without you two!" she said.
As Indigenous Student Support Coordinator, Kruse, an alum of Robson Hall, was involved in the administrative part of getting the team together as well as coaching. He was immensely impressed with the students' professionalism, passion and hard work. "Our moot process got a late start giving our students only five weeks to complete all their materials," he explained. "Keira and Katie each took on a portion of the research and seamlessly drafted their documents together. At each weekly meeting they were both ahead of schedule and myself and the coach were the ones trying to keep up with their output."
Also impressed with how well the students accepted coaching and even asked for guidance, Kruse added, "[The team], represented the community in a good way and with integrity. Though a mock negotiation, the skills showed, and the thoughtfulness for their clients will carry them well into their articling experiences."
Barlow, an Associate at Jerch Law and Faculty of Law alum, praised the team for their dedicated work and preparation. "Katie and Keira truly embodied the spirit and intent of the Moot and they worked so well as a team," she said, adding, "They were such a pleasure to coach. It was a great experience to be able to participate in person and to help the students develop their skills for a multi-party negotiation amongst other brilliant legal minds from across the country. We extend our gratitude to the University of Montreal for hosting."