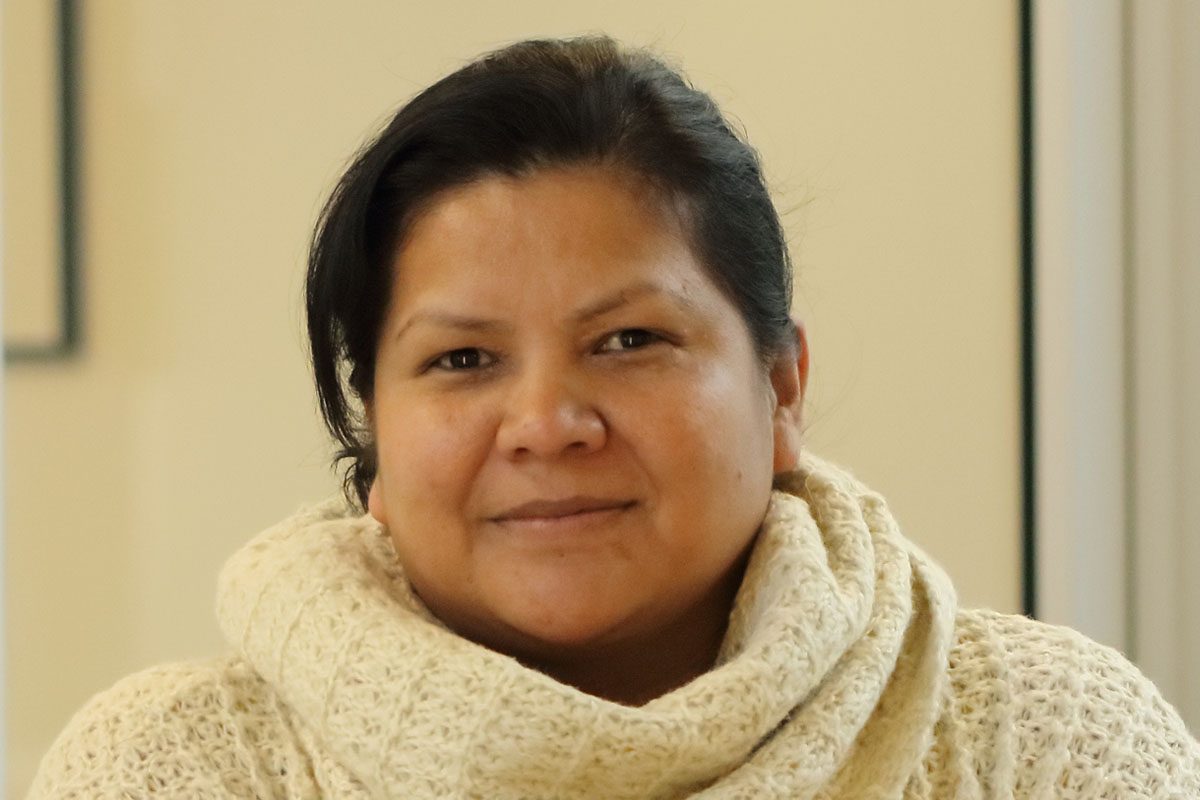 Accessing passion and purpose at the U of M
Ramona Neckoway, PhD and Access grad
September 24, 2018 —
The moment Ramona Neckoway learned she had completed the requirements for her PhD, she immediately thought of the Access Program.
"I would have struggled much more without them. It chokes me up to talk about it. University can be a challenging environment on many levels. With the help of Access, I acquired the academic confidence that I would take me into the future and accepted that I belonged at university. When I came to campus all those years ago, I was struggling personally and academically. I am so grateful they helped me through my degree," says the member of Nisichawayasihk Cree Nation in Northern Manitoba, who joined Access when she came to the U of M as an undergrad in 2002.
The Access Program
The Access Program at the U of M provides holistic support to Indigenous, newcomer, and other U of M students, empowering them on their path to success.
Now, Neckoway is Assistant Professor and Program Chair of the Aboriginal and Northern Studies Program at University College of the North's Thompson campus.
"It's nice to be close to home again. I went through rough patches to get where I am today but I feel passionate about the north and seeing the potential in Indigenous communities."
PhD
She completed her PhD in the Interdisciplinary Program at the University of Manitoba in August 2018 and says, "I am still processing it. I feel incredibly honoured and humbled to have come this far. It's been a long haul. I am the first person in my family to graduate with a degree."
Her first university experience was in the basement of the local Education Authority in Nelson House. At the time, she was a single mom with three kids. Although she had spent a decade of her childhood in Winnipeg, the idea of moving back to go to university was terrifying to her. "I was not sure I would survive. It was very daunting. I experienced a culture shock. There were so many people on campus. I was dealing with personal issues. Access played an important and critical role in my success at that point my life. It was like family. It was reassuring, grounding, and it helped me to build that confidence."
There should be more programs like Access, she says. "These programs are so important to ensure we can find confidence and our voices. I have a strong belief in providing support for Indigenous students. I thought a lot about that as I learned I completed my degree."
A weight off her shoulders
She remembers when she first started university.
"I was stumbling around with a heavy backpack full of books. I didn't know that I didn't have to bring all my heavy textbooks with me all the time. My role as a mom instilled a great sense of responsibility and it continues to inform my academic journey. My children have been exposed to university life since they were very young. I came to U of M not knowing what to expect or where it would take me and took each year as it came."
The support of Access was like a weight off her shoulders.
Her undergraduate degree, with a major in Native Studies and a minor in sociology ignited a passion in her, she says. "The content and material really resonated with me. I applied to the masters program, not really knowing what it would mean for me."
Passion and purpose
Neckoway's graduate work focused on the impacts of hydro power on Northern Indigenous communities and she continues to be involved today. "It's so important to capture the Indigenous voice in the hydro history of Manitoba. Indigenous people in the north face layered levels of injustice. My doctorate work focused on providing the context to discuss the layers of injustice and it provided some examples of indigenous peoples articulating their experiences. There are many indigenous communities who continue to be impacted by the production of this energy source. Stories and voices need to be heard. There is a lot of work to be done."
She continues to look at this issue in her academic work.
Between her university Transition Year Program in Nelson House and Access at the U of M, Neckoway saw possibilities for her future. "I had a big ache in me. I hit the walls of life. In those early years, I experienced a lot of self-doubt and I just about gave up. I realized how important Access was to me when I started graduate school. The academic opportunities for student-centred support were definitely there but for me as an Access student, but what made the difference for me was being able to walk into a space and place for students like me. And when I graduated, one of the first people I called was my academic advisor from Access, Adrienne. I spent many hours over the years in Adrienne's office and she was one of the first people I called because she played an important role in my earliest academic endeavor. She watched me struggle and grow."
Earning her PhD was a great accomplishment. "It's a milestone for me. It honours my grandfather. He passed away before I was born. He went to residential school and I don't know what he went through but I think of him. My educational path at U of M was so different from his. This pathway saved my life. It gave me purpose. I've honoured a vision that was given to us by the Treaty elders and I am very thankful for this gift they gave us."