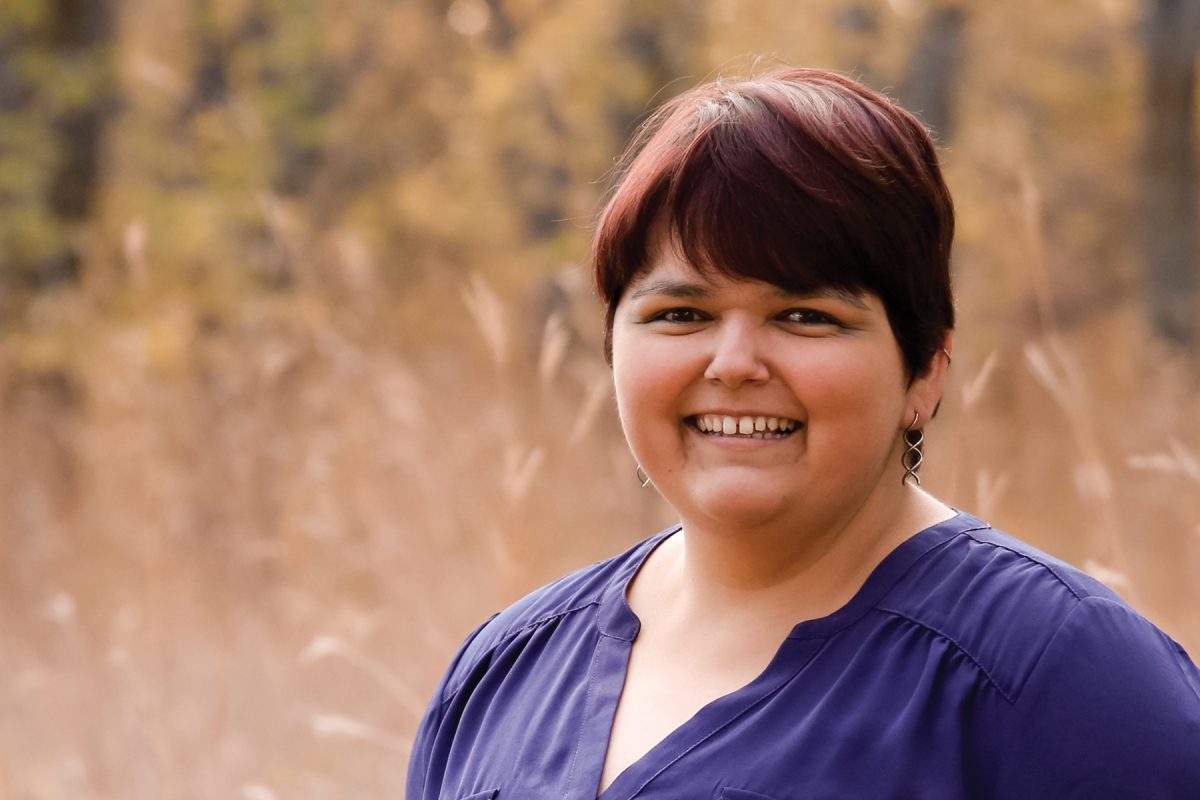 Access undergrad student publishes paper in scientific journal
April 12, 2021 —
Christie Lavallée started university wanting to be a doctor. Now the undergraduate Access Program student sees a research career in her future.
The Access Program at the University of Manitoba provides holistic support to Indigenous, newcomer, and other UM students, empowering them on their path to success as they begin their academic journey in a variety of fields of study.
This month, Lavallée will publish a research paper in the prestigious scientific journal, Movement Ecology, documenting her important discovery- that purple martins continue their migrations at night.
"It's the first concrete proof that this was happening," says the Ecology and Environmental Biology program student in the Faculty of Science.
Also credited on the paper are graduate students, Saeedeh Bani Assadi and Alicia M. Korpach, as well as colleagues from Florida, Texas, and Pennsylvania who collaborated with her on the research.
"Just having this publication credit, as an undergraduate, it's really huge," says Lavallée. "I am just beginning a career as a scientist."
It all started in the summer of 2018, when she began working with Kevin Fraser in his Avian Behaviour and Conservation Lab thanks to a Natural Sciences and Engineering Research Council (NSERC) grant. Her project was to look for night flight of purple martins in collaboration with others in Texas, Florida and Pennsylvania. Over the past three summers, she and her colleagues tagged birds with GPS trackers that reported their location every 12 hours on Google Earth and followed their migration.
In reviewing the data with Fraser, they were surprised to see night flight in birds thought to migrate during the day. "They were using night flight to cross the Gulf of Mexico and Caribbean Sea. Thirty percent of their water crossings were initiated at night. Finding this out was a big deal."
Publishing a scientific paper involves quite a process, she says, from following format, submitting, following up on feedback from a rigorous peer review, and resubmitting. She is excited to have now reached the final steps of the publishing process.
Regarding her findings, she says, "I am absolutely amazed. These 45-gram birds can migrate so far. They have such huge obstacles to contend with. It blows my mind. They travel thousands of kilometers to come here for breeding. This really gives you a different perspective on life. Every little piece we can shed light on helps us to know the species better and that can help with conservation down the line."
As a hunter of deer, grouse, prairie chickens and ducks, Lavallée says conservation has always been important to her so now she is thinking she should turn that passion into a career. "Our generation is more aware. We are damaging the planet and we need to do something about it. I want to help overall. It's important to take care of the species we are hunting or they won't be there in the future. It's important to look after the ecosystem."
A Métis student from St. Ambroise, Lavallée started her university studies with the Access Program. "Access has been a great support to me and to my academic career. Without them, it would have been a lot more challenging. They provide a home away from home for me."
She also thanks Fraser. "I was very grateful to work with Kevin. He was an excellent teacher. He helped to shape me into a better researcher. He inspired me."
Learn more about the Access Program.
Her paper
Read Lavallée's paper, "The Use of Nocturnal Flights for Barrier Crossing in a Diurnally Migrating Songbird: Implications for Our Understanding of Fly-and-Forage Migration Strategies".
CBC interview
Christie Lavallée was interviewed on CBC Radio Noon on April 27. Listen to her interview with Marjorie Dowhos.