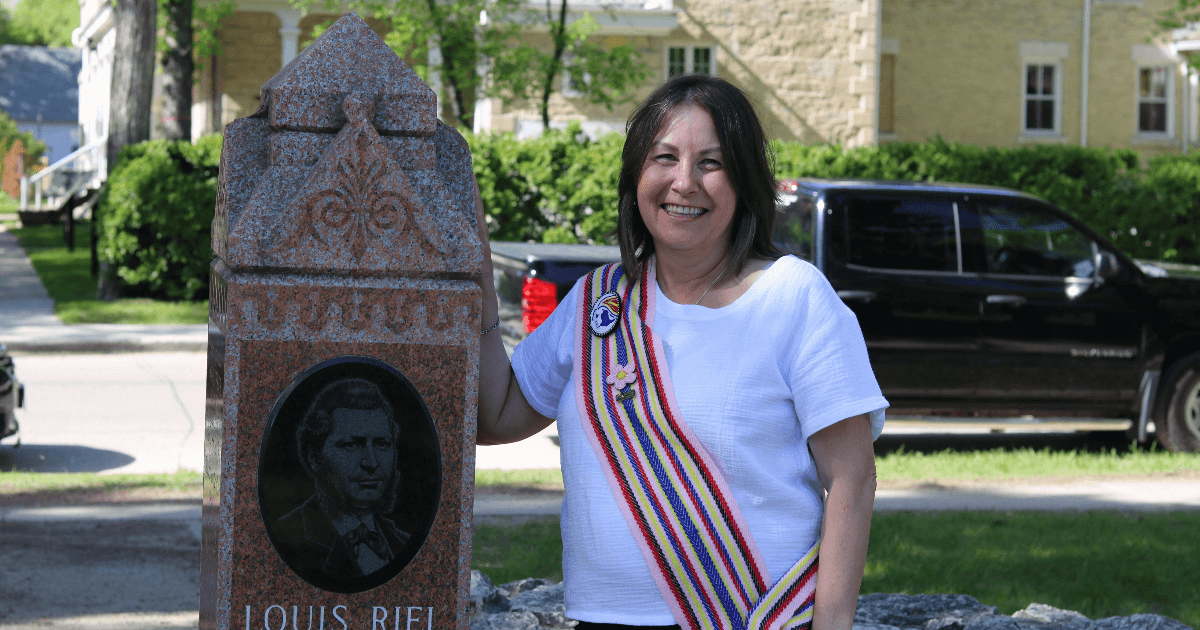 Access to Success
UM alums attribute success to Access Program
September 18, 2023 —
September is a time for connecting and re-connecting at the University of Manitoba. The UM strives to ensure connections made on campus continue beyond graduation, and with Indigenous Homecoming taking place this week, September is also a time to celebrate the success of UM alumni.
Over the years, more than 600 students have graduated from the Access Program. These accredited professionals now successfully share their hard-earned skills in communities all across Canada and also right here at UM.
Currently working at the University as the Indigenous initiatives and partnerships lead with Extended Education, Adrienne Carriere is one of those professionals. Hailing from a small Métis village of 150 people in northwestern Manitoba, Carriere says the thought of moving to a big city and attending university was daunting. She credits the Access Program supports and resources for her success.
"The staff and students worked so very well together, and I knew I could count on them when life became difficult. There were many times I wanted to give up and go home, but the love and kindness shown by the Access Program staff and my peers kept me engaged and helped me graduate," says Carriere.
The Access Program, established in 1975, supports students who have not had the opportunity to pursue post-secondary education due to social, economic, and/or cultural barriers; and provides holistic support to students.
"Program personnel care for students' academic, spiritual and mental well-being," says Diedre Desmarais, area director for the Access and Aboriginal Focus Programs. "Over 85 percent of Access students are Indigenous so our program prides itself in honouring Indigenous ways of being – we have a Grandfather in residence who provides guidance on cultural and spiritual matters."
UM's inaugural Vice-President (Indigenous), Dr. Catherine Cook, is an Access alumna as well. Growing up in an isolated Métis community, Dr. Cook says that for her, the pros of joining the Access Program were very clear – they provided student support with academics as well as financial support for tuition, books and some living allowances.
"The biggest support and influence I received from the Access program was a very strong message that a degree in Medicine was possible for me to achieve," says Dr. Cook. "Growing up, I did not know any physicians, so I never even considered that as a career option – the choices for women were limited and access for Indigenous people was even more limited. I always loved learning and my family not only encouraged, but insisted, that I attend university."
Like last year, this year's Indigenous Homecoming event will bring Indigenous alumni together. For Carriere, who participated last year, it's a time to reflect and connect.
"The laughter, visits and conversations with alumni and colleagues is always a gift to cherish and an opportunity to talk about pathways that may create a better experience for future generations," says Carriere. "Most importantly, it recreates a sense of community that is a reminder of how far we have come, the strengths we possess as a community and the many individuals who work tirelessly to create a brighter journey for those who will come behind us."
Find out more about the Access program here: https://catalog.umanitoba.ca/undergraduate-studies/extended-education/access-aboriginal-focus/
Hear more stories from Indigenous alumni at the Indigenous Alumni Connect event! There will be a living library and lunch hosted in Migizii Agamik and a campus walking tour on Wednesday, September 20, 10:00 a.m.- 3:00 p.m.
To register, click here: https://eventscalendar.umanitoba.ca/site/indigenous/event/indigenous-alumni-connect/