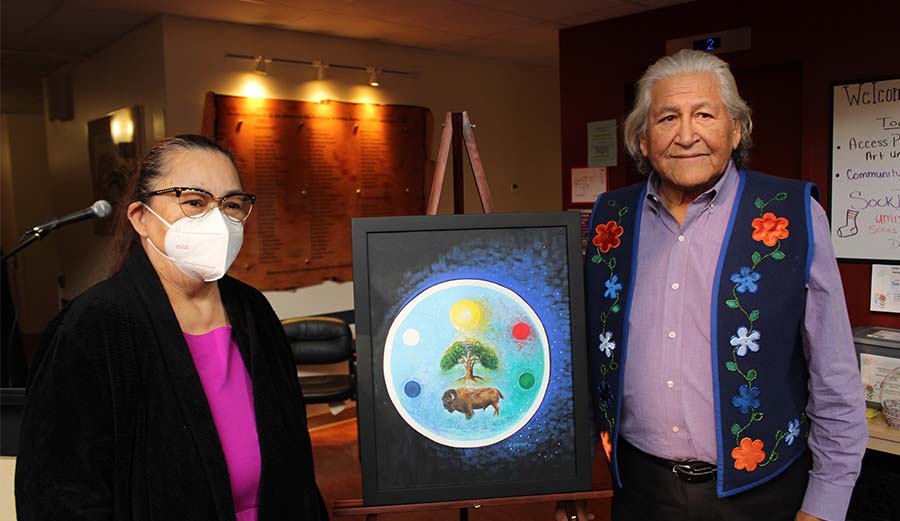 Access Program art piece unveiled
Image born out of traditional Indigenous ceremony
October 14, 2022 —
On October 12, the Access community gathered in the foyer of Migizii Agamik on the Fort Garry campus for the official unveiling of the new Access Program art piece. The UM Extended Education Access Program provides holistic support to students on their academic journey.
According to Diedre Desmarais, Area Director, Access and Aboriginal Focus Programs, "We wanted an image to represent all we do and all we are. We were provided with this image."
Desmarais says the process of the image's development took some time, but she was very pleased with how it turned out. "We are really proud of our Access Program. Our students couldn't be in better hands."
It's more than just a painting, says Rod Lastra, Acting Dean, Extended Education. "It is symbolic. This is a very important event in a time of reconciliation. And this is the first time in Extended Education and the Access and Aboriginal Focus Programs we have an image born out of ceremony."
The image was provided to Access Program Unkan (Grandfather) Wanbdi Wakita through ceremony and painted by Access Program alum, educator and artist, Victoria McIntosh. It was later adapted for marketing materials by graphic designer and artist, Leticia Spence.
"When we go to ceremony, we get instructions," says Wakita. "We are asking for help through prayer. All of our ancestors, they are up there: our grandfathers, our grandmothers, our aunts and uncles, our brothers and sisters. Through ceremony, they gave us this information from the Creator, and we followed it."
Today we say thank you, he says. "For our health, our road, our strength and our endurance. The Access Program was thinking about how we could enhance the program and as we talked, some things became clear. It didn't take long for the Creator to give these instructions to our ancestors and for our ancestors to show us this picture….
"There is a lot of sacred involvement. The colours of these circles have great meaning. Everything we ask for, through prayer and offering, it is here."
In reference to the art piece, Wakita spoke of Mother Earth providing us with everything we need, the light and energy of the sun, the tools and roles people have been provided with, the animals on the land. "We need to live in order to say thank you for that holiness. There is a way of living and it's called culture. It includes ceremony, prayer, song, language. We were given these things. The ancestors are able to connect with us in mind, body and spirit. They gave us this information and we followed it. That's what this is about… This is a step in our reconciliation. We all have our own way of showing what is coming."
The art piece will be on display in the home of the Access Program, second floor, Migizii Agamik.