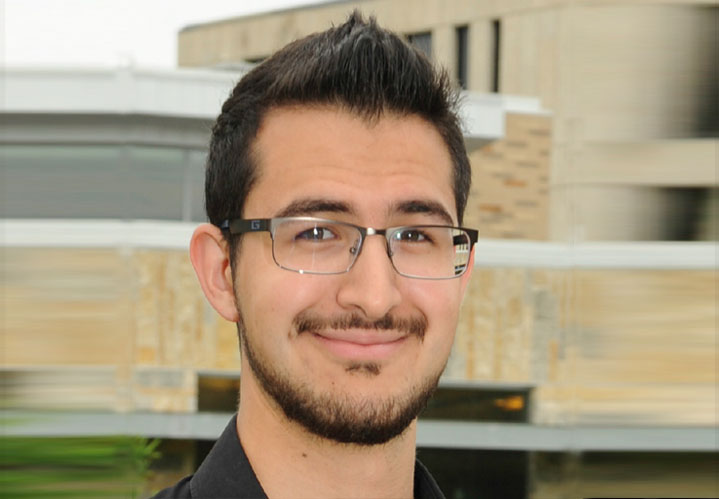 Access Program 2018 grads include Osama Jarkas, MD
Over 25 Indigenous students celebrated their grad with Access support
June 4, 2018 —
Osama Jarkas always wanted to be a doctor, and now he has made his dream come true, with the support of the Access Program.
"It's crazy. It really hasn't sunk in yet. I am celebrating my graduation. I am so happy and grateful to be graduating. It will sink in when I start practicing," says the Métis graduate from the U of M's College of Medicine, originally from Fort McMurray, Alberta.
Access, offered through Extended Education at the U of M, provides holistic support to Indigenous, newcomer, and low-income students on their academic journey.
"There's no question Access was a big part of my success. It can be so easy to forget all the help you get along the way. They helped me so much."
Celebrating grad
Over 25 Indigenous students including Jarkas celebrated their U of M graduation this year, with the support of the Access Program. On May 17, Access held its own program graduation celebration, recognizing the significant accomplishment of its grads earning a university degree. This year, graduates have earned degrees in medicine, dentistry, education, social work, kinesiology and recreation management, arts, and science.
Childhood dream achieved
When Jarkas was three, his brother was born with a congenital heart defect. The family spent a year around the hospital. "The experience was intense. The hospital was a magical place for me. My brother almost passed away. He left healthy. It was a miracle. The doctors were so kind. It was very inspirational. I wanted to be a doctor."
Jarkas discovered Access by accident as an undergrad. When he heard about the Indigenous Student Centre on the Fort Garry campus in an interesting-looking building called Migizii Agamik, he decided to check it out, and was immediately captivated. He joined the Access Program, and this connection supported him to successfully apply to medicine.
"They were such lovely people. Access was like a home away from home. I spent lots of time there, studying and taking naps. They were very supportive. In times of happiness and success, they were some of the first people I spoke to. They were also there for me during challenges and hardship. We would sit down together and find a way to get through it. They were there for me unconditionally. They very much felt like a family."
In return, Jarkas has tutored and encouraged other students to prepare for their MCAT, in physics and sciences. "I am still very much connected with Access. If I can help, I am there."
Stay strong
He reminds students that they should think of the pursuit of their dream field like a marathon. "Be patient and stay strong. If any opportunities for help come along, be humble and accept help from the start. Recognize how long your journey will take, and be patient. Try to connect with people. It is better to accept help earlier on than later."
While studying and practicing medicine is tough, Jarkas says it is never as hard for the doctor as it is for the patients. "We deal with people in the most challenging and vulnerable moments of their lives. We often forget how to treat people in a kind and compassionate manner, not just for the condition. The intensity of the moment should not take away from the way we care for people."
From here, Jarkas plans to work in rural family medicine and emergency. "I am passionate about helping people. As doctors, we see people in some of the most difficult and memorable times of their lives. I know what it is like to be on the other side. I want to be here for people to make unpleasant times a little more pleasant."
For over 40 years, Access has supported students on their path to success. Access includes: University of Manitoba Access Program (UMAP) for students at the U of M, Health Careers Access Program (HCAP) to prepare Indigenous residents of Manitoba for entry to health-related professions such as medicine and dentistry, and the Professional Health Program (PHP).