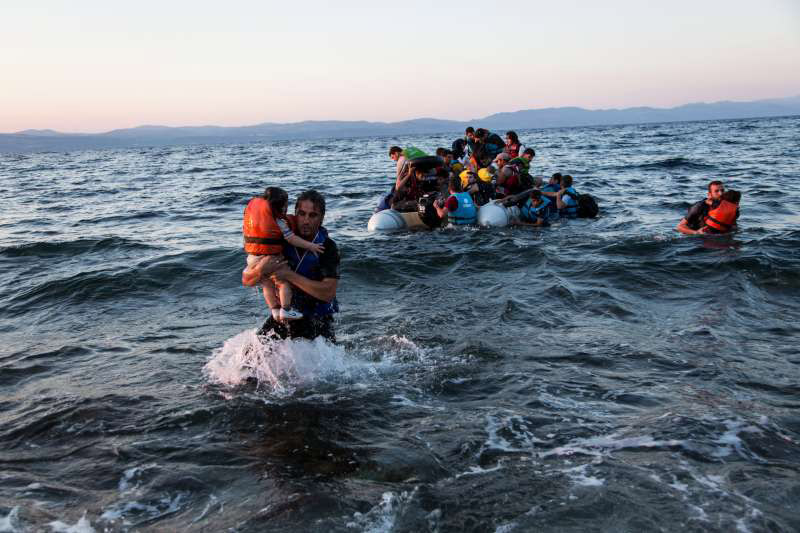 Accepting refugees is not a risk-free activity, expert argues
January 25, 2016 —
The following op-ed was written by Emmanuel R. Goffi, a captain in the French air force and a research fellow at the University of Manitoba's Centre for Defence and Security Studies. It was originally published in the Winnipeg Free Press on Jan. 25. 
For more discussion and debate on refugees in Canada, join us at Visionary Conversations on Wednesday, Feb. 3: "Refugees – are we getting it right?" Panelists will explore questions like, have we found the right mix of humanitarian effort, military intervention, and resettlement supports for refugees who want to make a home here and those who hope to return home?
Canada has welcomed 10,000 Syrian refugees, and I would hesitate to say with 100 per cent confidence there is no risk to Canadian security associated with this.
Prime Minister Justin Trudeau has asserted: "This is about welcoming people who are fleeing terrorism, not bringing terrorism with them." A political statement, if any.
Three recent events shed a new light on the wrong belief that refugees would not represent a threat to Canadians.
In Cologne and Hamburg, Germany, hundreds of women were sexually assaulted during public gatherings on New Year's Eve. The perpetrators were mostly refugees and immigrants. As the New York Times put it, the police "failed to anticipate the new realities of a Germany that is now host to up to a million asylum-seekers, most from war-torn Muslim countries unfamiliar with its culture."
On Jan. 7, a man tried to attack a police station in Paris. According to German investigators, the man had lived in an asylum-seekers' shelter in Germany where he posed with an Islamic State flag.
Five days later, a suicide bomber killed 10 people in Istanbul. It has been proved he entered Turkey as a refugee.
Some argue Canada has welcomed refugees for decades without issue. Fair enough. But looking at the past does not always give clarity in foreseeing the future – particularly because Syrian refugees are coming from a country in which there are terrorists, and where they experienced war, violence and hard conditions.
This is not the case for all refugees, fortunately. However, to avoid this risk of unwittingly allowing a terrorist to enter Canada – unanimously recognized as a risk – the federal government decided to welcome families, women and children, but not single males.
Focusing on single, adult males, however, overlooks a subtler long-term risk.
It would be constructive to ask if children who experienced war and violence would not eventually represent a threat. It is not insane to think some Syrian children will not face strong psychological disorders due to the situation they lived through in their home country. Trained soldiers face post-traumatic disorder after having experienced war; there is no reason to believe untrained youth would not. It is crucial communities recognize this mental-health risk and intervene where necessary.
But even if mental health were not an issue, looking at recent incidents in France, Belgium, Germany and Turkey, it is not absurd to consider these uprooted youth — sent to an alien country with a different language, culture and values — will not all adjust to their new environment. Some will be disconnected from Canadian values and fail to identify with this country.
Furthermore, looking at the French case, there is no doubt some of these detached youth will be a target of choice for terrorist recruitment. This is an easy bet and a risk Canadians are not talking about, but must.
There is no easy solution to be expected. However, haste and wrong self-evident facts are not helping. Emotions are not good advisers. A rational assessment of the situation and an inquiry about the real and objective risks related to the welcoming of refugees must be conducted.
Checking the background of all refugees is not sufficient, especially since these checks are far from reliable. They will need to be monitored closely to be sure any behavioural change would be detected. It is paramount to facilitate their integration and, obviously, limit risks to the bare minimum.
It is understandable statesmen face a strong moral dilemma in choosing between nationalism (which is not synonymous to racism or xenophobia) and cosmopolitanism. But I would argue their first duty is to take care of their people.
If the federal government accepts refugees without taking the proper precautions, both in the short term (background checks) and long term (such as ensuring the new residents embrace Canadian-ness and do not become exploitable targets for extremist groups) the government failed in its first duty: protect its people.
If the government cannot do this, welcoming 25,000 refugees from Syria is not a good idea.