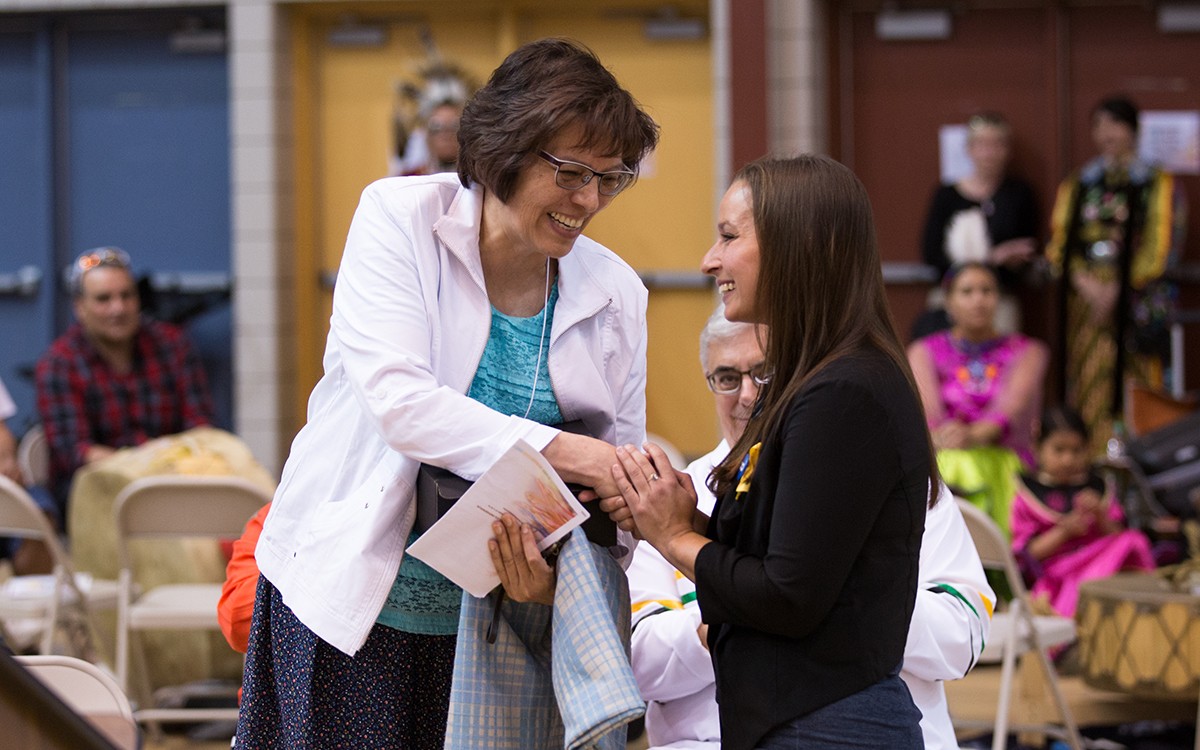 Above and beyond for Indigenous students
May 27, 2015 —
Wendy Whitecloud, director of the academic support program, Robson Hall, Faculty of Law, was honoured at the 26th Annual Traditional Graduation Pow Wow held on Saturday, May 2nd as the 2015 Migizii Award recipient.
The Migizii Award (named for the eagle which represents courage, leadership and vision) acknowledges university staff members who go above and beyond for Indigenous students on campus.
Juris doctor graduate Jessica Barlow nominated Whitecloud for the important support provided to students.
"She taught me how to work harder than I ever thought I could," writes Barlow. "When I needed a helping hand, she was always available. The entire time I have been in law school she has always been there for me."
Whitecloud was the first contact Jessica Barlow had with the Faculty of Law. "She helped me understand what was required for my application," explains Barlow. "She was my professor in my first class."
At the Graduation Pow Wow, Whitecloud was so humbled to be recognized by this award that she asked her son, Hanwakan to say a few words on her behalf. Hanwakan spoke of the importance of knowing that we are supported by those around us who care about our success.
There were many moments that made Jessica Barlow feel supported by Whitecloud. "Whether it was an email checking in with me or stopping me to chat in the halls, she always took the time to make sure we were doing well. Her door was always open and she always had time to listen and help where she could with anything."
"She has a genuine concern for all of her students," continued Barlow. "She is everything that I aspire to be in my career and my personal life. I hope to be able to make a difference in someone's life the way she has in mine."