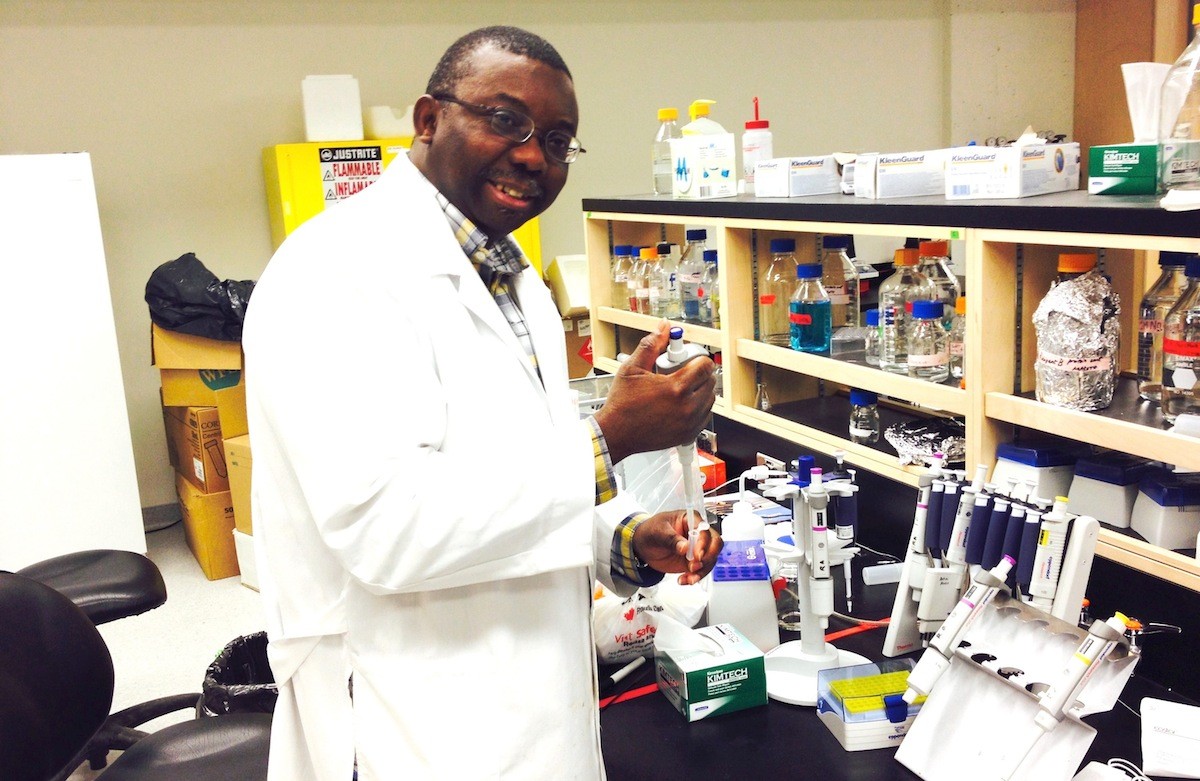 A Year Later
A student and professor reflect on the department of Human Nutritional Sciences' move to the Faculty of Agricultural and Food Sciences
July 14, 2015 —
As part of the Academic Structure Initiative, on July 1, 2015, all the departments in the Faculty of Human Ecology have joined with other faculties at the University of Manitoba: Textile Sciences is now part of Biosystems Engineering, Family Social Sciences has moved to Community Health Sciences and the Interdisciplinary Health Program is being administered by the College of Medicine. Human Nutritional Sciences was the first department in Human Ecology to undergo the transition, and joined with the Faculty of Agricultural and Food Sciences on July 1, 2014. Now that the department has been with Agricultural and Food Sciences for a year, UM Today checked in with a student and a professor to get their take on the change.
Lisa Reed is a fourth year nutrition student, a former member of the Human Ecology Students Organization and a current summer student at the Richardson Centre for Functional Foods and Nutraceuticals.
As a student what was the transition like?
Lisa Reed: At first there was a lot of "save Human Ecology," but there has definitely been a change in attitude over the past year. There's been acceptance and we're actually having a Human Ecology celebration in fall, so I think there's a lot more focus on celebrating the history of Human Ecology and moving forward.
What sort of opportunities do you see as a student, now that you are a part of Agricultural and Food Sciences?
LR: The food industry and the agriculture industry are very prominent in Manitoba, so I see this as a good opportunity for nutrition students to gain some meaningful connections that will help them get their foot in the door in the ag industry.
How does being a part of Agricultural and Food Sciences have an impact on your education in human nutritional sciences?
LR: There is a lot of synergy with food science and nutrition. I worked on a project with Dr. House, who is cross-appointed with nutrition and animal science. He does work studying the effects of locally produced ingredients such as canola oil, pulses (beans, lentils and peas) and hemp on humans and animals. One of his projects was using more Manitoba-grown ingredients for feed and the effects on the chicken and the meat that you get. We did palatability studies and other tests to prove that this can be a safe chicken feed. One of the PhD students is doing work on eggs, seeing what effect feeding this food to chickens would have on the nutrition of the egg. With our resources in food science and nutrition collectively we're able to do some pretty neat things, like palatability studies, and there's a pilot plant in the Richardson Centre for Functional Foods and Nutraceuticals and in the food science department where we can develop new foods. When you pool together our resources, you are able to do more research and it will encompass what the food can do and its nutritional and functional capabilities.
What excites you most about being part of a new faculty?
LR: I think it is going to be a gradual change but it is very exciting to be a part of a new faculty. What excites me the most is getting to see how the food system connects to human health. Being in agriculture, we'll get to see more of that.
Rotimi Aluko is a professor in the department of human nutritional sciences. His research concerns bioactive peptides and functional properties of Manitoba-grown crops.
Can you describe your research in a few sentences?
Rotimi Aluko: We take regular food proteins from milk and prairie crops like yellow field pea, flax seed, hemp seed and we break these down into small products called peptides and then we try to find a use for these peptides. One of the uses is the ability of peptides to reduced blood pressure overall, so instead of hypertensive drugs, people could take peptide products to reduce blood pressure. We can have natural alternatives to drugs that are safer to use, with fewer side effects.
We have licensed this product, which is made from Manitoba-grown yellow field pea seeds, to a Canadian company to market the product as an antihypertensive product. Because of the potential high demand for proteins to make this product, there should be an increased economic return to farmers who grow these seeds.
Now that you are in the Faculty of Agricultural and Food Sciences, what sorts of opportunities do you see for collaboration with your colleagues?
RA: One of the areas that has become very important and the public is demanding is the use of alternative feed ingredients for raising livestock. That is one of the areas we are working on with animal sciences: Can we use natural products from flax and pea seeds that could reduce or eliminate antibiotics in meat? There is a big challenge to find natural alternatives and there is an opportunity to work with animal scientists to come up with natural alternatives to antibiotics that can not only maintain the production integrity of the livestock industry in Manitoba and Canada, but can make it better.
This type of collaborative research sounds like it supports one of the university's strategic research areas: safe, healthy, just and sustainable food systems.
RA: We hope this will have a huge impact in safe, just and sustainable food systems. Firstly, in terms of safety, there is the potential to eliminate antibiotic residue and potential food toxicity in food. Secondly in terms of a just food system, with new products like this, farmers are contributing more and also receiving more in terms of economic returns. Finally the whole system becomes sustainable, because we are using materials that are renewable, not from petroleum or other non-renewables.
What was it like to transition from the Faculty of Human Ecology to the Faculty of Agricultural and Food Sciences?
RA: The transition was pretty easy. What made it easy for me was that we have several existing collaborative works with Ag and Food Sciences professors in food science, plant science and animal sciences. Therefore, it wasn't difficult… to integrate; it was more like coming back home.