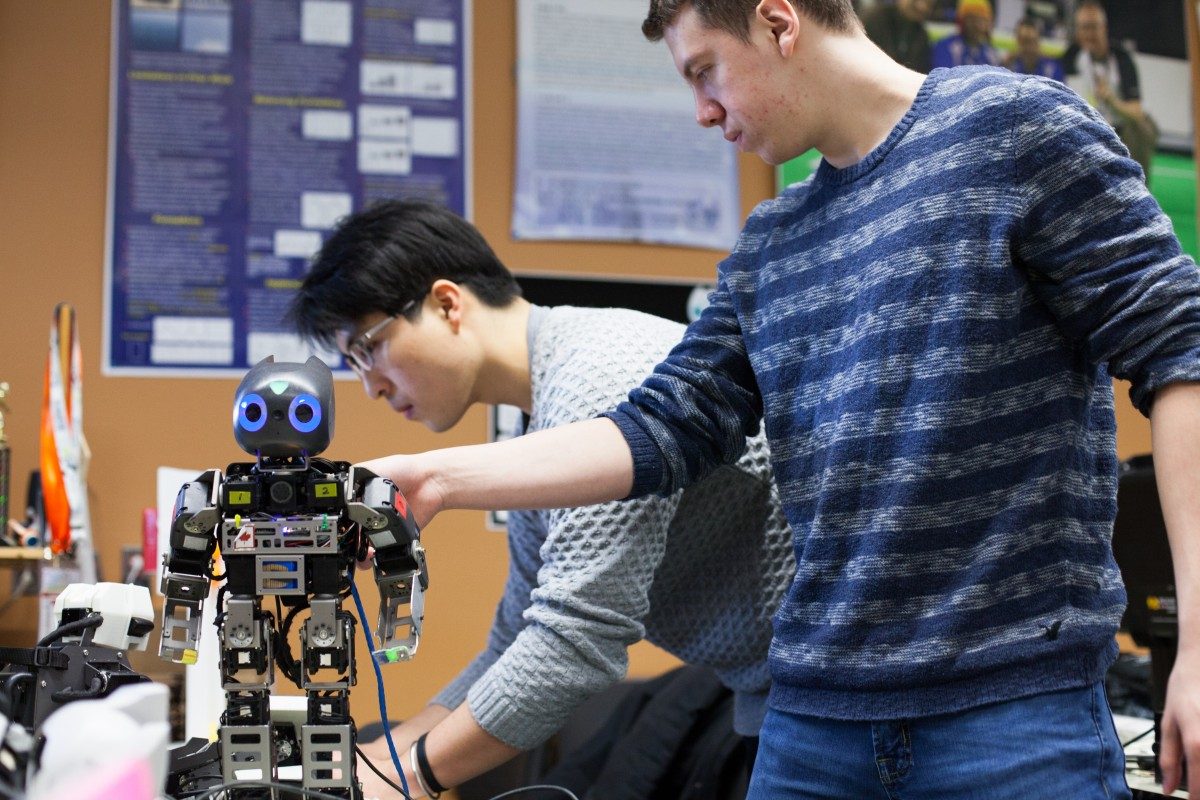 Computer science students win first place in Iran at AUTCup Robotics competition
March 2, 2018 —
The Department of Computer Science is proud to report that its team took first place overall at the Amirkabir International Robotic Competition held in Tehran, Iran last week. Representing the University of Manitoba from the Department of Computer Science were undergrads: 2nd year student Mario Mendez Diaz and 4th year student Jin Park, along with post-doc Meng Cheng Lau.
Once there, the three had to reassemble the robots and adapt their software to the competition setting. Computer Science Professor John Anderson (in whose lab Diaz and Park volunteer) says the achievement by Team Snowbots is "really amazing", since only three students worked on two complete sets of events in both small- and large-size humanoid categories and the likelihood of encountering challenges once the robots were up and running was fairly high.
"In a competition like this there are lots of possibilities that might be different than anticipated. This is part of moving science out of the laboratory and into the real world. So it's a great experience for students as developers because you have to try to anticipate these differences, and plan for the fact that you will not be able to anticipate everything. Thinking on your feet is a big part of this during the competitions."
Since 2013, Anderson's lab has been working jointly on robotics projects with Amirkabir University in Tehran, with UofM students focusing on software while their Iranian counterparts concentrated on hardware. When Amirkabir decided to start a local robotics competition, Anderson and his lab were eager to support them.
"Being invited to an international competition like this is also recognition of the quality of the research our undergraduate students are doing."
The AUTCup included a variety of different robotics events, including humanoid trials with multiple athletic events such as archery and an obstacle course. The experience gained by students will be helpful when they go to the HuroCup competition in Taiwan this August, as it gives them practice in similar events in a competition setting.
This was the first time the UofM had participated in the multi-event contest. Over a hundred participants from eight countries took part in AUTCup 2018, including teams from Brazil, Germany, Mexico, Korea, Malaysia, Iran, Canada and Taiwan.
Diaz had a great time attending the AUTCup. It's was a chance to experience his very first robotics competition.
"It is a very exciting opportunity. Going to another university representing our Autonomous Agents Lab is an important chance to grow both personally and academically. Not only was I very excited to showcase [our] work against other teams (and bring back prizes!), but it was great to be able to experience the cultural and historical aspects of Tehran."
Park, too, appreciated the opportunity to travel overseas to compete.
"This robot competition is not only about defeating opponents and getting awards, it is also about exploring new and better ways of approaching the same goals from others. The aspect I like the most is competing with many intelligent students from all over the world and sharing good ideas with them. Furthermore, competing and interacting with many other students in Iran gives me the opportunity to network with awesome people, which may be helpful in the future should I continue to work abroad in different environments."
---
Research at the University of Manitoba is partially supported by funding from the Government of Canada Research Support Fund.