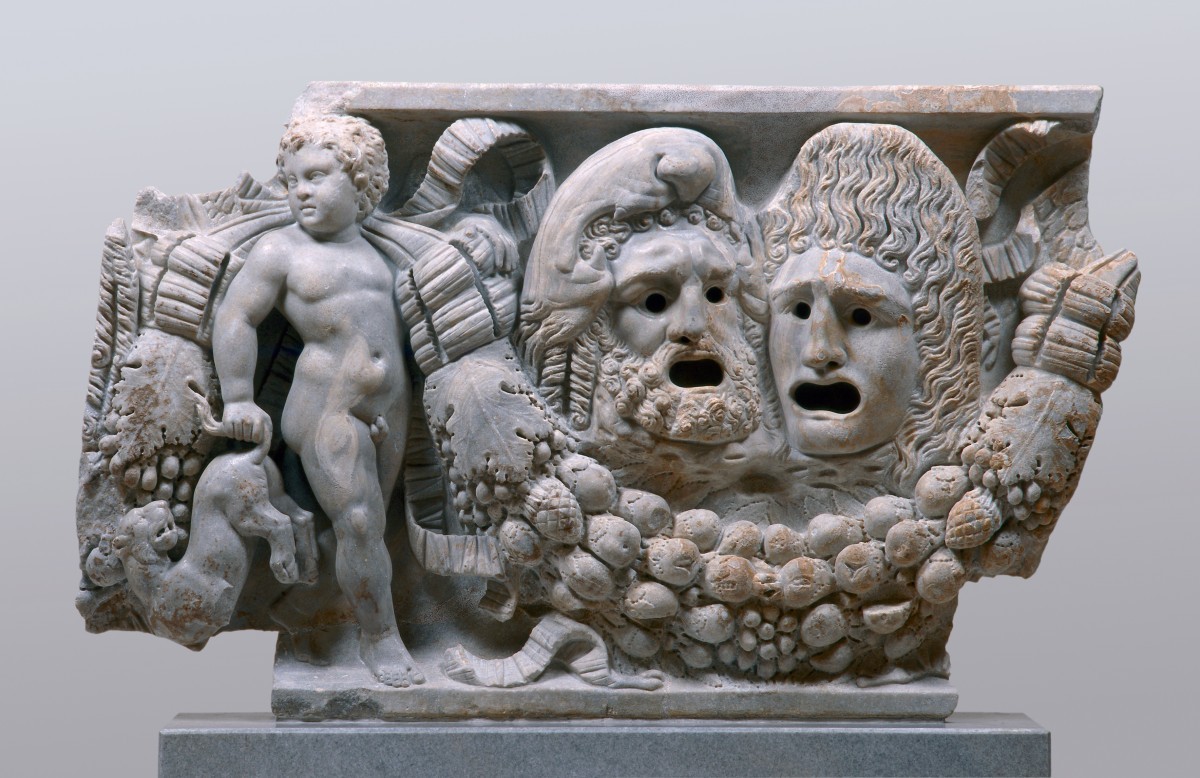 A visit from the gods: Mt. Olympus to Winnipeg
April 23, 2015 —
The gods and goddesses of ancient Greece and Rome have come to Winnipeg in a new exhibit that opens at the Winnipeg Art Gallery on April 26. Olympus: The Greco-Roman Collections of Berlin will also provide a once-in-a-lifetime opportunity for the U of M classics professors who will teach their courses in front of the more than 160 works of antiquity on display.
Not only is Olympus the largest show of classical antiquities to visit the WAG in 50 years, it's also also one of the largest the gallery has ever produced. In addition to the marble statues and reliefs, bronze statuettes, terracotta vases and jewellery visiting from the Antikensammlung (Collection of Classical Antiquities) of Berlin's national museums, the year-long show includes multiple facets such as educational programming and a lecture series, and draws on members of the larger community, including U of M experts in the field.
[rev_slider Olympus]
Professor Lea Stirling says she is beside herself with excitement. The head of the department of classics, who is also chair of the department in the U of M's Faculty of Arts, will teach a "hands-on" spring course on the Olympus exhibit. She adds that the department will be making use of the show in many courses over the next 12 months, and her own grant from the Summer Session Innovation Fund will enable Stirling to use classroom space at the WAG, bring in a guest speaker and hold a mini-symposium for students at the end of the course.
Stirling: "I'm getting to teach about ancient art, right in front of the ancient art."
"It was something I started thinking about the second I heard about the show…. We'll be able to walk around and talk about the cutting marks and the details and what we can see … it's such a different experience from looking at things on slides where they all look the same size."
Stirling, who was a Canada Research Chair from 2001 to 2012, focuses her research and teaching on Roman art and archeology; ancient statuary is one her fields. In addition to her academic research, she's also a field archeologist who's done fieldwork or museum research in Greece, France, Turkey, Tunisia and Italy. Her spring course will be titled, Olympus: Classical Art and Mythology at the WAG.
"I'm interested in looking at how people used it in a world full of statues, and then what became of statues when society and religion changed," she explains.
Stirling: "Statues are everywhere — they are in temples and houses and in public places."
"Statues are everywhere — they are in temples and houses and in public places. I've been interested in what role those play in Roman society. And what happens to those statues in late antiquity, in the late Roman period, as Christianity becomes a force — and so certainly, there is a group of people who goes on appreciating those statues longer than you would expect."
So just how did the statues come to be on display in Winnipeg? According to Stephen Borys, WAG director and CEO and former curator-in-residence at the U of M, the dream began two years ago on a research visit to Berlin with the architects of the WAG's coming new Inuit Art Centre. Borys put together a proposal that will make Winnipeg the one of only two North American tour dates.
On the WAG Olympus blog, Borys notes that the exhibition "is one of those projects that brings people together to share in the creativity and beauty of humankind, as seen through the art of ancient civilizations, which just happen to be very relevant today.
"Why should an exhibition of artworks dating back twenty-five centuries appeal to audiences today? You don't have to look long or hard at the Greco-Roman period to find the many influences and links with our contemporary lives and world. The works included in the exhibition link us directly to the birthplace of Western architecture, language, law, medicine, sport, theatre, and much more that has come to define the heartbeat of modern culture. And from the time of Homer and Hesiod, classical myths and legends have remained a source of inspiration and discovery, sustained in part by a legacy of artistic expression and innovation."
Stirling wants to to highlight how this worldview permeates every aspect of ancient life in Greece and Rome.
Because the Olympus exhibit is based on depictions of gods and goddesses, Stirling wants to to highlight how this worldview permeates every aspect of ancient life in Greece and Rome.
"You might be looking at them or thinking about them, or just using myths to express your thoughts," she says.
"There are depictions on drinking vessels and mirrors and statues in the theatre or the Roman baths. They are all around you with symbolism and with morals such as 'don't do this,' or 'this will happen to you' if you break oaths or if you murder your close kin. Sometimes it's comforting. There [are] various funeral ones that try to give a metaphor for death, or show death as eternal rest, or imagine going to a better place and banqueting.
"Myths can do so many things for you; it's not strictly about worshipping."

Loading ...
Olympus: The Greco-Roman Collections of Berlin runs at the Winnipeg Art Gallery from April 26, 2015 to April 17, 2016. Classics professors Lea Stirling and Micheal Sampson will contribute to the WAG Olympus blog and the lecture series.