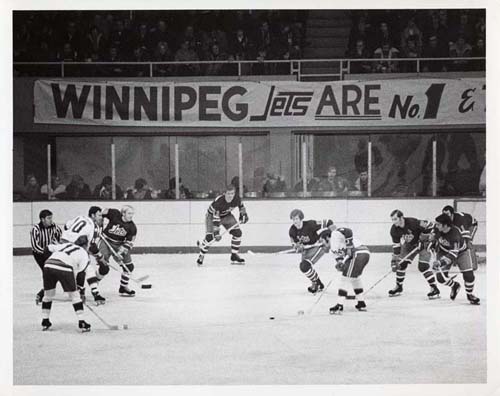 A trove of professional hockey memorabilia kept in archives
February 5, 2014 —
It's not the Hockey Hall of Fame, but in terms of documenting professional hockey in Winnipeg, the University of Manitoba's Archives and Special Collections has an impressive collection of memorabilia.
Winnipeg Jets Memorabilia at the University of Manitoba
Our Winnipeg Jets Program Collection consists of 741 ice hockey programs which almost exclusively chronicle the home games of the team for the period December 1975 to April 1996.  The Winnipeg Jets played in both the World Hockey Association (WHA) and the National Hockey League (NHL) from 1972 to 1996. Due to mounting financial troubles, in 1996 the franchise moved to Phoenix, Arizona, and became the current Phoenix Coyotes of the NHL. This extensive run of programs offers a historical record of the players including those of the WHA teams such as: Bobby Hull, Anders Hedberg and Ulf Nilsson, and later NHL stars including Thomas Steen, Dale Hawerchuk, Randy Carlyle and Teemu Selanne; and individual hockey games and the management of the team. The Winnipeg Jets hockey team program collection was donated in 2010.
The goalie stick from the 1931 World Ice Hockey Championship, won by the University of Manitoba Grads hockey team that represented Canada. This goal-tender's stick makes up the Arthur "Art" Puttee fonds.
The Winnipeg Tribune fonds contain clipping files on hockey as well as Bobby Hull. There are also photographs of venues, fans, players, coaches and staff of Winnipeg's hockey teams. Many of the photographs can be viewed online using the Winnipeg Tribune Photograph Search tool simply using a keyword search for hockey.
The Henry Kalen fonds include colour images of the old Winnipeg Arena and on-ice action during Jets games.
The David Turnbull fonds include letters and images from Turnbull's time as a player for the Oxford hockey team while attending the university as a Manitoba Rhodes Scholar.
In the Pitblado Familty fonds can be found information on Edward Bruce Pitblado, a Rhodes Scholar and Oxford hockey player who also played for the 1924 British Olympic hockey team.