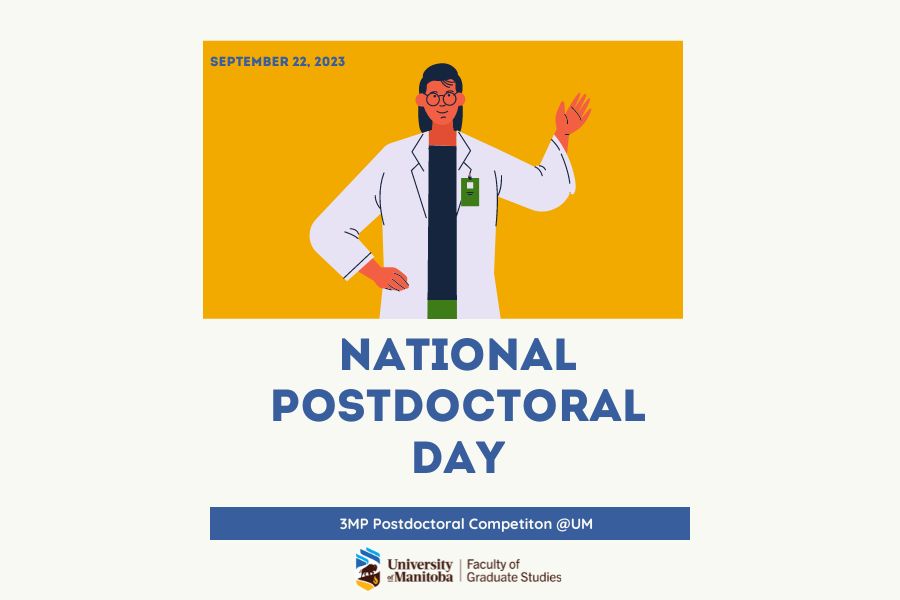 A showcase of UM's postdoctoral excellence in research speaking competition is coming soon!
September 5, 2023 —
The University of Manitoba is proud to announce the challengers in the first ever 3 Minute Postdoctoral competition (3MP), an event that promises to captivate audiences and celebrate the exceptional research and communication skills of 9 UM postdoctoral fellows. Set to take place on Friday September 22nd at 2 p.m. in E3-Room 262 at the Fort Garry Campus. The competition will be a remarkable gathering of researchers from many departments in the University. This event is a platform for these 9 talented scholars to convey the essence of their research projects in a compelling and accessible manner to a generalized audience.
Dr. Main, who spearheaded this competition at UM, expressed her enthusiasm for the competition: "Postdoctoral researchers are at the forefront of innovation and discovery. This competition aims to highlight the importance of effective research communication and showcase these scholars."
A panel of judges will evaluate the participants based on their clarity of presentation, engagement with the audience and ability to make their research understandable to non-experts. The audience will be choosing the People's Choice award winner live at the event.
The challengers who will be participating in the first ever UM 3MP competition are:
Niketa Sarren, Physiology and Pathophysiology
Deepak Kadam, Food Science
Sajad Saraygord Afshari, Mechanical Engineering
Sepideh Mahboobi, Human Nutritional Sciences
Abhay Srivastava, Physiology and Pathophysiology
Oladipupo Olatunde, Food Science
Veronica Lai, Applied Health Sciences
Luisa Fernanda Arroyave Echeverry, Community Health Sciences
Amanda Gomes Almeida Sa, Food Science
Everyone is welcome to attend the event live on September 22nd or watch the event live streamed on UManitoba YouTube channel. Be sure to attend or tune in to cast your vote in the People's Choice Award.
Updates on this event can be found on the FGS 3MP website at https://umanitoba.ca/graduate-studies/3mpost-doctoral-3mp.