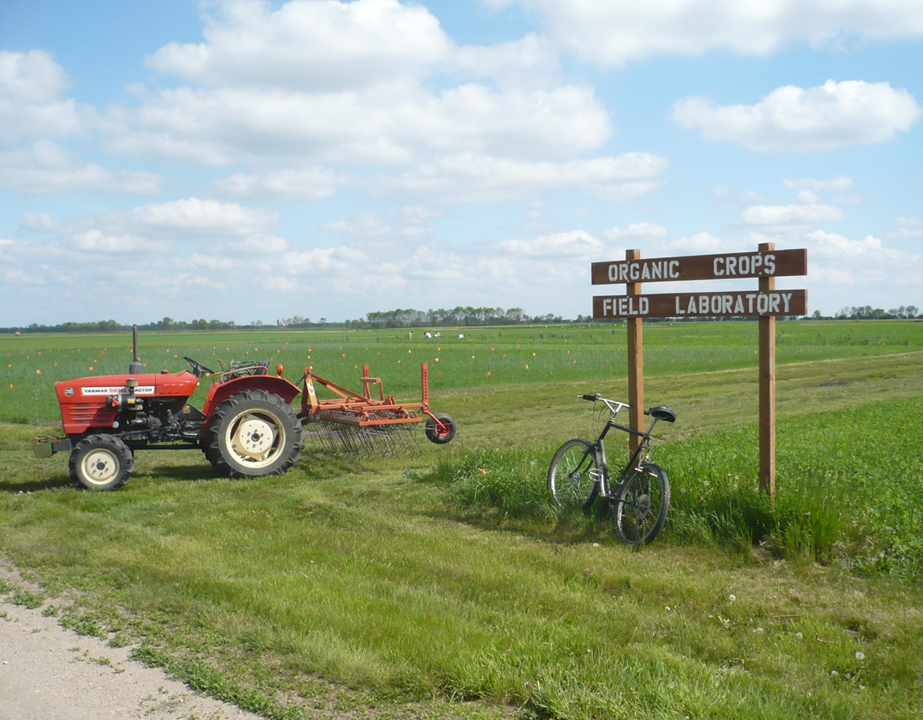 A quarter century of organic production and exploration at the University of Manitoba
March 1, 2019 —
Dr. Martin Entz shares his contributions to organic agriculture within academia and beyond over the past 27 years
THE HISTORY OF ORGANIC AGRICULTURE IN CANADA
With the rise of pesticide-free foods, naturally dyed clothes and all natural beauty products, it may seem that organic products have only recently gained popularity and become relevant to the mainstream world. But, as Dr. Martin Entz explained at a Food Systems Research Group seminar on January 30th to a lecture hall full of faculty, students and other attendees, the term initially gained traction in Canada in the early 1950s after the first formal organic soil organization was formed, the Canadian Organic Soil Association. Years later in 1988, Manitoba registered its own organic producer's provincial association and in 2001, the Organic Agricultural Centre of Canada was established. Finally in 2009, as the organic agriculture industry continued to grow rapidly, the federal government created the Standards Interpretation Committee to assist in the governing of organic production as it has, "clearly defined production and processing parameters, needs regulation, has a value proposition and is growing steadily."
While organic products may be stereotyped as being elitist goods, the statistics provided by Dr. Entz proved otherwise. Today in Canada, 66% of Canadians buy organic goods on a weekly basis which includes 83% of millennials making weekly organic purchases. Annually, the industry contributes roughly 1.5 billion dollars to the Canadian economy with greenhouse goods being the largest contributor. Evidently, the demand for organic goods and services has grown substantially since the first formal organic soil organization was established just 60 years ago.
ABOUT DR. MARTIN ENTZ
Before diving into the science of organic agriculture, Entz, now an accomplished professor in the Plant Science department at the University of Manitoba, gave insight into influences that lead him to pursue a now 27-year career in agriculture. He credits his earliest influence to be familial as both of his parents were from northern European, which is where many sustainable agricultural practices that Canadian farmers now use, like rotational systems, originate from. Other influences that lead him to study sustainable and organic agriculture further on into his academic career include a book on the economics of permanence by E. F. Schumacher, the 1987 Brundtland Commission report, 'Our Common Future,' which coined the term 'sustainable development,' and the 1992 United Nations Real Earth Summit which discussed global environmental issues. Entz also jokingly gave thanks to the university for allowing him to, "do whatever the heck I wanted as long as I could get the money for it, and thank goodness for academic freedom."
TAKING THE FOOD SYSTEM ON AN ALTERNATIVE PATH
A hundred years ago, the University of Manitoba's campus looked very different than it does today. Originally, much of the campus was dedicated to education-oriented agricultural fields that had ongoing research being done which included studies on manure management, crop rotation, and fertilization of fields. Being able to read the archived research reports done on these studies as a graduate student himself gave him "a lot of excitement" while studying at The University of Saskatchewan.
Entz, along with colleagues who wanted to take the food system on an alternative path, developed an ecological farming system called 'Pesticide Free Production.' This system, which is now trademarked by the University of Manitoba, includes crops that are non-GMO and are free from pesticides from the time of crop emergence until the time of marketing. After a time he decided that if he was going to work on an alternative agriculture system for crop production with a value proposition, it needed to be organic. With support from the department heads, he first met with other organic farmers across the prairies to learn and observe their agricultural practices. In 1992 Entz started doing his own organic research just 20km south of the university at the Glenlea Research Farm. This Glenlea Long-Term Rotation, now entering its 28th year, is Canada's oldest organic-conventional comparison study.
Dr. Entz discussed organic-agriculture techniques such as reduced tillage organic and a wide variety of crop management systems aimed at producing high yielding organic grains. Plant Science technician, Keith Bamford, who has worked with Martin for the past 27 years perfected a system that combines a novel piece of field equipment (blade roller) with the right cover crop species to allow farmers to reduce the reliance on tillage for weed control. This innovation has been the focus of several MSc and PhD projects and the blade roller, first used by small-holder farmers in Brazil, is now in commercial production in Canada.
Another project involves breeding crops specifically for organic conditions. Entz set up a collaboration with Agriculture and Agri-Food Canada to develop wheat and oat varieties better suited to organic production, a program that has to released three registered Canadian varieties to-date. His team also engages farmers in the early generation selection process, a project that caught the attention of USC Canada, an NGO famous for its "seeds of diversity" work in the developing world. This farmer participatory plant breeding program now engages 75 farmers from Vancouver Island to PEI.
SAVING THE WORLD ON HIS OWN TIME
A criticism that Entz and his colleagues faced while doing their research on organic production was that organic agriculture realistically could not feed the world. But he made it clear that he is more than comfortable with organic agriculture coexisting along with other forms of production and believes that, "it doesn't need to be this or that when it can be this and that." His response to those who believe that organic farming can't feed the world reminds him of a paper that claims that humanity has reached the end of science and innovation when we have so clearly not; the innovation is simply different than what it once was.
Entz refers back many times to a book by Stanley Fish called, 'Save the World on Your Own Time,' which advises university academics on how to do research that is meaningful to society. In response to the book, he shared publications of his own done with colleagues following the advice of Fish to better society through his work.
Dr. Entz finished off his seminar by giving thanks to the faculty, his co-workers, staff and grad students for helping him accomplish all he has been able to do in the past quarter of a decade, "working from the landscape scale down to the molecular level."
FOOD FOR THOUGHT KNOWLEDGE SHARING SERIES
What is the Food Systems Research Group? The FSRG is an umbrella group fostering the creation of multi/trans-disciplinary collaborative research to advance the theme of Safe, Healthy, Just and Sustainable Food Systems.
The FSRG hosts a monthly seminar series featuring UofM research on food systems – joining our mailing list to receive upcoming notifications by sending an email to foodsystems [at] umanitoba [dot] ca.
Sara Poppel is an economics student in her second year, currently helping with communications with the Food Systems Research Group and the National Centre for Livestock and the Environment.