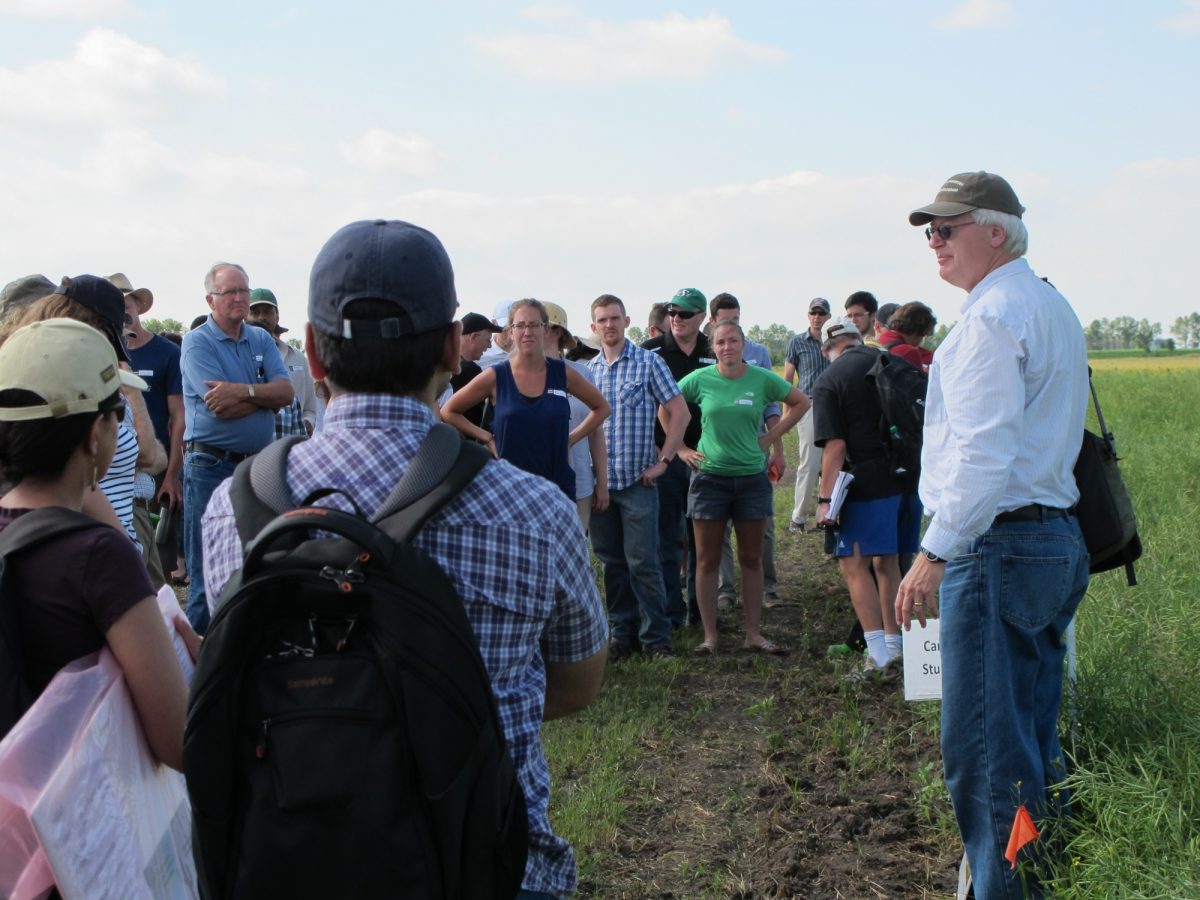 A lifetime of outreach and community engagement
October 23, 2020 —
Don Flaten, Professor in the Department of Soil Science, has been presented with the University of Manitoba's Dr. and Mrs. Ralph Campbell Outreach Award for meritorious service in outreach activities.
This honour is given to University staff members who consistently invest countless hours of time and effort in community service. This engagement typically enlarges and enriches the contacts between UM and all segments of the community through increasing access to programs, sharing the resources of the UM and drawing on the community's resources and talents, all areas in which Don has made significant contributions.
"Dr. Don Flaten is a legend in the agricultural community, tirelessly engaging producers, industry groups and the general public for more than three decades while at the University of Manitoba," says nominator and colleague Brian Amiro, Soil Science senior scholar.
Don's field of teaching and research is in soil fertility and nutrient management. He is affectionately known as "Dr. P" for Dr. Phosphorus because of his extensive technical and practical knowledge of this element, not only nationally but internationally. A highly sought-after speaker, he has delivered hundreds of invited workshops and field tours, enabling thousands of professionals to update their knowledge.
He served as the Director of the School of Agriculture and administered the Agriculture Diploma program, as well as several certificate programs, and has been a driving force for community engagement beyond the UM's normal teaching and research mandates. Don regularly brings agricultural specialists and farmers into the classroom to work with students and he also takes classes of students to farms, providing real-world case studies and cutting edge knowledge in current practices.
"This level of community engagement creates a 'life-long learning' environment, where current students learn from practitioners, while the practitioners are engaged with young inquiring minds," says Amiro. "Most importantly, he has been building a community in the broad sense that transcends generations of learners."
Agricultural and mainstream media regularly call on Don to address agricultural and environmental issues, particularly around nutrients. He has shared his technical expertise with government, industry groups and the public, and has volunteered numerous hours in committees to help improve the economic and environmental status of Manitoba. One example was Don's engagement with the community to help find solutions for eutrophication in Lake Winnipeg, including the Lake Winnipeg Stewardship Board, agricultural commodity and conservation groups and many others.
Andrew Dickson, executive director of Manitoba Pork Council, wrote in his letter of support for Don's nomination that Don contributes generously of his time.
"(Don) has a well-earned reputation for integrity and a curiosity about how nature works. He is prepared to listen to the concerns of the ordinary citizen and to explain the science behind the impact of nutrient application and soil management in terms that can be easily understood by the lay person. Not many can do this," says Andrew.
Don served as chair of the National Centre for Livestock and the Environment, where he hosted visitors from across the province and around the world to demonstrate beneficial scientific practices. He has been instrumental in organizing the long-running Manitoba Agronomists Conference and, at the request of former students, Don has taught a popular series of short soil fertility "refresher" courses to alumni over the last four years.
Don has been recognized for his outreach excellence before, including twice receiving the UM's Merit Award for Outreach and Service, as well as the Canadian Society of Soil Science Award for Soil Science and Society, the Manitoba Pork Council Pork Industry Education Award and the Saskatchewan Soil Conservation Association Award of Merit.
Much of Don's outreach achievement draws on the fact that he is an exceptional educator, as evidenced by teaching awards such as the UM's Certificate in Teaching Excellence, the North American Association of Colleges and Teachers of Agriculture Teaching Award of Merit, the Canadian Association of Diploma in Agriculture Award for Teaching and Professor of the Year in multiple years.
Don is retiring at the end of 2020, but his legacy will continue through the many outreach programs and practices he has help establish, as well as through the countless professionals he has mentored over his noteworthy career.
Andrew Dickson notes: "His work will continue to be relevant as the many students he has taught and developed as researchers, will build upon his efforts to bring understanding and insight into how farmers can bring food and economic wealth from the soil."