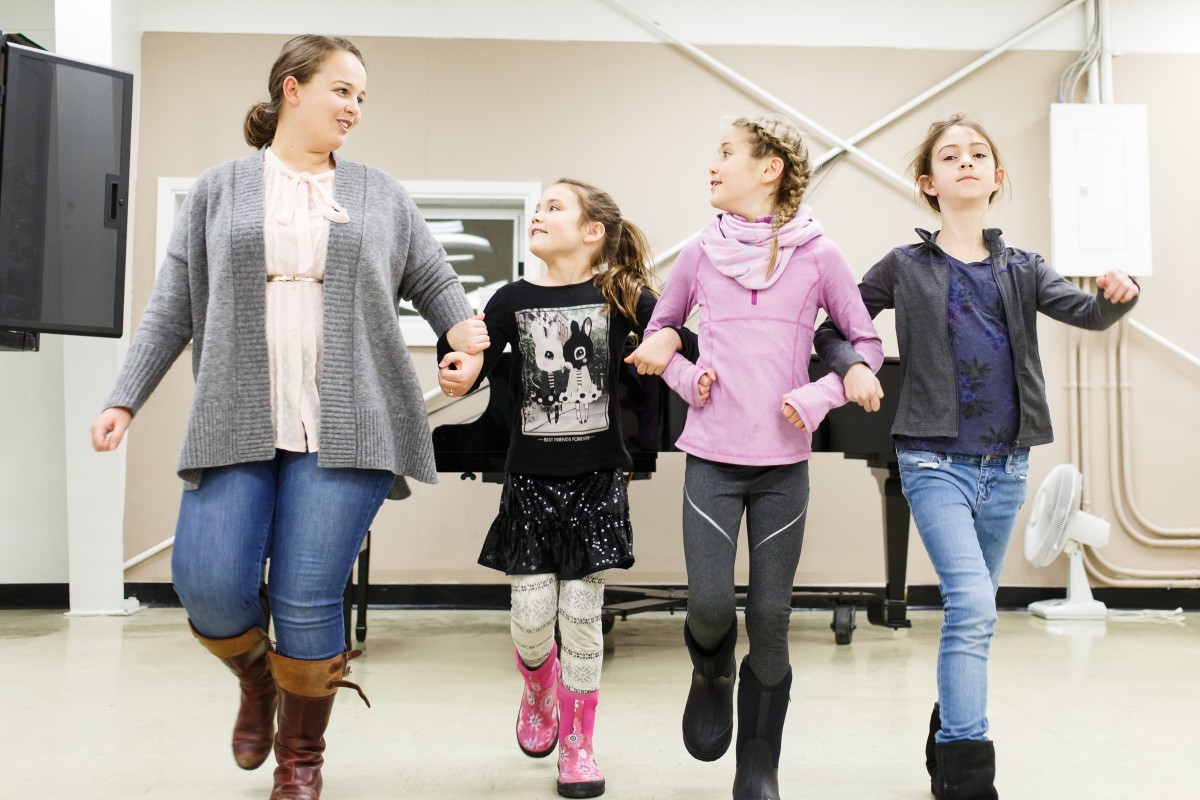 A growing passion for music
Prep Studies gives kids the opportunity to learn and have fun through music
August 18, 2016 —
Music is one of the first things a child hears. A parent singing to their child in the nursery or a toddler bopping around to the beat of a song she hears on the radio; kids are drawn to music at a very young age.
The University of Manitoba is helping children grow their passion for music through the Desautels Faculty of Music's Prep Studies programs, which offers early childhood music lessons, musical theatre classes and private instruction.
Through the early childhood music program, toddlers as young as 18 months have the opportunity to learn and discover music in a fun environment through singing, dancing, clapping games and playing instruments.
Halle Banting, a fifth-year Desautels Faculty of Music student, teaches the program. She has a passion for singing in choirs, playing the piano and teaching private music lessons.
"It is amazing to get the opportunity to teach students the fundamentals of music," says Banting, who notes that caregivers are encouraged to play with their child and discover the joy of making music together. "The biggest benefit is helping them keep a beat and use their voice for singing. It's also helpful for when they are older and take music in elementary schools. They'll already understand the basics of music."
Students already in grade school can participate in musical theatre classes on campus. Taught by music alumna Colleen Furlan, herself a force to be reckoned with on Rainbow Stage , the classes are a fun way for children to engage their creative side.
"Musical theatre is a way of expression and getting your creativity out in the world in a positive manner," says Furlan. "Musical theatre is acting, singing and dancing. You've got elements that work your brain, body and mind."
Furlan says it's important for kids to get active, and musical theatre offers a fun way to get moving.
"The students get a fantastic workout they may not get elsewhere," she says.
Prep Studies also offers private instruction for many different instruments. Bennet Charter, who graduated from the University of Manitoba in 2011 with his Master of Music, has been teaching piano in Winnipeg for over 10 years, including the past seven years with the University of Manitoba Division of Preparatory Studies.
"If a student signs up through Prep Studies, they can feel confident they will be connected with a teacher who is not only knowledgeable, but who will also be invested in the student and work hard to help them achieve their best, whatever their goals may be," says Charter.
There are multiple opportunities throughout the year for students to perform in recitals. Prep Studies also offers an enrichment program, for which students may audition. If accepted into the program, students have access to high-level masterclasses (essentially short public lessons) with a series of guest clinicians. Previous clinicians include Desautels Faculty of Music professors, Winnipeg Symphony Orchestra musicians, and Virtuosi Concerts artists.
"Private instruction offers students a teacher's undivided attention throughout the course of a lesson," says Charter. "This focus allows the student and teacher to delve more deeply into the repertoire they are working on together. While group instruction can certainly be a good fit for some students, particularly young children, I believe private instruction is the most effective way for a teacher to help a student progress and achieve his or her goals."
Lessons are offered in the new Taché Arts Complex, at the heart of the Fort Garry Campus as well as in teacher's home studios. Registration is now open.
Program coordinator Sarah Heidahl says students have choices for the length of lesson.
"Lessons are typically 30, 45 or 60 minutes long, depending on the student's age and level," she says. "Music education is fun and gives students an amazing creative outlet. We're excited to start educating new students in September!"
For more information and to register for Prep Studies at the University of Manitoba, click here.
Registration Dates and Details
Special Offer on Musical Theatre: Bring a friend and save on tuition! Register with a friend and both you and your friend will receive $25 off the cost of tuition for Musical Theatre. To take advantage of this special offer, both registrations must be submitted to the Prep Studies office by 4:30PM on Wednesday, September 14th. Limit of one discount per student. Registration closes on Sept. 21. Click here for more information.
Early Childhood Music: Spaces are still available in the Music for 3's and 4's as well as the Music for 5's and 6's class. Registration deadline: Friday, September 16th. Click here for registration details.
For more information on private instruction, visit umanitoba.ca/faculties/music/prep/MusicLessons.htm.