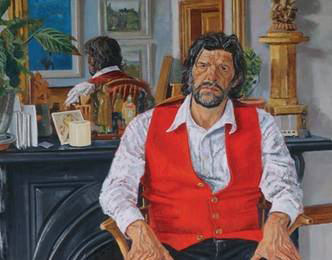 A favourite poem by Micheal O'Siadhail
February 28, 2014 —
Anyone who's heard our president speak knows that he loves poetry — in fact, he usually finishes his speeches with a poem or a poem excerpt.
In anticipation of Micheal O'Siadhail's upcoming visit to the university for the President and the Poet event on March 5, UM Today asked President and Vice-Chancellor David Barnard to read us a couple of his favourite poems by the Irish poet. We also asked him to explain his choices.
"Hail! Madam Jazz" is the first of two he chose. You can hear President Barnard read his first choice by clicking on the orange Soundcloud play button below.
President Barnard: This poem is special to me because it is the first poem of Micheal O'Siadhail's that I encountered. It was read to a group of which I was part by a visiting lecturer. I loved the music of the poem, and also the way in which the poem uses music, and specifically jazz, as a symbol for energy and creativity. As the poem unfolds, the poet piles up names for the one addressed, ultimately coming to the "Madam Jazz" of the poem's title. Whatever else may be included in the image, the making of music is the nexus in which we can make our own contributions to the ongoing reality of our experience, letting the old things change and contributing to reawakening. And contributing to praise – the poem ends on an upbeat note.





Hail! Madam Jazz
Micheal O'Siadhail
Worship, hold her a moment in thought.
Femme fatale, she shapes another face,
Unveils an idol. O Never-To-Be-Caught,
O Minx beyond the mind's embrace,
Hider-Go-Seeker, Miss Unfathomable,
Demurring Lady playing at the chase.
As stars or atoms we turn, fall
Towards each other's gravity. I spin
In your love's nexus, Mistress All.
Once a child of Newton's fallen
Apple, I'd the measure of your ways.
My stars, my atoms, are we one?
Mischievous Strategy, Madam Jazz!
Old tunes die in metamorphosis.
Rise, fall, reawakening. I praise.