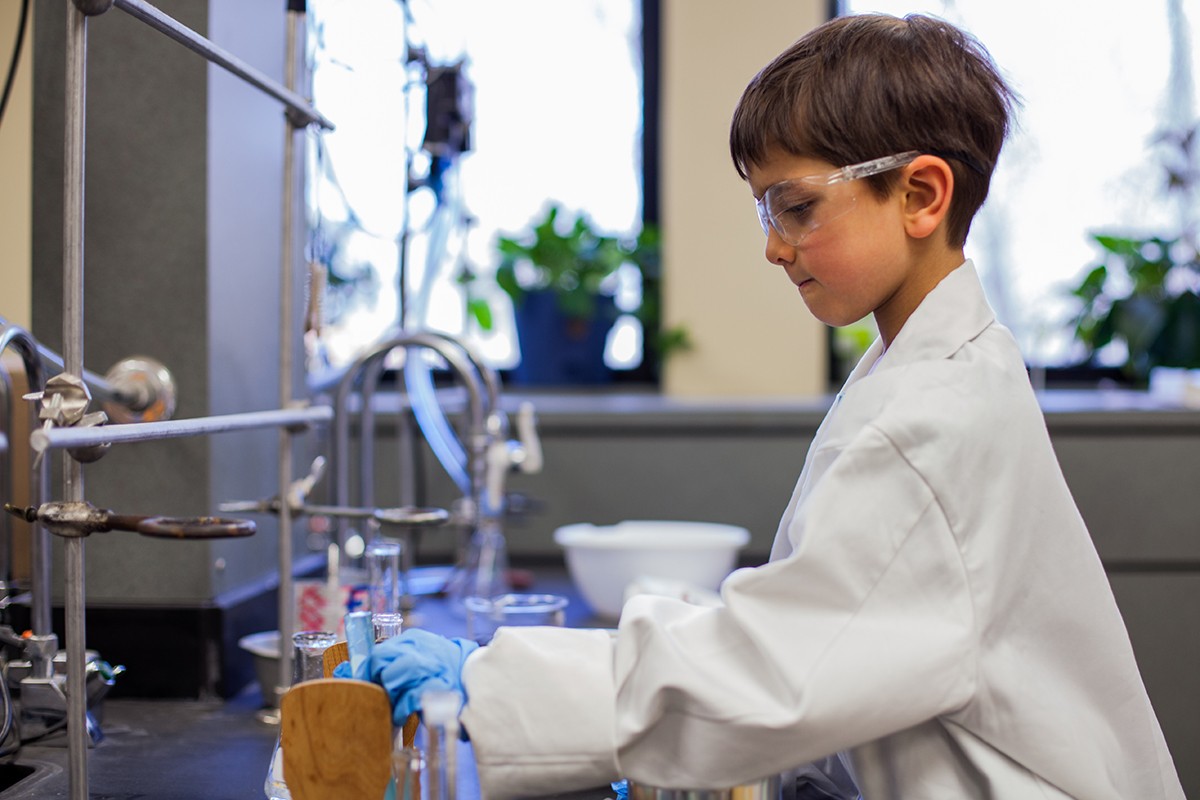 A date with science
Science Rendezvous explores the wonder of science with the community
May 2, 2016 —
"I think it's important for us to bring the wonder of science back and be able to look at what surrounds us and see the wonder of science in it," says Krystyna Koczanski.
The associate dean in the Faculty of Science shows the passion she developed for her field. Koczanski's role in organizing Science Rendezvous at the University of Manitoba – part of a nationwide, festival-like event, open to the public – is a perfect conduit to extend her love of science.
The University of Manitoba hosts this year's regional event on Saturday, May 7 in the Engineering Atrium.
"I love to see kids and have them play with us," says Koczanski, of the family-friendly event. "That wow factor, that surprise, that spark in the eye of the kids going, 'this is really interesting.'"
Science Rendezvous was started in Toronto in 2008 by University of Manitoba alumnus, Dwayne Miller, a chemistry and immunology grad from 1978. Miller pitched the idea to his alma mater, which contributed to the spread of the festival nationwide. In the eight years since Science Rendezvous started, it has grown to include 40 top research institutions, 122 community partnerships in 30 cities and nine provinces and one territory, making it the single largest science festival in Canada.
Typically, both the University of Manitoba and the University of Winnipeg host their own events on separate campuses. This year a single event is co-hosted by both universities at the U of M.
The events of the day, here and across the country, work to engage and transform the general public from passive supporters of science and engineering to active, passionate champions with an understanding of the important role science plays in the rapidly changing world. The open-lab concept of Science Rendezvous brings science and world-leading scientists face-to-face with the public. Through thousands of hands-on science experiments, interactive lab tours, and explosive demonstrations, Science Rendezvous shows how science affects daily life, standard of living and global competitiveness.
"The idea is to take the science to the streets, to showcase Canadian achievement in science to the public and to show excitement of science," says Koczanski. She goes on to explain that science isn't just about saving lives and making things better. "As scientists, we would like to understand how things work. The desire to understand the world is why we do science and we want to share that with the public."
There are a number of faculties participating from both the U of M, such as Engineering, Agricultural and Food Sciences, the Clayton H. Riddell Faculty of Environment, Earth, and Resources, and of course the Faculty of Science, as well as others from the U of W in this year's event. Koczanski says there are artists involved as well. The diversity contributes to the vast programming throughout the day.
So what will families get to do at Science Rendezvous this year? There's a long list of activities planned, including:
a physics circus,
chemistry magic show,
a musical staircase,
a bottle rocket launch,
an ice camp,
and an oobleck pool (a mixture of cornstarch and water that acts like goo, but becomes solid when impacted).
Kids will also have the opportunity to make a Cyanotype Mother's Day card and everyone can take part in the speed-date-a-scientist event where participants will have the opportunity to speak one-on-one with scientists to learn more about what they are studying in their labs.
"Like a fine piece of art, science not only improves our lives, it also leaves us in awe as it reveals the hidden beauty in our universe. From the intricate dance of molecules in our cells, to mathematics' Golden Ratio brought to life in a pine cone or a sunflower, to coalescing black holes in far distant galaxies – science surrounds us with wonder," says Stefi Baum, dean of the Faculty of Science.
Science Rendezvous takes place May 7 from 11 a.m. to 3 p.m. in the Engineering and Information Technology Complex Atrium. All activities are free and open to the public.