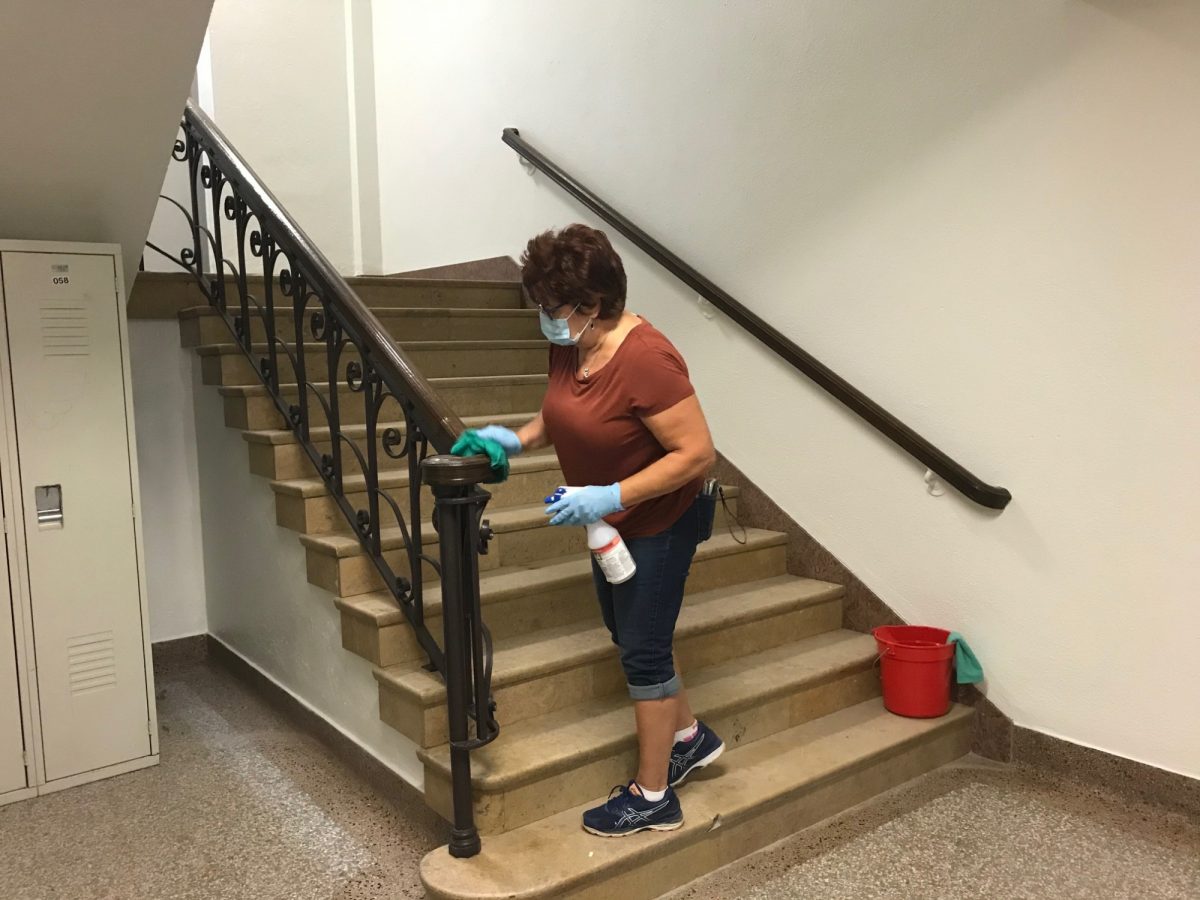 A clean, safe and secure campus
Planning for a healthy research, learning and work environment: Protocols
January 20, 2021 —
In mid-March of 2020, physical plant, including caretaking services, began planning their response to COVID-19, and since then has been enhancing its cleaning and safety processes in order to provide a safe environment for the University community. COVID required a major pivot by the team's management and staff, which they've achieved with competence and efficiency.
When classroom activities were reduced and more emphasis was given to online learning, caretaking staff was able to provide enhanced cleaning services to our teaching labs, offices, lunchrooms and public places.
Now as we welcome students back for the winter 2021 semester, safety and sanitization protocols have been designed to prioritize a healthy, secure environment, while being responsive to the changing provincial regulations and public health protocols.
Here's a general overview of safety and sanitization protocols on our campuses as students, faculty and staff return, and we gradually increase our on-site operations to meet the University's ongoing mission of teaching and learning.
For more, see the COVID-19 (coronavirus) website and the COVID updates and safety resources page.
Disinfecting classrooms and theatres, physical distancing for seating
The University is following provincial health guidelines, and some classrooms are in limited use as approved by COVID-19 Recovery Steering Committee. All classrooms and study areas being used are being disinfected after each class. Caretakers are using handheld and backpack unit cold foggers to disinfect the areas.
To maintain the proper social distances guidelines, seating arrangements have been made accordingly. "Sit here" and "Don't sit here" placards are posted on seats, and limited seating drawings and seating capacity notices are posted by the entrance doors of the classrooms.
Safety Signage
Safety signs are posted on the entry/exit doors of each building at both campuses.
Hand Sanitizers
Hand sanitizer dispensers have been installed in each of the buildings, near the main entrances/exits doors, by main floor elevators, and in tunnel entrances/exits and stairwells.
Sanitization of touch points
Our caretakers are working hard to ensure our University community is protected. All the main entrances, elevator touch points, railing and washrooms are being disinfected numerous times every day.
Cleanliness testing
To ensure the safety of our University community, caretaking staff are conducting periodic ATP (adenosine triphosphate) swab tests on touch points, washrooms and classrooms.
In industries where hygiene control or cleanliness is crucial, ATP testing is used as an excellent tool for detecting and measuring biological matter that should not be present.
Disinfecting contaminated areas
Caretaking staff members are fully trained to disinfect contaminated areas, and cleaning has been enhanced in many areas, including the Active Living Centre, 200 Level UMSU University Centre Building, 100 Level Robson Hall (Faculty of Law), 300 Level Parker Building and 200 Level Human Ecology Building.
PPE Supply
To help support a safe return to campus, the University has purchased additional personal protective equipment and cleaning and sanitization items through the Procurement Office. A new General Services Store was created to help manage inventory. Supplies can be requested through EPIC , and will be delivered by General Services staff. Examples of supplies include: disinfecting wipes; hand sanitizer in liquid and gel forms; disposable non-medical masks; cloth reusable masks.
See more on the UM Coronavirus website https://umanitoba.ca/coronavirus