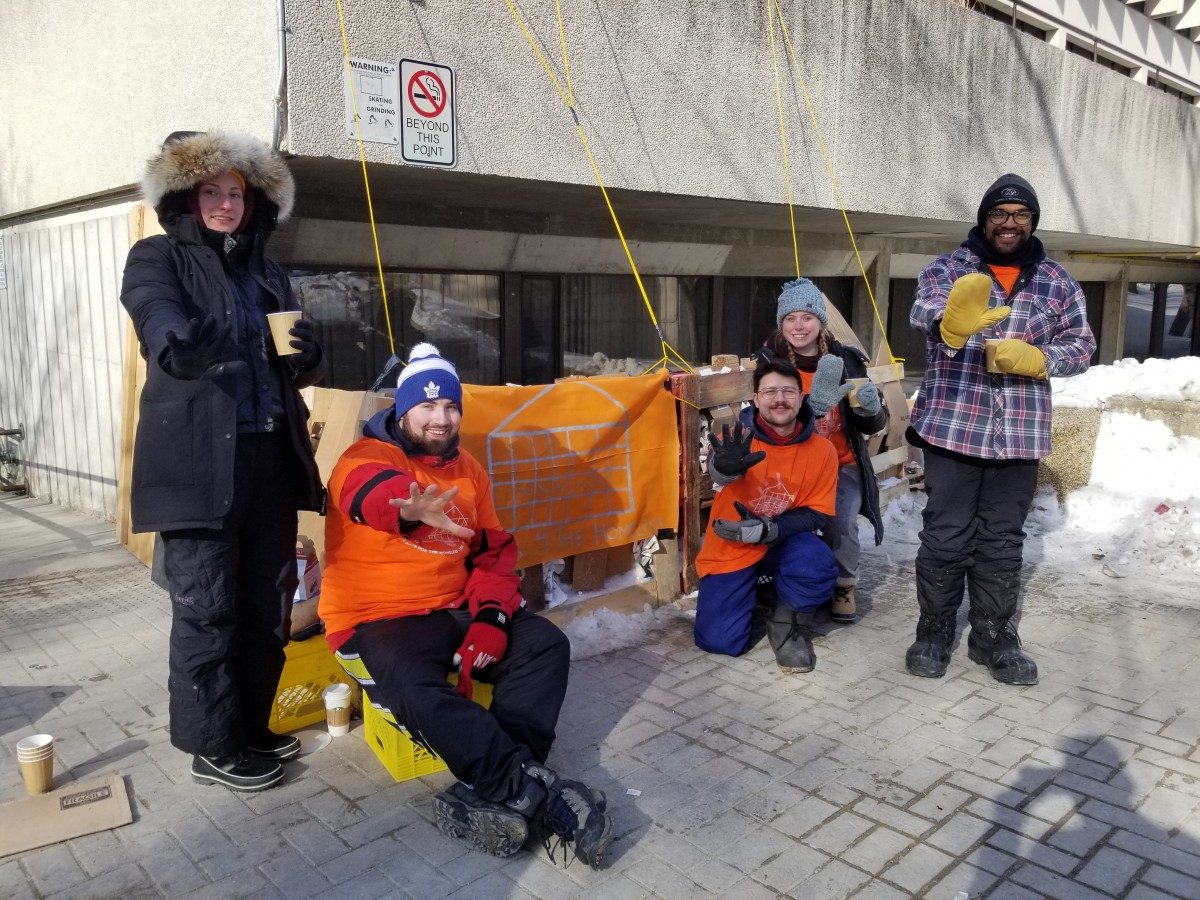 5 Days for the Homeless
March 9, 2018 —
Six University of Manitoba students trade their beds for the snow, sleeping outside for five nights as part of the national 5 Days for the Homeless campaign, raising funds and awareness for underprivileged Winnipeggers by supporting Resource Assistance for Youth (RaY).
The participants – or Sleepers – will spend their nights in a shelter on the east side of UMSU University Centre on the U of M's Fort Garry campus from March 12 to 16. The students will maintain their academic commitments, but will not be able to shower or carry any cash or identification, eating only food that has been donated to them.
This marks the tenth consecutive year that students from the U of M's Asper School of Business have run this campaign. Donate now.
Several events have been planned to help the campaign support RaY
Fivehole for Five Days Street Hockey Tournament
Sunday, March 11, 2018 – 10 a.m.
ACE & AC Parking Lots at the University of Manitoba's Fort Garry Campus
Opening Ceremonies
Monday, March 12, 2018 – 12 p.m. (noon)
The Asper Commemorative Room at the Asper School of Business, 181 Freedman Crescent
5 Acts for the Homeless Social
Thursday, March 15, 2018 – doors open 7:30 p.m.
The St. Norbert Hotel, 3540 Pembina Hwy
Tickets available online
Closing Ceremonies
Saturday, March 17, 2018 – 12:00 pm (noon)
Asper School of Business, 181 Freedman Crescent
About
5 Days for the Homeless was founded as a local initiative by University of Alberta School of Business students. The initiative expanded to a national scale in 2008. To date, the campaign has raised nearly $2 million for charitable organizations across the country and has raised awareness about youth homelessness from coast to coast.
Resource Assistance for Youth, Inc. (RaY) is a non-profit street-level agency working with street-entrenched and homeless youth up to the age of 29. RaY is non-judgmental and non-partisan, employing a harm reduction approach to all interactions with youth in need.
Follow the campaign