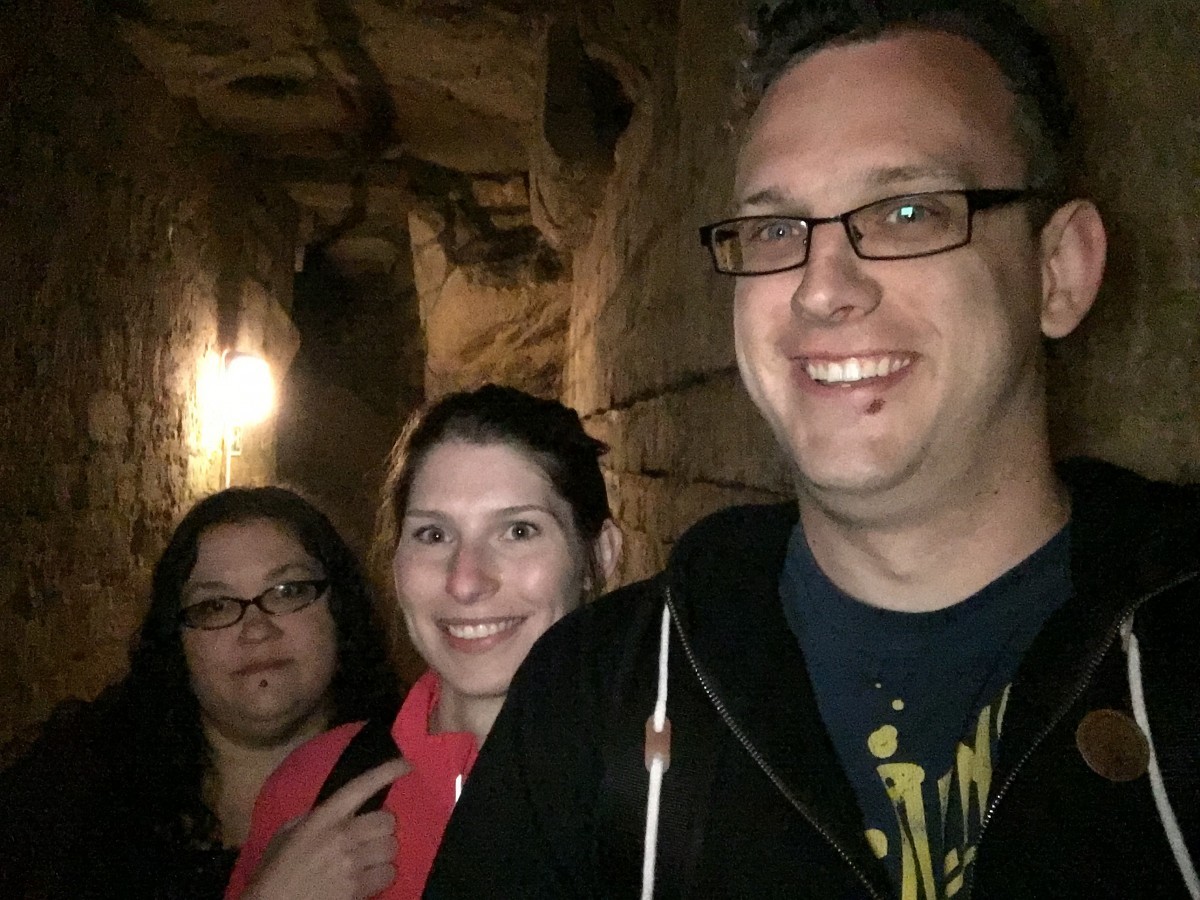 Weekend in Paris
Exchange students visit Catacombs, Montmartre, Louvre
June 2, 2016 —
Three teacher candidates from the Faculty of Education are participating in an exchange in Orléans, France, from May 9 to June 3, 2016.
While the students are in France, they are keeping a blog of their activities.
Here is their third entry:
Hello again from Orléans, France!
If last weekend was great, then this weekend was awesome. The three of us travelled together for the weekend to Paris, where we immersed ourselves in as much history and culture as we could in two days. We left bright and early Saturday morning and immediately went straight to the Catacombs, a network ancient limestone mines beneath Paris that was later turned into an ossuary. We spent our morning exploring sunken tunnels artistically filled with thousands of bones of those who passed hundreds of years ago.
After leaving the chill of the Catacombs, we emerged into beautiful summer weather, and started making our way to the Montmartre district, home of the Sacré-Coeur Basilica. We climbed to the highest point in Paris, where on the peak is one of the largest and most beautiful churches in Europe. The view inside the basilica was only matched by the view without, where you could see the city of Paris stretch before you to the horizon. After leaving Montmartre, we worked our way to l'Arc de Triomph, and then walked towards the Eiffel Tower just as the sun was setting. At the end of the day we had seen some stunning sights, ate some delicious food, and learned more about Paris that we ever knew.
We woke up early Sunday morning to beat the lines to the Louvre art museum. We picked the right to be inside all day as the weather took a turn for the worse over night. We were in the museum shortly after 9am and we weren't out of there until they shut the doors at 6pm. And yet, we did not have the chance to see but a fraction of the masterpieces of beautiful art inside the museum. From 17th century French painting to 5000 year old Egyptian hieroglyphs to ancient Greek and Roman sculpture, we got to experience quite a cross section of the beauty held inside the Louvre.
Returning to Olréans for our practicum, we continued teaching our lessons in math, French, and English in our classrooms. The Voyageur song we taught last week can often be heard being sung by students throughout the school. This week was a little different as we had the opportunity to visit Lycée Voltaire, a French high school and prep school, on Monday and Thursday. We met with Sylvie Gouchet, an English teacher at the school who took us on a tour of the large campus and allowed us to sit in on a few classes and some mock interviews that were held this week. While we all noticed the differences between French and Canadian elementary schools, the differences seemed more pronounced between French and Canadian high schools. We were also shocked by how good the English skills were of these students as we were able to have full conversations with them all in English. But English education is a specialty of Lycée Voltaire as many of these students are training to work in business where English language skills are important. Overall is was a fantastic learning experience for us all to give us a broader picture of the education system in France.
It was a very busy and fun filled week for us in France and we can hardly believe that our time here is almost done. With only one week left were going to continue doing our best to explore France as much as possible and to learn as much as possible about education from our French counterparts. Stay tuned and we will let you know what we are able to explore next week.
Salut d'Orléans!
Amanda, Sarah, and Stephen