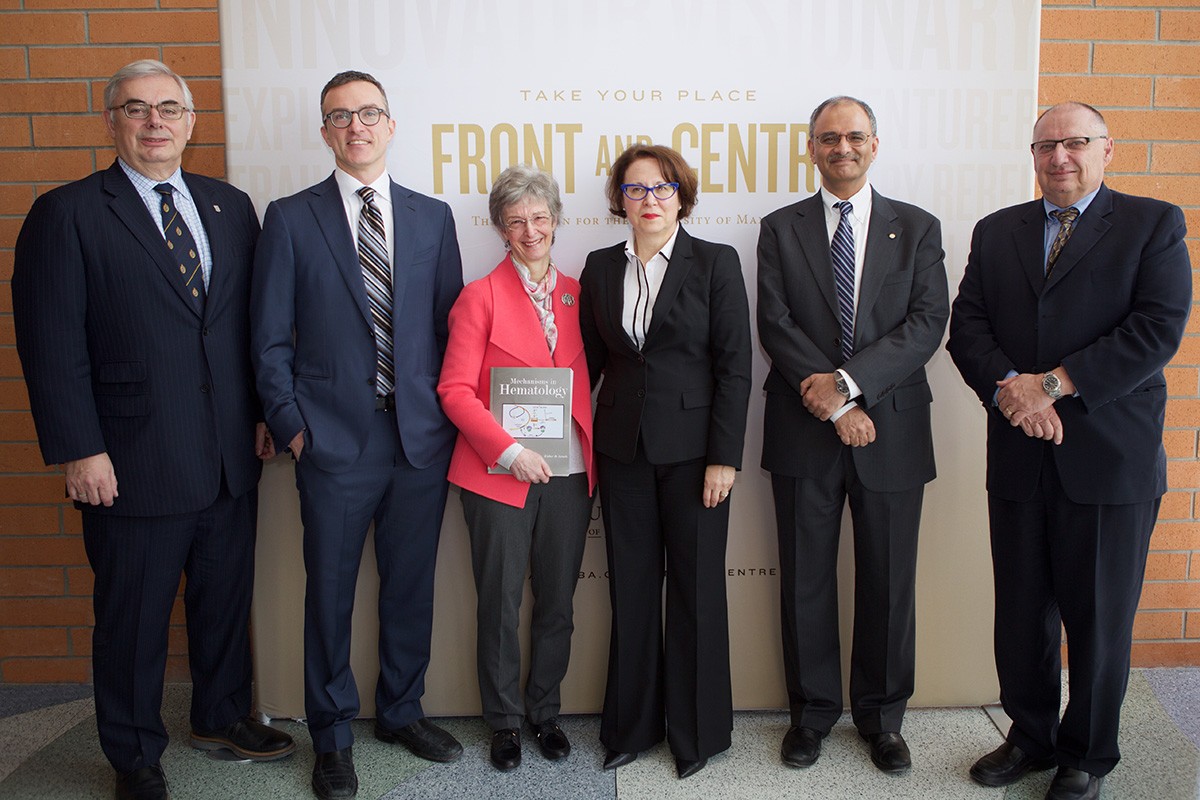 $2M in donations to enhance hematology research, education in memory of health innovator Dr. Lyonel Israels
Inaugural professor appointed
March 16, 2016 —
Donations worth $2 million aim to have an important influence on the field of hematology, while paying tribute to the memory of a health leader.
Monday morning, in front of a crowd of community members, medical faculty and students at the University of Manitoba's Bannatyne campus, Bayer Inc., along with members of the Israels family, announced a gift of $2 million to create the Lyonel G. Israels Professorship in Hematology. Many of those in attendance were students or colleagues of Dr. Israels. Family members spoke on the response.
"I'm thrilled. I know how important it is being a hematologist myself – but I also know how happy he would be that this is going to be supported," said Lyonel's daughter, and U of M alumna, Dr. Sara Israels [MD/79] (Q&A with her here).
"He was always so enthusiastic to discuss cutting-edge medicine. This is something he did with all his students – medical, resident, fellows, his research trainees. And I got to be a part of that too. That's a wonderful memory," she said.
Doctors Lyonel Israels [MD/49, MSc/50] and Esther Israels [MD50, MSc/58] developed a relationship with Bayer, which gave them an unrestricted educational grant to publish and distribute the influential textbook Mechanisms in Hematology.
Bayer has made this $1 million gift as a way to honour its longstanding relationship with the Israels family, who in turn were inspired to make a matching $1 million gift.
"At Bayer, our corporate vision is Science for a Better Life and this is a sentiment that guides each and everything that we do," said Dr. Shurjeel Choudhri, Senior Vice President and Head, Medical and Scientific Affairs at Bayer.
"Dr. Israels shaped the way that Canadian clinicians understand and treat hematologic disorders through his innovative and engaging teaching methods, he truly embodied what our vision represents and we are proud to provide a gift that will continue to fuel innovation and have positive effects for patients and the medical community," said Choudhri [BSc, MD/86], who also studied with Dr. Israels.
The Lyonel G. Israels Professorship in Hematology will be dedicated to researching hematology, benefitting treatments against blood diseases such as leukemia, and enhancing the training of Manitoba's medical students in the field of hematology.
"All together, Lyonel, Esther and I we have racked up more than 120 years working in hematology at the University on Manitoba," said Dr. Sara Israels.
Dr. Ryan Zarychanski has been selected for the first Lyonel G. Israels Professorship.
"I had the opportunity to work with Dr. (Lyonel) Israels when I was a timid student and to now receive this professorship is an honour."
Dr. Zarychanski said Dr. Israels inspired him to continue learning.
Dr. Zarychanski has made profound contributions to the understanding of hematology. In 2008, he and his colleague posed a provocative theory in the Canadian Medical Association Journal that challenged the traditional approach to treating anemia. He's also advanced the understanding of how heparin, an inexpensive blood thinner, can lower the risk of death in patients suffering septic shock. This professorship will provide Zarychanski with even more opportunities to engage in impactful, groundbreaking research.
Dr. Brian Postl, dean of the College of Medicine, also spoke on the long-lasting effects of the donations.
"This gift supports our ongoing need for clinician scientists – a group we depend on to bring areas of science and the application of science into clinical care," said Postl.
The donations from Bayer and the Israels family support the U of M's Front and Centre campaign.
"This gift will elevate the stature of our remarkable medical community by helping to attract leaders in the field of hematology whose discoveries will ultimately improve patients' lives," said U of M President and Vice-Chancellor David Barnard. "By creating new opportunities for medical research, we will attract and retain even more outstanding students who will build exceptional careers right here in Manitoba."
After graduating from the U of M, Lyonel Israels (1926-2003) joined the U of M's medical faculty, eventually serving as head of hematology/oncology for 27 years.
For two decades, he was executive director of the Manitoba Cancer Treatment and Research Foundation (now CancerCare Manitoba) and his efforts helped establish the Manitoba Institute of Cell Biology and the Manitoba Health Research Council.
In 1983, the University of Manitoba, on recommendation from leading international scientists, appointed Dr. lsraels as a Distinguished Professor – the highest academic distinction the university can bestow on a regular member of its professorial staff. In 1994, he was named a member of the Order of Canada.
Barnard addressed Dr. Israels' legacy at the U of M.
"In conversation today with people in the room, it's become really apparent what a significant impact Lyonel had at this university," said Barnard.
"Dr. Israels was an extraordinary clinician, scientist and educator who made outstanding scientific contributions to the field of hematology and left a profound legacy at the U of M," said Barnard. "Today Bayer, along with the Israels family, honour his legacy with this gift."