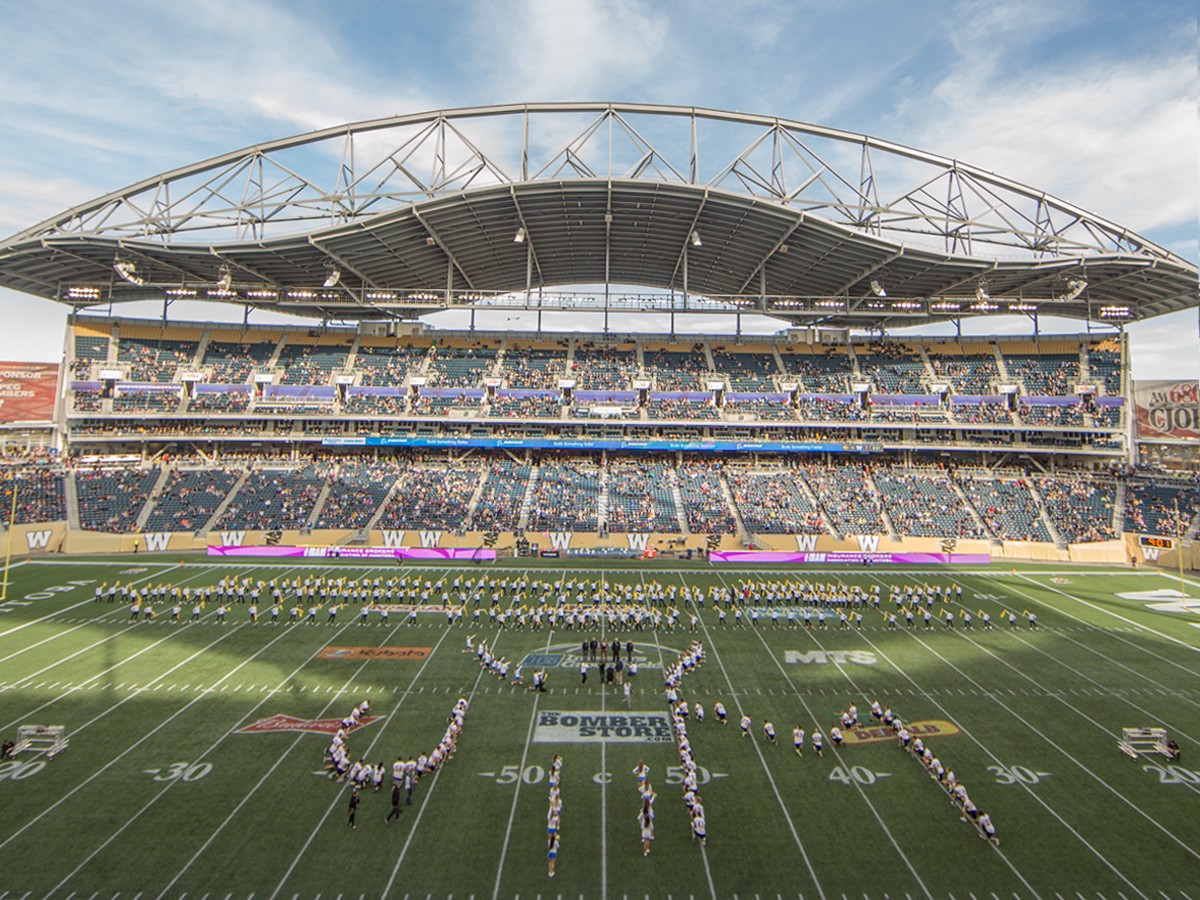 $215,294,636 for Front and Centre
October 3, 2015 —
On Saturday, October 3, in front of an enthusiastic crowd at Investors Group Field, the University of Manitoba publicly launched Front and Centre: the campaign for the University of Manitoba during an exhilarating halftime show at the Winnipeg Blue Bombers game. University president David Barnard, campaign chair Paul Soubry, and campaign team member – and retired NFL star – Israel Idonije announced the total raised so far. The $215,294,636.30 total is a significant milestone on the road to the campaign's ambitious and transformative $500 million goal.
The $215 million announced is a huge step towards the $350 million expected to be raised through private donations from individuals and foundations. The university is also working with the provincial government to secure an additional $150 million towards the campaign's priorities of teaching and learning, discovery, and community engagement.
The momentum that Front and Centre has right now continues to build, with thousands of donors having already taken their place in supporting the campaign.
"Thank you – those are the two words I most want to say today to our donors and our community volunteers who have worked tirelessly to ensure the University of Manitoba continues to build better futures for our students and our community," said Barnard. "I am not surprised at our progress. This is the Manitoba we know, one where people see an opportunity and respond to it in an amazing way."
More than just an announcement, the on-field festivities were a celebration of Manitoba and the role the university plays in the prosperity of our province and people. Halftime began with 250 volunteer performers rolling out Manitoba's rivers, grain fields, cityscapes and winters, bringing the Front and Centre campaign to life in an exciting display of colour, music and fireworks.
The audience response was enthusiastic and filled with sincere Manitoba pride.
Campaign chair Paul Soubry, who is president and CEO of New Flyer Industries, as well as a U of M alumnus, had this to say: "My father was an immigrant to Manitoba, who believed you must give back to your community more than you take. As a result, I am always looking for that opportunity to help out — to contribute to the place I call home. The word transformational is often overused but it's truly apt and fitting for what this campaign will mean for the university."
Indeed, the five campaign priorities represent areas in which the U of M is uniquely qualified to lead: Indigenous success, graduate student support, research excellence, outstanding student experience, and places and spaces.
"The legacy of this campaign will be profound, supporting transformational change at the University of Manitoba and beyond: in our city, our province, and our global society," says Barnard. "Through a focus in these areas, together we can help ensure our province's long-term economic, social and cultural vitality."
And the event was just the beginning.
"We are inspired by the overwhelming support and encouragement we have been receiving from our community and confident that over the next couple of years we'll see many more Manitobans proudly taking their place to support the campaign, their university and their province," says John Kearsey, U of M vice-president (external).
For more information, please visit umanitoba.ca/frontandcentre
[rev_slider fclaunch]