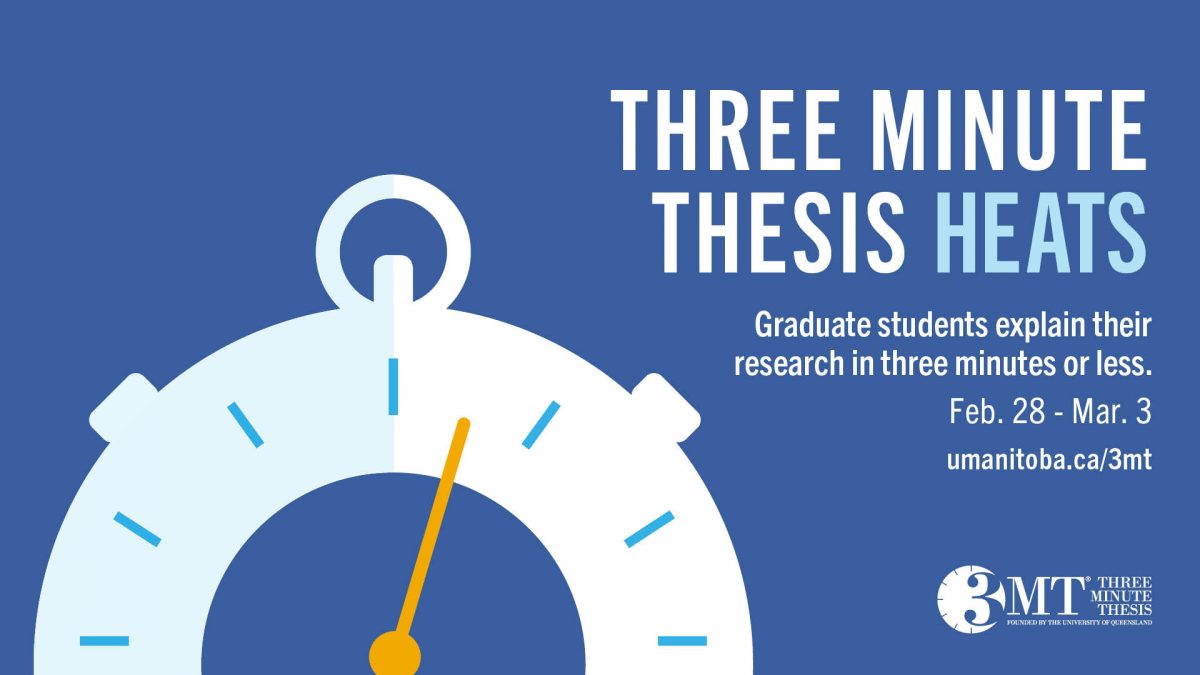 2023 3MT Challengers Announced
February 9, 2023 —
The challengers for the 2023 3MT Three Minute Thesis (3MT) competition have been announced!
36 students from 18 departments will be presenting at 3 different heats taking place on campus for the first time since 2019!
Check out the list of challengers who will be competing in heats this year.
This competition gives graduate students the opportunity to present their research in plain language using a single slide to illustrate their ideas. They will be assessed by judges at the heats, where three challengers from each heat will advance to the final competition taking place on March 30th.
All of the heats as well as the final event are open to all students and the public to attend to learn about the innovative research taking place at the UM. "There is so much excitement at having the heats be an in-person event for the first time since the pandemic started. The sound of clapping doesn't come across in virtual platforms the same way it does in person! I hope many of the UM community consider coming to support our graduate students." said Kelley Main, Acting Dean of the Faculty of Graduate Studies.
The Schedule for the 3MT Heats for 2023:
Heat #1 – Tuesday February 28th, 1-3pm at EITC Room 262, Fort Garry Campus
Heat #2 – Thursday March 2nd , 1-3pm at EITC Room 262, Fort Garry Campus
Heat #3 – Friday March 3rd, 10am-12pm at Theatre C, Basic Medical Sciences, Bannatyne Campus
"Participating in 3MT really helped me a lot. It gave me self confidence, helped me overcome my fear of public speaking and also helped me improve my presentation skills," said Pranav Mishra who won UM's 2022 3MT and went on to compete at the regional level. "Students generally present their research work in science related conferences only, but rarely get a chance to come forward in front of the public. 3MT competition helps to overcome this as it provides a strong platform to all the students to talk about their research in front of a non-specialist audience."
Three Minute Thesis (3MT®) is a research communication competition developed by The University of Queensland. For more information on the UM 3MT competition visit the U of M 3MT® website.