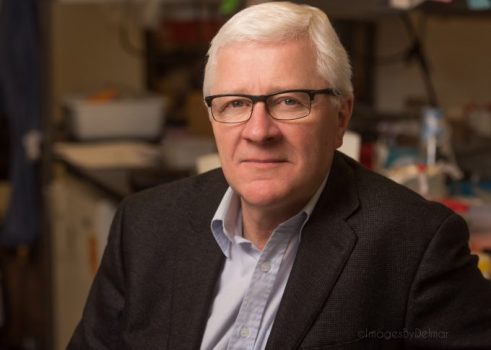 2022 Canadian Gairdner International Award Laureate: UM Alumnus Dr. John Dick
April 6, 2022 —
Congratulations to the 2022 Canada Gairdner International Award Laureate: Dr. John E. Dick, PhD, FRS, FRSC, [BSc. (Hons.)/78, PhD/84], Senior Scientist and Canada Research Chair in Stem Cell Biology, Princess Margaret Cancer Centre, UHN; Professor, Department of Molecular Genetics, the University of Toronto.
The Gairdner Awards recognize some of the world's most significant biomedical and global health research and discoveries. This award recognizes Dr. Dick's discovery and characterization of leukemic stem cells, providing insights into the understanding, diagnosis, and treatment of acute myeloid leukemia.
As the Gairdner award states:
The work:
Dr. John Dick made the first discovery of leukemia stem cells (LSC) in acute myeloid leukemia (AML) patients. This finding established that individual cancer cells in the patient are not equal, rather they are organized as a cellular hierarchy where only rare leukemia cells possess self-renewal, the hallmark stem cell property. This discovery required two experimental components that Dick developed: a xenograft assay to detect LSC based on their ability to generate human leukemia upon transplantation into immune-deficient mice and a method to purify leukemia cells into LSC and non-LSC populations. By combining functional LSC assays with genetic analysis, Dick tracked the complex evolutionary pathways of human leukemia development from normal blood stem cells to pre-leukemic stem cells that eventually generate LSC and AML up to a decade later. This work also showed that LSCs that can cause later relapse have already evolved prior to diagnosis and can survive normal therapy procedures. Thus, LSC was directly linked to therapy failure and relapse in leukemia patients. The properties of LSC as reflected in their gene expression are predictive of therapy response and overall survival. Dick developed a 17-gene 'stemness score' that can be used clinically to determine the patient's risk of poor outcome and help guide therapeutic choice.
The impact:
Dick's discovery of LSC changed the understanding of the underlying biology of cancer and stimulated the exploration of cancer stem cells (CSCs) in other human cancers, including those affecting the breast, brain, colon, pancreas, skin, and liver. His work highlighted the importance of investigating the properties of individual cells of the neoplastic clone, rather than bulk cancer cells and that special attention needs to be on the CSC which are the only cells capable of long-term cancer propagation. The focus on CSC is revealing a number of properties that enable their survival in the face of therapy including dormancy, stress signaling as well as stemness programs that enable disease recurrence. Dick's work points to the need to ensure that CSC are eradicated when therapy is delivered and the need for new therapies that target CSC vulnerabilities. The discovery that pre-leukemic stem cells are present many years prior to disease appearance and that relapse-fated LSC are already present at diagnosis both offer windows of opportunity to target pre-leukemia and relapse earlier to prevent disease and relapse from occurring, respectively. Dick's findings offer clear direction for improving clinical outcomes in leukemia through LSC targeting and potentially in other cancers that adhere to the CSC model.
About the Gairdner Foundation
The Gairdner Foundation was established in 1957 by Toronto stockbroker, James Gairdner to award annual prizes to scientists whose discoveries have had major impact on scientific progress and on human health. Since 1959 when the first awards were granted, 402 scientists have received a Canada Gairdner Award and 96 to date have gone on to receive the Nobel Prize. The Canada Gairdner Awards promote a stronger culture of research and innovation across the country through our outreach programs including lectures and research symposia. The programs bring current and past laureates to universities across Canada to speak with faculty, trainees and high school students to inspire the next generation of researchers. Annual research symposia and public lectures are organized across Canada to provide Canadians access to leading science through Gairdner's convening power. Gairdner is supported nationally by the Government of Canada.
Read the full media release.