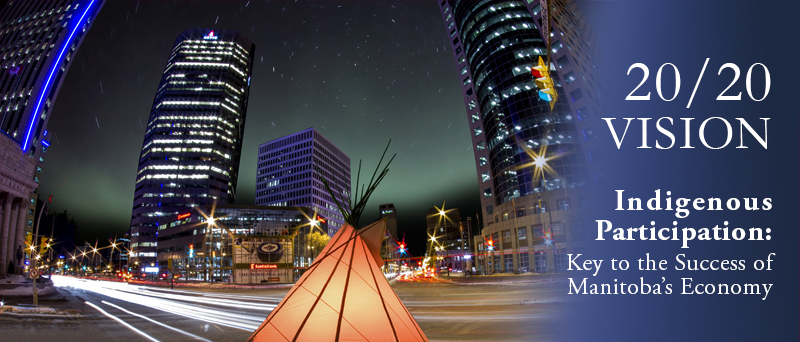 20/20 Vision
Panel discussion to focus on Indigenous participation as key to economic success
February 17, 2017 —
The Asper School of Business will host a panel discussion focusing on the critical need to engage Indigenous participation in our province's economy.
20/20 Vision: Indigenous Participation, Key to Success of Manitoba's Future Economy takes place from 5:30 to 6:45 p.m. on Tuesday, February 28 in Room 343 Drake Centre. All U of M students, faculty and staff are invited to attend.
The event will bring together business, community and government leaders with expertise in Indigenous business and community engagement, including:
Jamie Wilson
Deputy Minister, Growth, Enterprise and Trade
Judy Klassen
MLA, Kewatinook, Interim Leader, Manitoba Liberal Party
Robert Campbell
National Director, Aboriginal Services, MNP
Shaun Loney
B.U.I.L.D. Executive Director, author of An Army of Problem Solvers
Jessica Dumas
Past Chair, Aboriginal Chamber of Commerce, President at Prime Image Life Coaching
"This is a conversation everyone needs to be part of," says Kelly Mahoney, director of the Career Development Centre at the Asper School. "Canada plans to invest $8.4 billion over the next five years in improving the socio-economic conditions of Indigenous peoples and their communities, and more Indigenous people live in Winnipeg than in any other city in Canada."
The panel discussion will touch on issues important to students of all backgrounds, says Mahoney. "Now that more and more employers are seeking to hire individuals with cross-cultural knowledge of Indigenous cultures and history, graduates with a deep understanding of Indigenous history and contemporary issues are at a distinct advantage in their job search."
20/20 Vision was a student-driven initiative that was quickly embraced by Aboriginal Business Education Partners (ABEP) and the Asper School's Career Development Centre (CDC), who will co-host the event. "20/20 Vision is a prime example of the many ways in which our student group demonstrates leadership to promote reconciliation and celebrate Indigenous contributions with the wider community," says ABEP Program Director Peter Pomart.
The event's emcee, fourth-year Asper student Carter Wilson, is president of the University of Manitoba Indigenous Commerce Students (UMICS) group. He knows first-hand how engagement creates opportunities for personal and professional growth – not just for students, but for business and community leaders.
"It makes good sense for business leaders to know how to properly engage with Indigenous communities," he says. "If you fail to connect, you're limiting your opportunities for success."
The timing of the 20/20 Vision event is no accident, he adds.
"This year we celebrate Canada's 150th anniversary, and the U of M celebrates its 140th anniversary. This is the perfect moment for our communities to come together as one, look back on what has led us here, look hard at who we are today, and look forward to creating a better future."
A networking reception catered by Feast Foods will follow the event.
Please RSVP by February 24