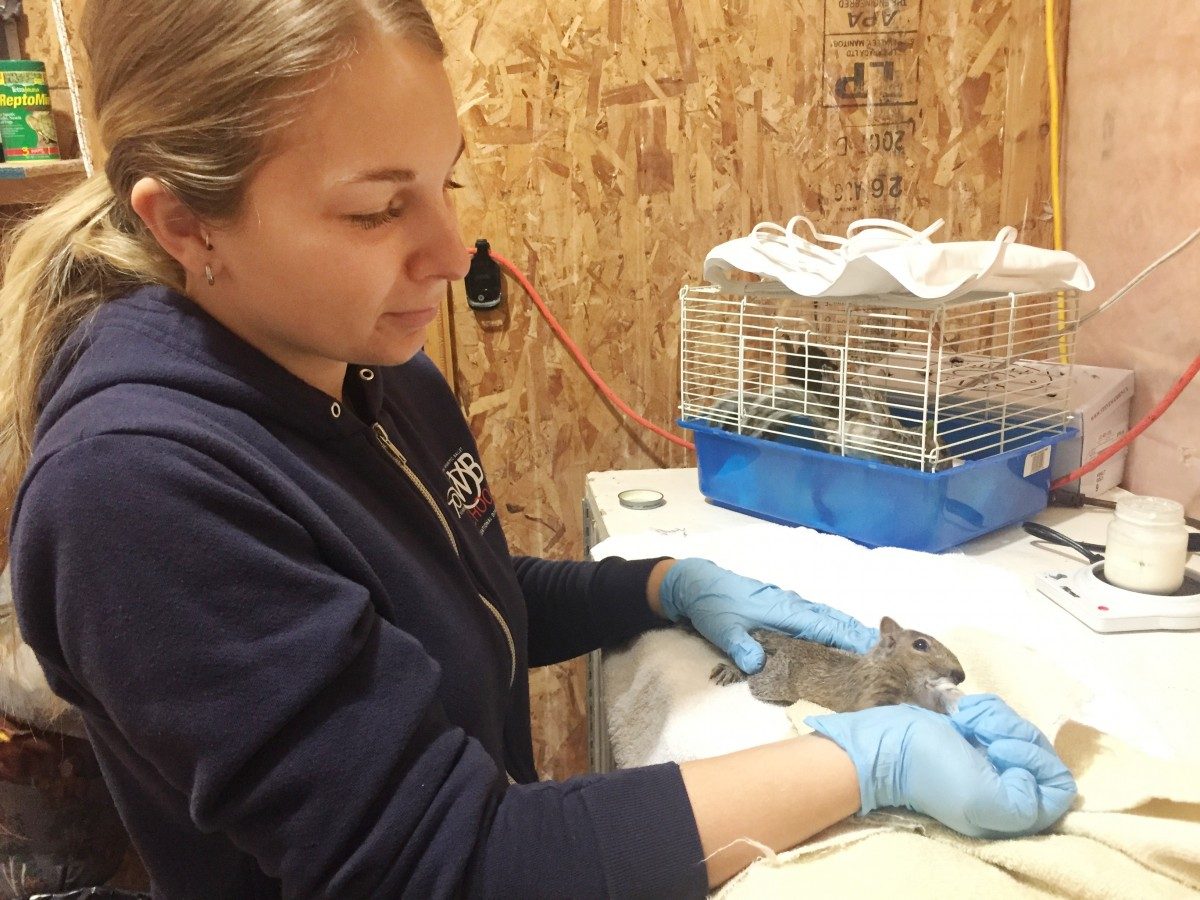 2017 Co-operative Education Student Champion named
Practical work experience provides Environment student with tools for success
April 7, 2017 —
When Tiffany Pastrick first learned that she was the recipient of the 2017 Co-operative Education Student Champion Award, she was elated.
"I just couldn't believe it. I was so beyond proud of myself because I worked so hard for this," she says.
Pastrick is a bilingual student completing her Bachelor of Environmental Studies in the Clayton H. Riddell Faculty of Environment, Earth, and Resources. The Dean's honour list student excelled in her co-op at Wildlife Haven Rehabilitation Centre and continues to volunteer at the organization.
During her placement she researched and created educational programs for the Centre, which is still under construction. She also co-authored and designed a children's book, Wildlife In Your Backyard. Her dedication to her work was evident as before she started her workday she and her co-worker would arrive to the Centre at 7 a.m. to feed the baby squirrels.
"This was so amazing. It made my morning every day," she says. "During my breaks, I would go into the hospital to see if they needed any help, and I would get to help examine and feed wildlife such as great-horned owls, foxes, raccoons and so much more."
The U of M offers a variety of co-operative education opportunities, enabling students to combine paid practical work with their classroom-based education to further enhance their skills and prepare for their field.
"I am in co-op because it gives you so much experience that you can put on your resumé for future jobs. Leslie Goodman is also an incredible teacher. She helps you in every aspect of co-op from perfecting your resumé to building a portfolio to make you shine. I have learned so much and it has given me all the tools I need to succeed as an emerging wildlife biologist," she says.
Pastrick recently completed a Basic Wildlife Rehabilitation Course in pursuit of becoming a certified wildlife rehabilitator, as well as, a certified wildlife biologist. She is empowered by her co-op experience to contribute to wildlife conservation and rehabilitation in the future.
"I would absolutely recommend co-op to every single student. I always tell my family and friends that are in university, 'You have to go into co-op!' It has helped me so much and if I had to go back and do it all over again, I would not change a thing."
Runner-up for the Co-operative Education Student Champion Award 2017 was computer science student Mathieu McMurray. Through the Computer Science Co-op program, Mathieu experienced placements in a variety of workplaces, ranging from a small technology startup at the University of Manitoba's SmartPark, to Amazon.com in Seattle. Through co-op, Mathieu was able to identify what values were most important to him moving forward in his career.
Learn more about co-operative education programs at the University of Manitoba.