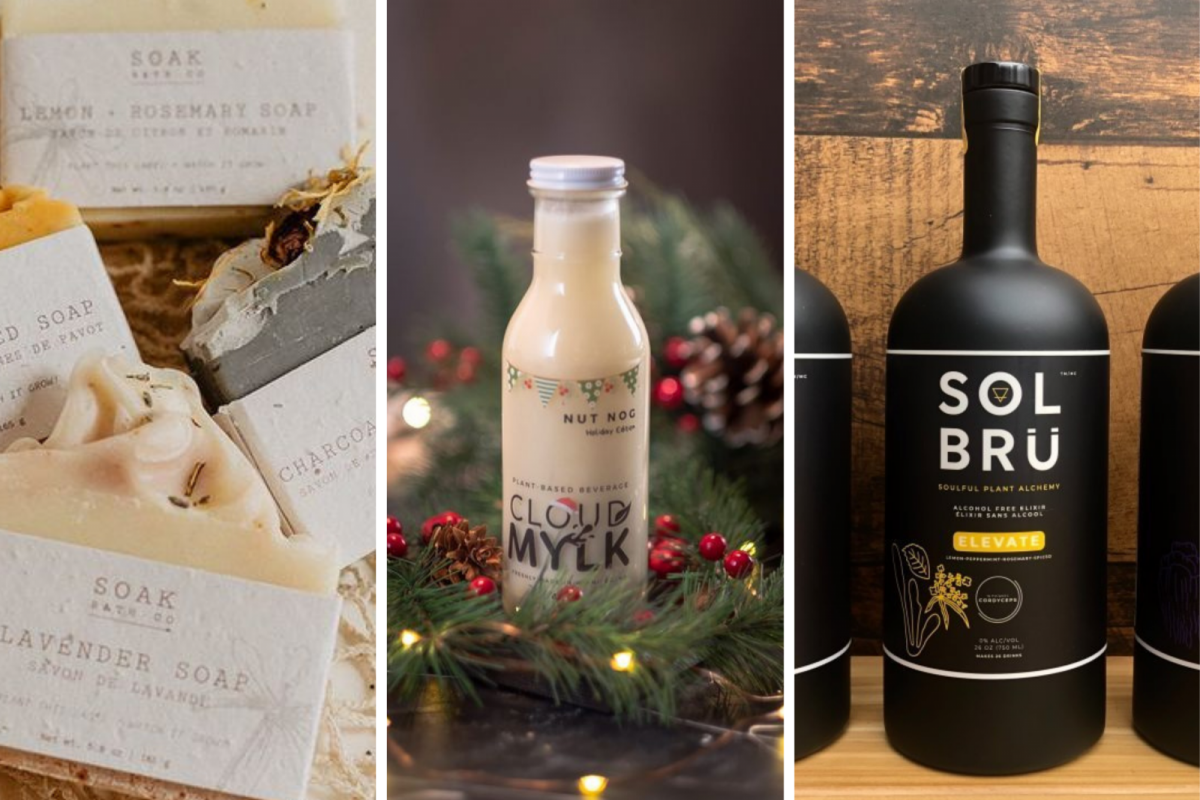 10 gift ideas to shop local this holiday season
Manitoba businesses with Asper connection you need to check out
December 6, 2021 —
From embracing what makes our community unique to bolstering our local economy, there is plenty of reasons why support local businesses this holiday season. Asper School of Business faculty and staff gathered a list of local businesses with an Asper connection that is sure to make your shopping experience more meaningful.
Mysa Candles
It's time to relax and get cozy with these carefully infused candles. Mysa Candles are made of 100% soy wax with a blend of high-quality essential and fragrance oils, and even offer refills in recyclable paper cups. Visit their website to check out all the scents available in gold tin, whiskey glass or refill sizes.
Jennifer Gustafson [MBA/11] Co-owner
McNally's
McNally Robinson is a family-orientied independent bookstore with community values. Their book selection reflects the interests and circumstances of the community. You can also other gifts perfect for book lovers like stationery, games, puzzles and more. Visit the Grant Park store or stop by The Fork's location. Visit their website or @mcnallyrobinsonsk on Instagram.
Chris Hall [MBA/12] Owner
Nola and Second Spot
Looking foor a fun, unique and elegant gift for your loved ones? Two recently opened eateries in the heart of St. Boniface are the way to go. On one side is Nola, a long dining room with dark walls, warm accents and a wide bank of windows looking out onto Marion Street. Round the corner of the bar find Second Spot, a casual sandwich shop in the style of its sister shop, King + Bannatyne. Visit their websites Nola and Second Spot or @nola.wpg and @secondspotwpg on Instagram. Bon appétit!
Mike Del Buono [BComm(Hons)/13] Managing Owner at Burnley Place Hospitality Inc.
Botanical PaperWorks
Need an eco-friendly solution for Holiday cards? Botanical PaperWorks is a world-leading supplier and manufacturer of eco-friendly seed paper products that grow into wildflowers, herbs or vegetables. Spread beauty and reduce waste by sharing biodegradable seed paper cards. Visit their website for all their products or @botanicalpaperworks on Instagram
Heidi Reimer Epp [BComm(Hons)/94] CEO and Co-Founder
Brook Mos Photography
Brooke Mos is a Vancouver-based freelance photographer who sells her prints online. Could your living room use some wall art? Does your home office need a facelift? Be sure to check out Brooke's website or @brooke.mos on Instagram to find the perfect piece for you and your space!
Brooke Moss [BComm(Hons)/19]
Cloud Mylk
Cloud Mylk sells organic, non-dairy milk products made from wholesome local ingredients. Whether you are vegan or just love plant-based dairy products, Cloud Mylk has some delicious options for you. For more information or to place an order today, visit their website or @cloudmylk on Instagram.
Kim Ngan Phan [BComm(Hons)/18]
Manitobah Mukluks
Whether we like it or not—winter is here! Keep you and your loved ones warm this winter by supporting this Indigenous-owned business and past Asper VIBE Award recipient, Manitoba Mukluks. Check out their line of Storyboots that aim to revive the traditional arts by creating partnerships with elders and artisans who fashion mukluks and moccasins in a traditional way. Start shopping by visiting their website or @manitobah on Instagram.
SOAK Bath Co.
Sit back and relax with some handcrafted products from SOAK Bath Co., a zero-waste bath and body brand from Niverville, Manitoba. With plant-able packaging and products such as bath bombs, soaps, and more, these will surely be a hit with everyone on your list. To purchase some of their holiday gift sets visit their website or @cksoakbathco on Instagram.
Candace Alarie [BComm(Hons)/11] Owner
JS Knives
Cooking could not be easier with knives from Joel Sunderland. Whether you are looking for some new high-quality knives or to replace a well-loved item in your set, Joel will handcraft the perfect one for you. For all your custom knife needs, be sure to visit @sunderland_knives on Instagram.
SolBrü
Produced in small batches here in Winnipeg, Manitoba, SolBrü is the new alternative to alcoholic spirits. Designed to stimulate the sensation of alcohol, SolBrü aims to reduce the negative impact of drinking culture and support the 'Sober Curious' movement. For recipes or to purchase SolBrü today, visit their website or @solbruelixirs on Instagram.
Leanne Kisil [BComm(Hons)/09] Founder and CEO
Towns Apparel Co
Show off your local pride this season by supporting Towns Apparel Co, a company that provides hometown-based apparel. With inclusive sizing up to 5XL and over 100 towns and cities to choose from, they have something for everyone. Visit their website or @townsapparelco on Instagram to place an order today.
Paul Thorleifson [BComm(Hons)/16]
We hope you found this gift guide helpful and discovered new ways to support local businesses this holiday season. To stay up-to-date on all things Asper, be sure to follow us on Instagram @asperschool.