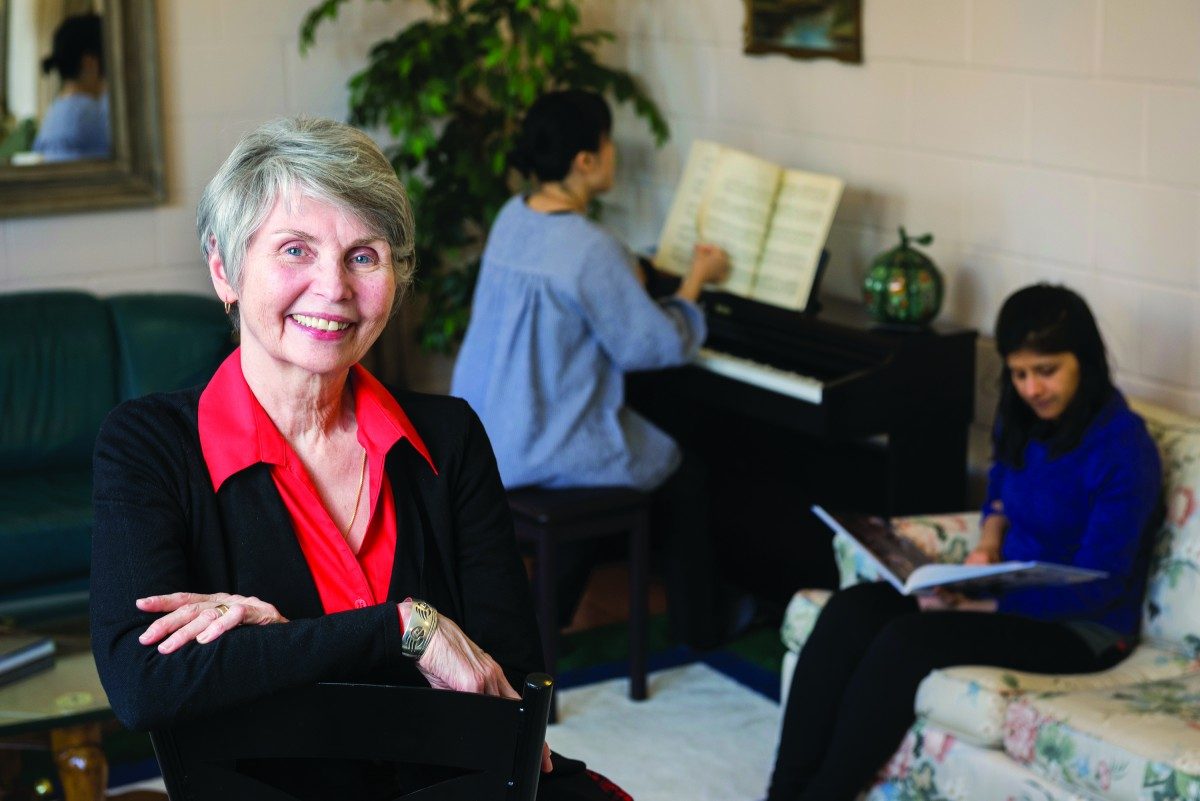 Wpg Free Press: Survivors' sanctuary
April 29, 2019 —
As the Winnipeg Free Press reports on Distinguished Alumni Award recipient Sr. Lesley Sacouman [BA/75]:
Midday in the middle of the city, Winnipegger Yssa Licsi stops by a downtown chapel to find a little solace.
"I can quiet myself down, and I can find that quietness where I can listen to God in the midst of a busy day," she says of her regular visits to St. Francis Chapel at the Holy Names House of Peace
Sandwiched between the parking garage of Canada's Royal Winnipeg Ballet to the north and a housing complex for refugee woman and children to the south, not much about the exterior of the House of Peace suggests the extent of activity inside, with thousands of people stopping by each week.
"The entrance is so subtle, so people walk by," explains executive co-ordinator Sr. Lesley Sacouman of the plain façade of the red brick building at 211 Edmonton St., constructed in 1963 as a friary for Franciscan brothers.
Just inside the recessed front doors, St. Francis Chapel, open weekdays from 7 a.m. to 6 p.m., provides a place for people to pray, or take the sacrament of reconciliation, also known as confession. Others drop by for a quiet and safe place to sit on a cold winter day, explains Sacouman, a member of the Congregation of the Holy Names of Jesus and Mary, a Roman Catholic order based in Longueuil, Que.
The high-ceilinged chapel features tall and narrow stained glass windows along the west wall, running parallel to Edmonton Street, and three wood-panelled confessional booths on the east side. At the front of the space, furnished with simple, open-backed honey oak pews, stands a large statue of Mary holding the infant Jesus at the front of the chapel, reconstructed after it was found in pieces in the backyard of a Winnipeg Beach cottage.
That repaired statue symbolizes rebuilding of lives and empowerment of newcomers that underpins the foundation of the House of Peace, says Sacouman, who took over from the Franciscans 2004. Formerly the co-executive director of Rossbrook House, an inner-city drop-in centre for children, Sacouman asked existing users of House of Peace when working out how to best use the space, which at the time also included housing for nine monks at the east side of the building.
"I didn't know I was starting anything," she said of her original idea for the complex, which underwent an expansion of the living quarters seven years ago and now boasts 2,280 sq. metres of meeting and living space.
"I was absolutely convinced I needed to be here."
Read the full Free Press story here