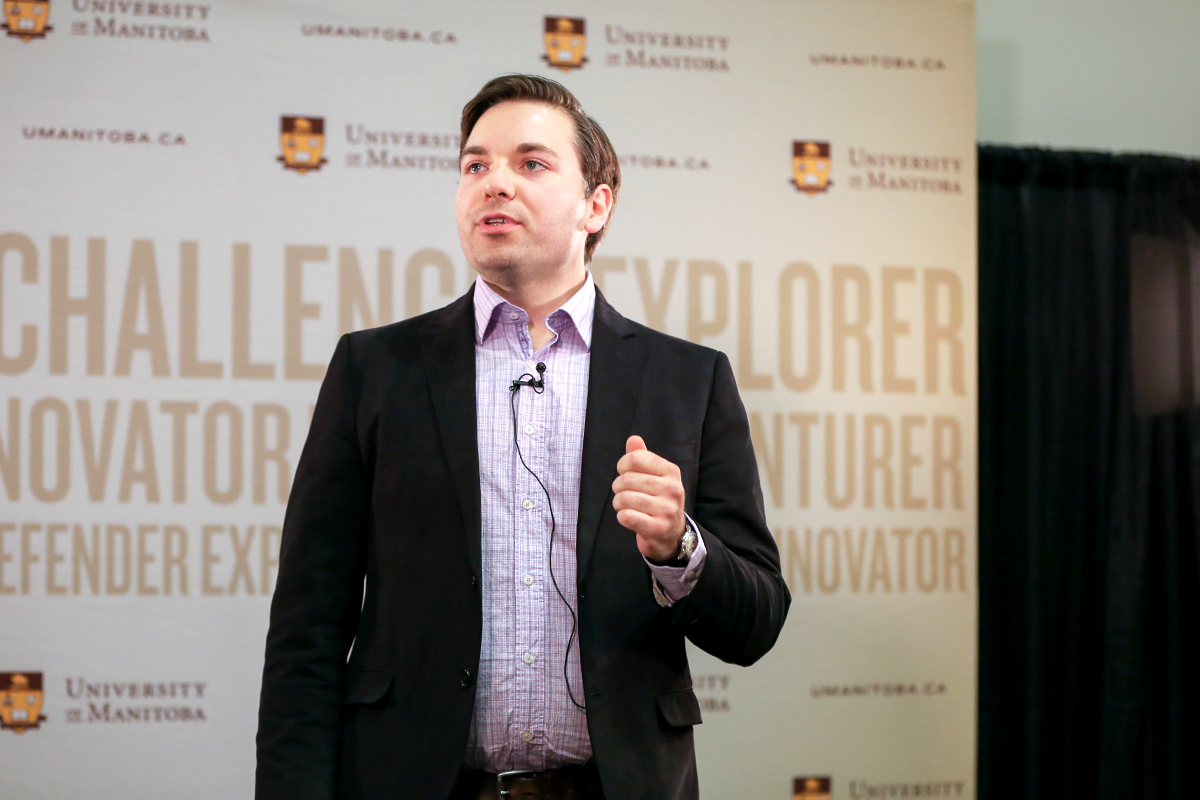 Worth losing sleep over: our fight against superbugs
June 21, 2018 —
How queer it is that life decisions and trajectories can pivot on petty events, like opening a toy on Christmas and then watching a movie. But for Carmine Slipski, these things changed his life, and that, in turn, could change ours.
When he was eight years old he opened a microscope on Christmas day. Unenthused, he gave it a try and quickly learned he loved it. Shortly after, he watched the movie Outbreak about a fictional Ebola epidemic.
"From that moment I knew I wanted to work in science, and more specifically in microbiology," the graduate student and 3MT finalist in Rady Faculty of Health Sciences says.
Slipski, working with his advisors Denice Bay and George Zhanel in the department of medical microbiology and infectious diseases, studies ways we can avoid, or at least curb, bacteria developing resistance to our antimicrobials such as antibiotics.
Since the late 1980s we've struggled to find or build new weapons to fight bacterial infections and now bacteria are developing resistance at an alarming rate to the drugs we have due to constant widespread abuse. By 2050, if left unchecked, antibiotic-resistant bacteria will kill 10 million people annually across the globe. For those keeping score, that's two million more than cancer. If we fail to prevent this future, a small cut could once again lead to death, and elective surgeries will become extinct.
"Antimicrobial resistance does keep me up some nights, especially when I read stories about the first signs of untreatable infections in hospitals that were once easily treatable, such as gonorrhea," he says.
For 2 billion years, bacteria were the only living organisms on Earth. They developed an impressive array of tools to stay alive, one of which is called an efflux pump. A folded bit of material nestled in the cellular wall of the microbe, it detects with stunning accuracy agents intending to enter its body to kill or maim it. The pump spews it out before any damage is done. Our drugs have to sneak past this system, and if they do, success does not last long because bacteria are really good at "learning" how not to die.
This pump system is what Slipski focuses on. He studies the composition of the bacterium's cell wall and the pump's structure to better understand how they work. The goal is to use this knowledge to find exploitable weaknesses in their armours so we can make (in the lab) or find (in nature) new antimicrobials that can evade this defense.
"There are amazing ideas in the pipeline," Slipski says. "When I hear talks from researchers in my department I feel more at ease knowing that some of the most dedicated and bright minds in the world are working on this problem—not everyone realizes that Winnipeg is a hub for the study of infectious diseases, and that our expertise and resources are world renowned."
Slipski has received the University of Manitoba Graduate Fellowship award (UMGF), which has allowed him to pursue this important research.
"The stress of finding funding is always the dark cloud that can hang over researcher's heads, and while science is very expensive, it is also very worthwhile leading to amazing discoveries that can benefit our everyday lives. However, sometimes these benefits can take decades to come to fruition, so it is very difficult to convey the importance of this type of research to investors and donors when many expect to show immediate results from their hard-earned contributions."
Of course, now that we know the blessings of antimicrobials, it's clear that any positive result is worth the wait.
Meet the other new faces of innovation and discovery.

Research at the University of Manitoba is partially supported by funding from the Government of Canada Research Support Fund.