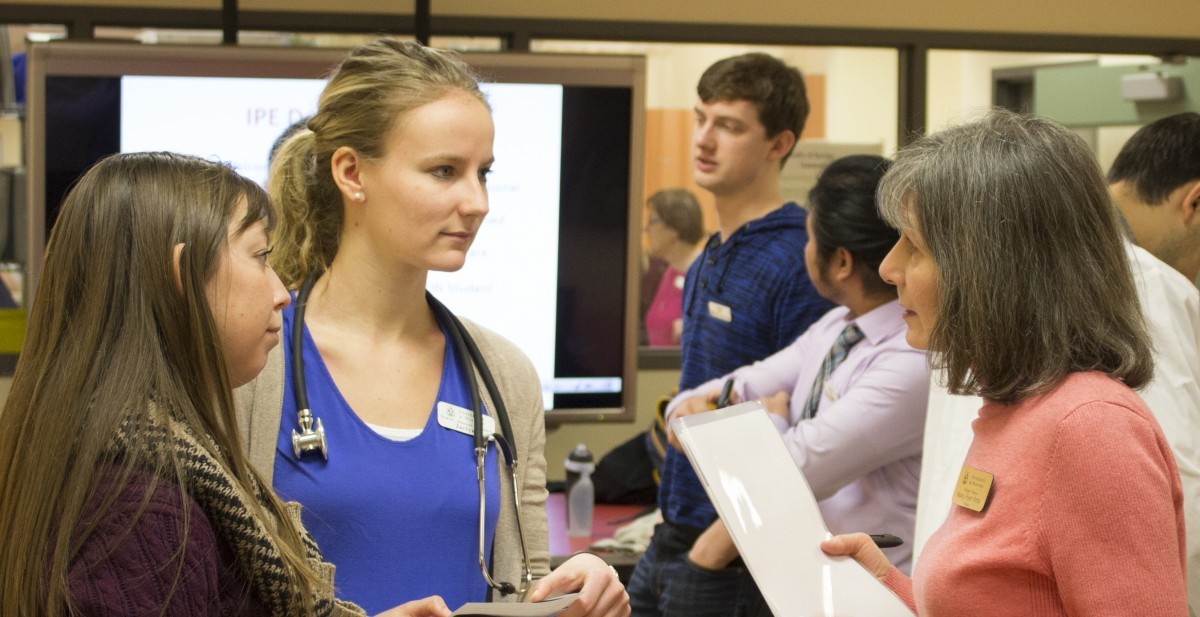 Working on the dayshift
IPE event spurs collaboration among health profession students
February 5, 2015 —
The Helen Glass Centre for Nursing on the Fort Garry campus became a simulated hospital ward on January 31 for students participating in the Interprofessional Education (IPE) Dayshift event.
Over 60 students from the Colleges of Nursing, Medicine, Pharmacy and Rehabilitation Sciences participated in the daylong event, which gave students the opportunity to play the role of patient and caregiver in a hospital setting.
Working with mentors from across the colleges, the purpose of the event is to provide students with the opportunity to understand the patient experience; practice skills required for inter-disciplinary teamwork; experience day shift issues and responsibilities; and practice clinical skills in a safe environment.
With the recent integration of the colleges into the Faculty of Health Sciences (FHS), Dayshift is an excellent opportunity to reflect the direction of the new faculty, according to Fiona Jensen, senior instructor in the College of Nursing and IPE coordinator.
"IPE Dayshift provides our students with an opportunity to learn about, with and from others in a simulation practice setting," she said. "Health care delivery is evolving and the more we can bring together students in Interprofessional Education events such as Dayshift, the better prepared and knowledgable they will be when they begin their health careers," she said.
Communication between team members and across disciplines is a major benefit of IPE Dayshift, according to third year nursing student Katherine Edmund.
"The communication aspect is the biggest thing," she said. "Finding out how to transmit information and how to provide the best possible care to our client."
Jaclyn Peters, a second year physical therapy student in the College of Rehabilitation Sciences (CoRS), said she appreciated the opportunity to work with students from other disciplines.
"I'm enjoying learning about the different professions, their scope of practice and how we can all come together and take care of the patient," she said. "I'm also finding out where physical therapy comes into play and how my perspective can correlate with others to get the patient home."
Juan Monterrosa, a recent graduate of the CoRS occupational therapy program, returned to this year's Dayshift to serve as a mentor.
"I wanted to come back," he said. "Dayshift gives a realistic experience of working together and figuring out where it is that you fit. For professions that aren't necessarily working together all the time, this event provides an opportunity to advocate and educate the other professions of the things that we can do to prevent readmissions and medical complications and get a fuller picture of patient care."