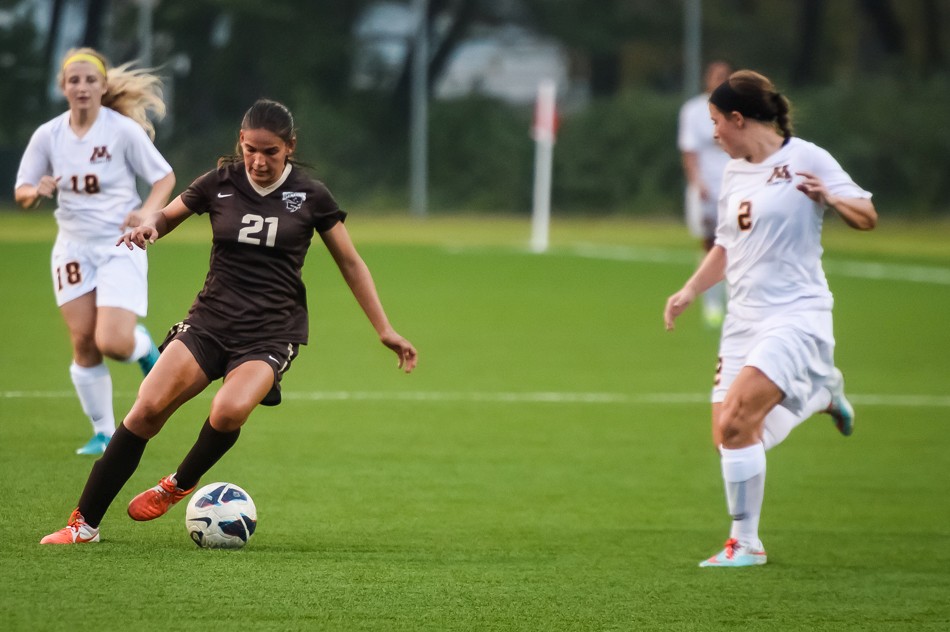 Women's Soccer looking promising in 2018
Soccer home opener Friday night, Football narrowly loses to Huskies
September 10, 2018 —
This Friday, the Bison women's soccer team hosts the Trinity Western Spartans in their 2018 home opener match at the West Turf on Chancellor Matheson Blvd. Game time is 6 p.m.
Coming off a historic season that saw this team host a national championship and finish sixth in the country, head coach Vanessa Martinez Lagunas is hoping her team can build off of that experience as their season continues in 2018.
With the majority of her squad back from last season, optimism is high for a team that has reached the playoffs each of the past three years and already they are showing their strength on the pitch.
Last weekend the Bisons began their 2018 campaign with a 2-match trip in Saskatchewan. They pulled a 2-1 victory over the Regina Cougars then drew 1-1 with the Saskatchewan Huskies on the day two of their opening weekend.
Vanessa Martinez Laguas is looking for "leadership and efficiency" from her forward group in 2018. Leading the way will be fifth-year Bruna Mavignier and third-year Alanna Shaw, each of whom have the capability to break a game open with their accuracy and striking abilities.
"Bruna is a great header of the ball, so that will help us out, and Alanna has a beautiful long distance shot," said Martinez Lagunas. "I'm hoping they can show the girls intensity, as well as smart decision-making and being good role models in all aspects of the game."
Friday's match will be filled with student excitement as it is welcoming Student Residences Spirit Cup and it is International Student night. Come out and cheer on the Bisons.
Regular tickets are $5 at the gate while all U of M Students and fans 17 and under are free. This match is one of many alumni nights as well. University of Manitoba grads get two tickets for the price of one!
For a full season preview and schedule information, visit gobisons.ca.
Football
In a short season, close losses hurt that much more. For Bison Football, it's been two in two weeks. The second came in Friday night's home opening game against rival, #10-ranked Saskatchewan Huskies which ended in a 48-46 loss.
Just the week before at UBC the game came down to the last five minutes, as a Thunderbirds score gave a close game its 30-20 final.
True to a great rivalry, Manitoba is now 17-16 against the Huskies over the last 23 seasons.
"I loved our fight, I mean how could you not love our fight?" said Bisons head coach Brian Dobie. "The UBC game was really a three-point loss and this one was a two-point loss. I mean, that hurts, but we're 0-2."
Next up for the Bisons is the Alberta Golden Bears this Saturday (September 15) at Investors Group Field. Kick off is at 2 p.m.
Adult tickets are $17.50 at Ticketmaster.ca while UM student and fans 17 and under are free.
For full schedule details, visit gobisons.ca.