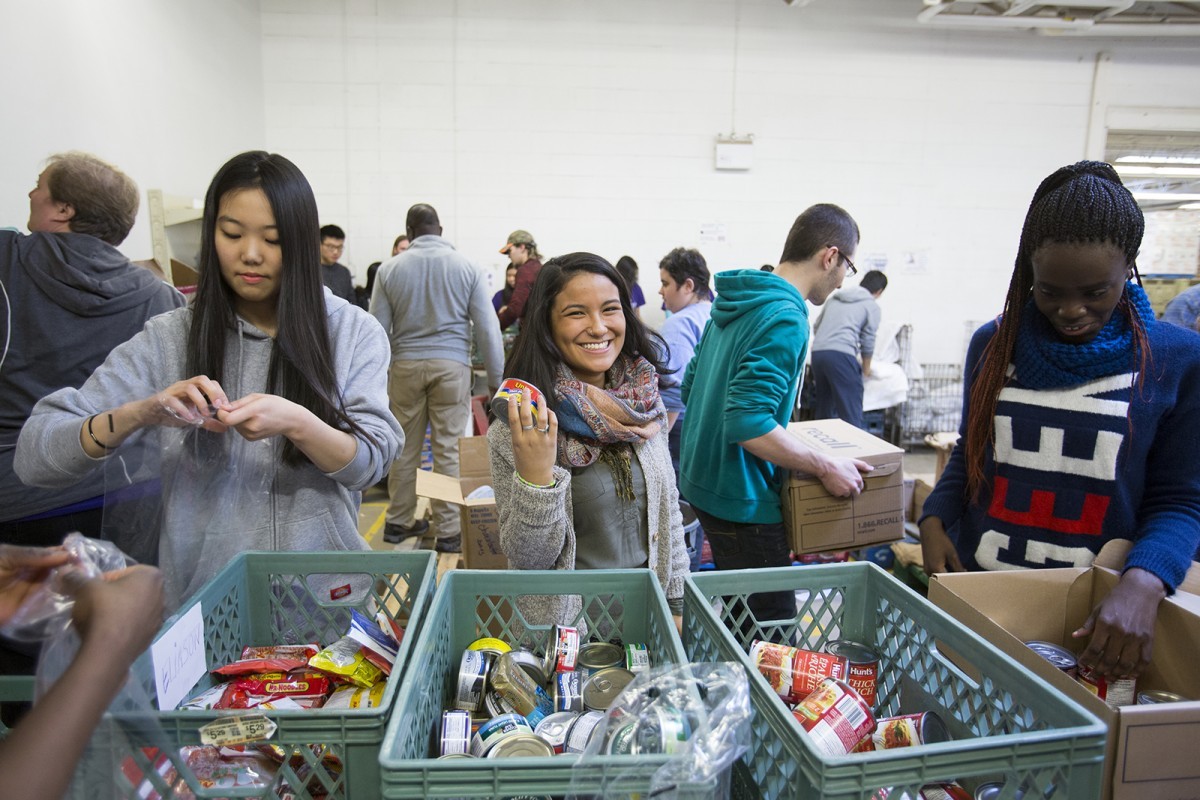 Winnipeg Harvest: Feeding the hungry and providing hope
February 25, 2015 —
Walking into Winnipeg Harvest for the first time can be an experience unto itself. After being greeted with a seemingly endless parade of smiling faces, it's easy to forget that this long-standing Winnipeg agency exists to help feed hungry families. It's not until you walk into the expansive, grocery store-like warehouse, you're hit with the fact the thousands of kilograms of food isn't there to purchase — it's there to be given away to those who need it.
48 U of M students were able to fill this need for one day by volunteering during U of M's Alternative Reading Week. The service learning opportunity takes theory learned in the classroom and applies it to agencies in the city.
"Here at Winnipeg Harvest students participating in Alternative Reading Week really get to put theory into practice and physically help our clients, their fellow Manitobans who are experiencing hunger and poverty," says Janelle Duerksen, the community engagement coordinator at Harvest. "They're working in our warehouse, making kits that will go to our clients, as well as sorting flour for our clients."
In about an hour, the students were able to fill enough bags of flour to feed over 200 families in need. This small act of manual labour had a direct impact on hungry families with the flour being packed into kits to be distributed to food banks the very next day.
Winnipeg Harvest has been serving the hungry since 1985, currently serving on average 60,000 people per month. Because of the volume of food Winnipeg Harvest deals with, it's constantly looking for volunteers.
Duerksen says that the two increasing demographics using food banks supplied by Winnipeg Harvest. More and more seniors are finding their pensions aren't meeting their needs — but more surprising is that post-secondary students are getting food from Winnipeg Harvest.
"That goes to show that the with the increase in university costs, increase in tuition rates, housing and so on, students are feeling that pinch and they in turn use agencies such as Winnipeg Harvest to help ease the burden," says Duerksen.
The food given out by the University of Manitoba Students' Union (UMSU) food bank was at one point supplied by Winnipeg Harvest. Duerksen says that this service is now self-sustaining, meaning the U of M community supports it through their own donations.
Dharma Aguilar-Cardenas participated in Alternative Reading Week for this first time this year. She's in her second year at the U of M, studying in the Faculty of Agriculture and Food Sciences and was surprised to hear that the U of M even had a food bank.
"You'd think that people attending university would be a little bit more well off because university is expensive," says Aguilar-Cardenas. "It's good for people to get out of their comfort zone and see more so of what's happening in their communities because it can start change. It just takes a little bit; something on a smaller scale and that could escalate change even more."
In addition to feeding the hungry, Winnipeg Harvest also provides training opportunities to its clients and raises awareness around issues related to poverty and hunger.
"There's poverty in Winnipeg and quite a bit more than there was before. Organizations like Winnipeg Harvest are trying to address those problems, trying a different approach, rather than just handing things to people they're trying to make them more sustainable" says Aguilar-Cardenas.