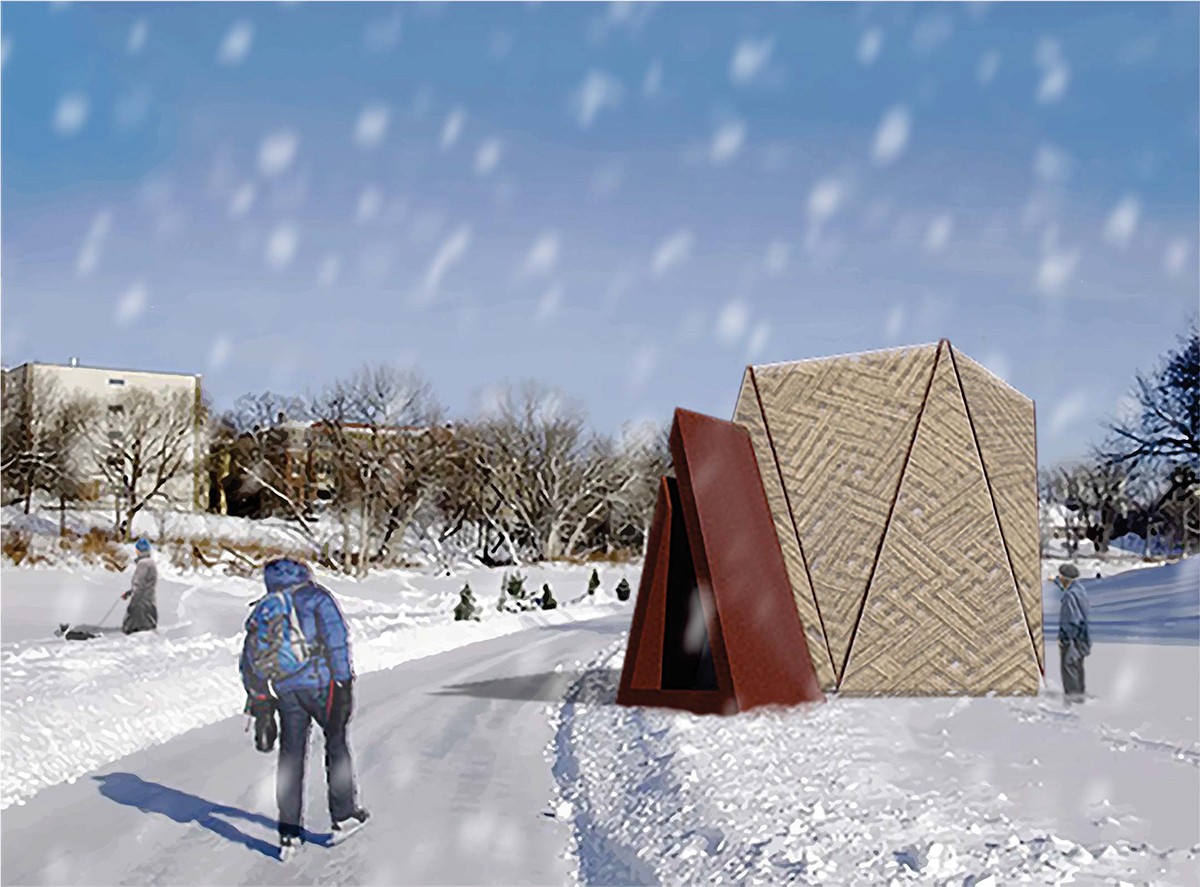 Winning designs of Warming Huts announced
November 27, 2015 —
Winning designs for the Warming Huts v.2016: An Art + Architecture Competition on Ice were announced on Thursday, November 26. For the sixth year warming hut designs submitted by students from the Faculty of Architecture at the University of Manitoba were selected as winners. Architecture students are upping the ante this year by bringing two huts onto the ice.
"The Faculty of Architecture is once again very excited to be part of the Warming Huts tradition. We are even more thrilled to further the reach of this project by collaborating and building two Warming Huts on the Red River Mutual Trail," says Jonathan Beddoes, interim dean of the Faculty of Architecture. "We believe that the opportunities provided by being part of these interdisciplinary collaborate teams provides a highly unique educational opportunity to enhance what is taught in the classrooms; we are once again thankful to The Forks for allowing us to be part of this exciting event."
The Warming Huts competition is a unique project that takes advantage of Winnipeg's winter.
"The Warming Huts competition continues to gain the attention on the world stage and bring great art and architecture to Winnipeg," says Paul Jordan, Chief Executive Officer, The Forks Renewal Corporation. "This year we saw over 160 entries from all across the globe including Estonia, Iran, India and Bangladesh. The competition attracted fantastic designs and narrowing it down was difficult for the jury."
This year's winners from the University of Manitoba are Basket, lead by Mark Pauls, Michael Robertson and Dr. Mohamad Araji, and Fabrigami, lead by Lancelot Coar, Kim Wiese and Jason Hare.
Basket
Basket hut weaves together concepts of warmth and community. Using these principles along with low-tech energy solutions, Basket utilizes an innovative paneling system. These panels known as Thermo-Tec, are both structural and heavily insulated. Masking these panels is a façade of intertwined ropes that gives the structure a lightness and transparency that betray its thick walls. The façade becomes an interactive and playful element allowing skaters and passersby to hang winter accessories within its entwined filaments. This allows it to become a growing repository for the lost and found mittens and gloves of Winnipeg. Enveloping warmth is created as the winter and subsequent seasons progress.
A key design strategy and generator of form is a large south-facing window on the hut. The orientation of the window to an appropriate winter angle of the sun optimizes the solar gain to create a comfortable space. Penetrating solar energy is absorbed and radiated by a thermal mass in the form of communal seating. Utilizing this construction technique provides an effective form of passive energy gain. Supplementing the main passive system with a more active system further supports the aim of Basket as being a 'warm' warming hut. The active system, also rooted in sustainable practice, consists of interior lighting powered by a photovoltaic panel. This system adds to the sense of warmth through both light and heat. The large thermal mass inside the hut is central and communal, encouraging people to congregate and interact with each other while seeking refuge from the cold.
Project lead by: Mark Pauls, Michael Robertson, Dr. Mohama Araji
Group members: Ting Ting Ng, Alyssa Magas, Brennan Fedak, Sum Yu Lee, Kassandra Swan, Tyler Jones, Mamie Griffiths
Fabrigami
This multi-disciplinary research project seeks to explore the potential use of the build and natural environment to shape a temporary structure for the frozen river trail. This project explores how digital tools of parametric design can support methods for developing physical parametric construction techniques. Using the strength of high-tensioned cables, a folded fabric structure is formed based on the principles of ancient origami techniques. Once shaped, the river water is pumped out and sprayed onto the fabric to create a stiff ice skin, creating a temporary structure out of the extreme climate and site of the beautiful river trail at The Forks.
Project lead by: Lancelot Coar, Kim Wiese and Jason Hare from the University of Manitoba as well as Caitlin Mueller from MIT and Lars De Laet at Vrije University.
Group members: Brendan Dyck, Cameron Cummings, Janelle Harper, Collin Lamoureux, Mateo Linares, Katryna Lipinski, Stephen Oberlin, Scott Shanks, Erica Ulrich, Thea Pedersen, Daryl Randa, Evan Schellenberg, Francis Garcia, Benjamine Bosiak, Melissa Tssessaze, Zoé Lebel
Construction of the huts will commence in early January and, weather permitting, they will be on the Red River Mutual Trail the last week of that month. Several huts from previous years will be brought back out to join the new ones. For more information visit www.theforks.com.