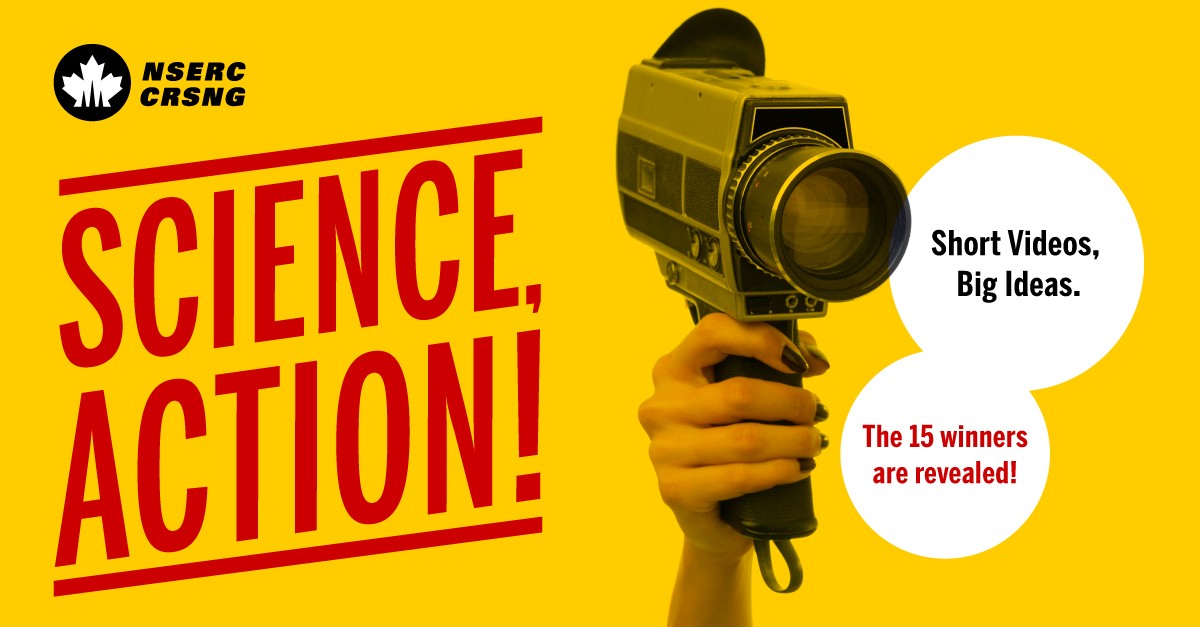 Winners in Science, Action!
April 9, 2015 —
Two U of M graduate students have been named winners in the Natural Sciences and Engineering Research Council of Canada (NSERC) competition titled: Science, Action!
Erin Goldberg, a graduate student in Human Nutritional Sciences, was one of three selected as a Final Winner in the English speaking category. Jennifer West, a graduate student in Physics and Astronomy, was named one of the nine winners in the Runners-Up category. Both students will receive a $3,000 cash prize.
"The competition was a fun way for me to showcase my research to Canadians without the jargon usually associated with scientific research," said Goldberg. "It was also great exposure for the Department of Human Nutritional Sciences and the valuable research being conducted here at the U of M."
The contest asked undergraduate or graduate students to submit a 60 second video and written description featuring a research project or initiative funded by NSERC and carried out at the institution at which the student is enrolled. NSERC wanted students to show the exciting research happening in labs across the country. The entries needed to show how the research is having an impact on Canadian's lives, be short and clear.
"We are thrilled to see Erin's hard work and dedication to research being recognized," said Dr. James House, Erin's supervisor in Human Nutritional Sciences. "She has always exhibited a strong ability to translate research findings in a way that is accessible to all. We are very proud of her accomplishments."
Dr. Michel Aliani, Erin's co-supervisor in Human Nutritional Sciences and whose lab is where most of her research is being conducted at St-Boniface Hospital Research Centre, said "Of course I was very pleased to hear the news and to be honest, knowing Erin well, I was not really surprised. She is a hard worker, knowledgeable and professional. A dream student!"
Erin's winning video depicted eggs as a nutritional powerhouse.
Jennifer West said, when asked about her motivation for participating in the contest, "I made this video because I really feel that it is very important to contribute to science outreach and communication. I study space and sometimes it is difficult to convey the relevance of fundamental science research, especially if there is no immediate application. But this kind of research is so important since it ultimately leads to innovation and new knowledge of our universe that can have unexpected impacts, which are impossible predict."
Her supervisor, Canada Research Chair Dr. Samar Safi-Harb said, "Jennifer has done an excellent job conveying an out-of-reach subject from space to the public. Conveying such a complex and rich research topic in such an impressive way is quite an achievement for Jennifer that I am very proud of."
For many of the students participating in this competition it was a first time for them in reaching a much wider audience. "I feel humbled that so many people (more than 2000!) watched my video," said West. "I think it shows that people are genuinely interested in this kind of research!"
The research that West talked about in her video is undertaken in Safi-Harb's lab, made possible through funding from NSERC and the Canada Foundation for Innovation.
"The research conveyed in just a minute is both substantial and innovative, aimed at understanding a fundamental question in astrophysics, namely what shapes supernova remnants and how they are connected to their hosting galaxy, our own Milky Way," said Safi-Harb. "One key ingredient that connects the dots is the magnetic field. Cosmic magnetism is driving future big missions, including the Square Kilometre Array and the Cherenkov Telescope Array."
Jennifer plans to save most of her winnings. "I will also use some to get a new iPhone I am also planning to purchase a lightweight backpacking tripod so I can take it on hikes to remote places where I like to take pictures of dark, starry skies."
Jennifer's video described the results of exploding stars (or supernova) and the magnetic fields of supernova remnants and our Galaxy.
The first round of entries was narrowed to a group of 32 and public voting then took place. From there, fifteen finalists were decided by a combination of the voting on social media (YouTube, Twitter, Facebook) and then adjudicated by a panel of judges with criteria being: 40% Creativity/Engagement (compelling your audience); 30% Persuasiveness (communicating the impact) and 305 Clarity (explaining the research).
Research at the University of Manitoba is partially supported by funding from the Government of Canada Research Support Fund.