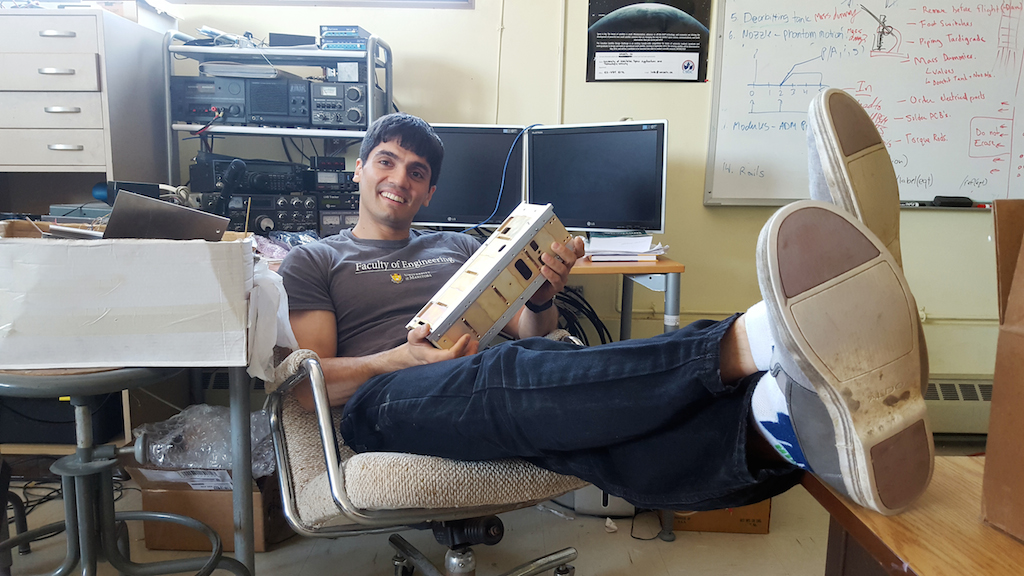 Will a tiny satellite answer life's big questions? Huge U of M project hopes so
Looking for a win at the Canadian Satellite Design Challenge
June 10, 2016 —
"We're going to win. I'm sure of it," Ahmad Byagowi says in the UMSATS office on the top floor of the Engineering building.
Byagowi, a PhD student and president of UMSATS (U of M Space Applications and Technology Society), is unreserved this day, two weeks before the third annual Canadian Satellite Design Challenge starts on June 11. The competition tasks university teams from across Canada to design a fully operational cube satellite—about the size of a litre of milk—that can conduct a space mission over the course of a year.
"We have to win because for me, this is personal," Byagowi says. "This is the last year I can participate in this competition (and) what we have done with this satellite is amazing."
UMSATS took second place in the first competition, and they had a small technical glitch in the second that held them back, but they still won the Urthecast Outreach Award.
"We are always going to make little mistakes," says professor Witold Kinsner, UMSATS supervisor. "But here's what's special: 130 students from 16 departments, supported by 50 advisors from the university and industry and the government came together to do this. What a golden opportunity to learn. Even if we lose the competition, we've still won."
This is experiential learning at its pinnacle. Students designed this satellite and pursued experimental ideas on their own. They worked alongside industry leaders or professors in fields other than their own. They had to teach themselves how to design an antenna deployment system, or, even less theoretical, about screws and bolts.
"At first glance, I don't think many people can grasp the complexity of this project, and how much effort from so many people is involved. The university is loaded with beautiful projects, but this is very special to us. There has never been anything like this before," Kinsner says.
This project could not have moved forward without partners like Precision ADM, Magellan Aerospace and Phantom Motion.
"The people from the industry have provided invaluable advice about a lot of things," says Matthew Driedger, a master's student and mechanical engineering team lead. "They gave us insights on how to make our design more relevant to manufacturing, things we would have never thought of."
Is he as confident about winning as Byagowi?
"I'm a lot more cautious. I like our chances but just as we have improved our design and scope, so have all the other teams. It's going to be a tough competition," he said.
WATER BEARS IN SPACE
Hyperbolically speaking, the latest version of UMSATS satellite, TSATS-3, will explore the boundaries between dead and alive and interrogate the merit of panspermia, the idea that life can travel through interstellar space and populate new worlds.
To do this, the satellite will carry two separate microecosystems that can support a colony of tardigrades, microscopic creatures commonly called "water bears."
The UMSATS' project entails the biological team putting both groups of tardigrades into anhydrobiosis, a bizarre and astounding state of severe dehydration that allows the animal to lay dormant. Tardigrades naturally enter this protective state when their environment drastically changes.
"It's like a deep sleep," says Viridiana Urena-Ramirez, microbiology graduate student and lead of the UMSATS biological team. "We're still working on the process of how best to do this so that they could be viable – so that they could remain alive in that state for such a long time. Once we can do this, we can rehydrate them and bring them back."
One chamber will reactivate its tardigrades once in orbit. The other will try to wake its occupants a year later.
"The second chamber will really shed light on panspermia. It will also shed light on if we can survive, or if we can send life to other places, because it takes a long time to travel through space. This will help us figure out if it's possible or not," Urena-Ramirez says.
How does she feel about the team's odds?
"I feel good because our mechanical structure is great. I'm really excited to go forward and see what happens."
Research at the University of Manitoba is partially supported by funding from the Government of Canada Research Support Fund.