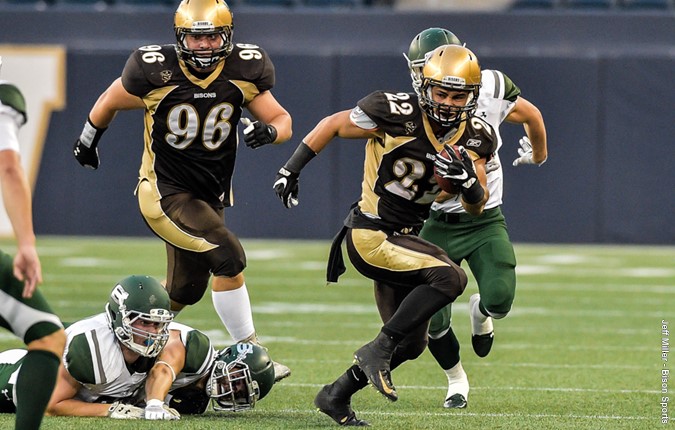 Bison Football hoping to turn the tide in 2018
Golf continues on the road after strong start
August 31, 2018 —
Coming off a disappointing 2017 campaign that saw the team finish 2-6 and out of the playoffs, the unranked Bison Football team is looking to start a new season with a bang and upset of the sixth-ranked UBC Thunderbirds.
The opening game of the Canada West regular season for both teams will take place Saturday, September 1 at Thunderbird Stadium in Vancouver at 7PM Pacific time (9 PM CT).
The Bisons haven't taken road win at UBC since 2013 and will be looking to break their six-game losing streak overall to the Thunderbirds in conference matchups since winning at Investors Group Field during the 2014 season.
Pushing for a season of change the Bisons' backfield will be boosted by third-year running back Jamel Lyles (Faculty of Arts) who promises to be one of the nation's best. The 16th-ranked player on this year's initial CFL Scouting Bureau List, Lyles has been all over the field for Manitoba, amassing 3,042 all-purpose yards in his two years of U SPORTS eligibility.
To combat a fierce UBC offense, Manitoba's fifth-year safety, Jayden McKoy (Faculty of Engineering) will be the team's last line of defense where he has totalled 30 tackles every year since 2014, and was named a Canada West All-Star in 2017.
You can catch the game live on Canada West TV, or Bell MTS Fibe TV channel 1802.
Next Friday, September 7, the Bisons will host their home opener against prairie rival Saskatchewan Huskies in the Bison Bowl.
Tickets are available on Ticketmaster for $17.50, but U of M students and fans 17-and-under get in free. Visit gobisons.cafor details.
Men's and Women's Golf – September 1-2 – Augsburg Fall Invitational
The Bison men's and women's golf teams teed off their 2018 season this week in North Dakota where both fifth-year Arts student Devon Schade (68) and second-year Kin Rec student Marissa Naylor (79) finished tied for the individual lead at the Jamestown Jimmies Invitational.
As teams, the Bison men, with two entered, finished second and fifth while the women ended up in second-place.
This week, the Bisons travel further east to Ham Lake, Minnesota for the Augsburg Fall Invitational at Majestic Oak Golf Club.
Augsburg is the first of a heavy road schedule for both Bison golf teams as they play tournaments in North Dakota and Minnesota from now until mid-October. The fall schedule concludes with the Vikes Golf Shootout in Victoria, BC on Oct. 16-17.