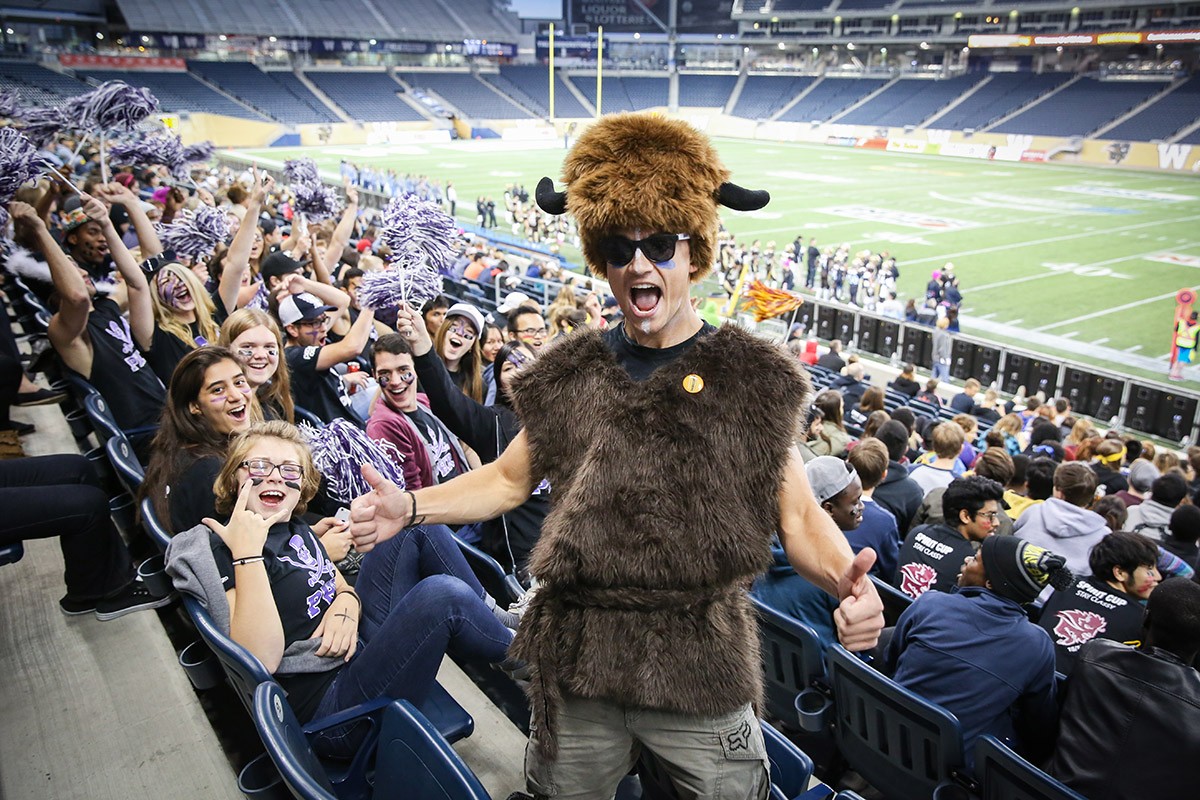 We are all Bisons
Fourth annual Pep Rally is a prelude to Bisons football home game on Friday, Sept. 16
September 15, 2016 —
The fourth annual Bisons Pep Rally is taking place this Friday, Sept. 16 on the Curry Place Pedway! Throughout the afternoon the Pep Rally will feature a number of activities, including football toss, pushcart races, human hungry hungry hippos, and banner painting, just to name just a few. Many of the activities provide a chance to win some Bison Swag too so you can be geared up for the football game later that night.
Festivities will be accompanied by live music and an UMSU beverage garden.
What: Pep Rally
When: Friday, September 16th
Activities: 1:00p.m. – 5:00 p.m.
Pep Rally: 5:00p.m. – 6:00 p.m.
Where: Curry Place Pedway
Who: Everyone is welcome and encouraged to show up!
Official Pep Rally programming starts at 5:00p.m. with an introduction to the Bison athletes who will be representing the U of M in competition this year. Attendees will be taught the Herd Call, have a chance to compete in a massive tug o' war match against our Bison athletes, and finally witness the first ever faculty vs. faculty push cart derby!
After the pep rally, everyone will head over to Investors Group Field as a massive Bison Herd, led by our very proud Bison spirit group, The Big Horns to support our football team. The Bison football team will face the University of Alberta Golden Bears at 7:00 p.m. Let's get loud!
What: Bisons vs. U of A Golden Bears
When: Friday, Sept. 16 at 7:00 p.m.
Where: Investors Group Field
U of M students get in free for all Bison home games. To take advantage of this deal, students must activate their sport and rec fees on their student cards. To do this, visit the front desk at the Active Living Centre or Max Bell Centre. Once activated, you will have a barcode sticker placed on your student card that allows you access to all Bison home games.
To add to all this, the Bookstore will be having a 25% off Bison wear and spiritware sale all day so be sure to stop by and check out their selection!