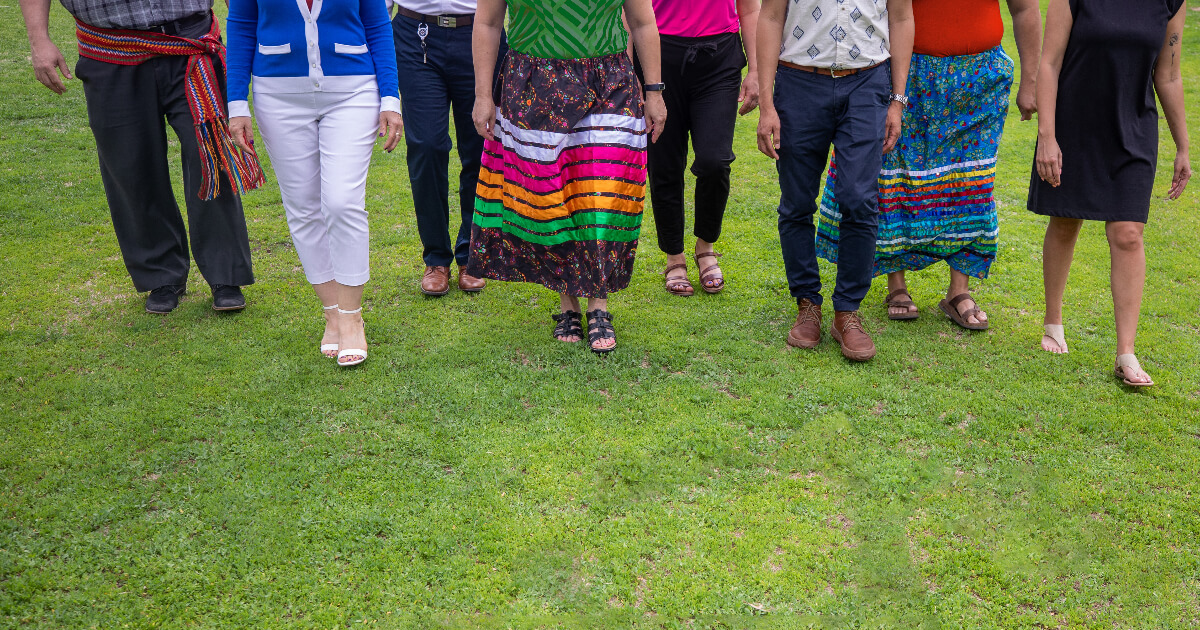 Walking Together
Final report on Indigenous Senior Leadership Projects
July 5, 2023 —
A new report providing progress on University-wide efforts to create a culturally safe work and learning environment for Indigenous staff, students, faculty and guests; expand Indigenous leadership; and foster relationships with First Nations, Métis and Inuit communities is now available on the UM website. (View the report: 2023 Final Report on Indigenous Senior Leadership Projects)
"The University of Manitoba is committed to advancing reconciliation at all levels – in governance, leadership and practice," says University President and Vice-Chancellor Michael Benarroch. "This report shows the progress we have made towards this goal, and how we must continue to evolve our leadership structure so that we can work with the National Centre for Truth and Reconciliation and Indigenous communities across Canada to advance the Calls to Action and integrate Indigenous ways of knowing into everything this university does."
In 2019, the provost requested a review of UM's needs for Indigenous senior leadership and 29 recommendations resulted from community consultation, including the need to create the role of Vice-President (Indigenous). Beginning in 2020, under the leadership of UM's inaugural Vice-President (Indigenous) Dr. Catherine Cook, six projects were identified to advance the remaining recommendations. These projects crossed all major UM portfolios, ensuring a shared responsibility for the work.
The recommendations focused on key areas for change, with a need for organizational structure to support decolonization and a systemic approach to anti-Indigenous racism emerging as clear priorities. Within that construct was the need to revise the current governance model to include Indigenous voices.
"Engagement with Indigenous communities provided guidance and advice from Knowledge Keepers and Elders supported a process for hearing emerging practices for Indigenous equity in access, learning environments and inclusion," says Catherine Cook, Vice-President (Indigenous) for UM. "Most importantly, the approach engaged Indigenous voices from community, faculty, staff and students and supports an accountability model that ensures a respectful relationship based on reconciliation and reciprocity."
This final report builds on the decades of work led by Indigenous students, Elders, faculty, staff and community members, making significant progress in the past few years to address organizational and structural gaps and barriers at UM.
"I encourage everyone in our community to read this report and reflect on what we have done, what more we need to do, and why we must do it," says Benarroch.
The initiatives and actions stemming from the projects will continue to be embedded into the fabric of units and faculties across UM and inform the University's reconciliation and strategic plans.
The 2023 Final Report on Indigenous Senior Leadership Projects, as well as status updates on all six projects, are available to view on the UM website.