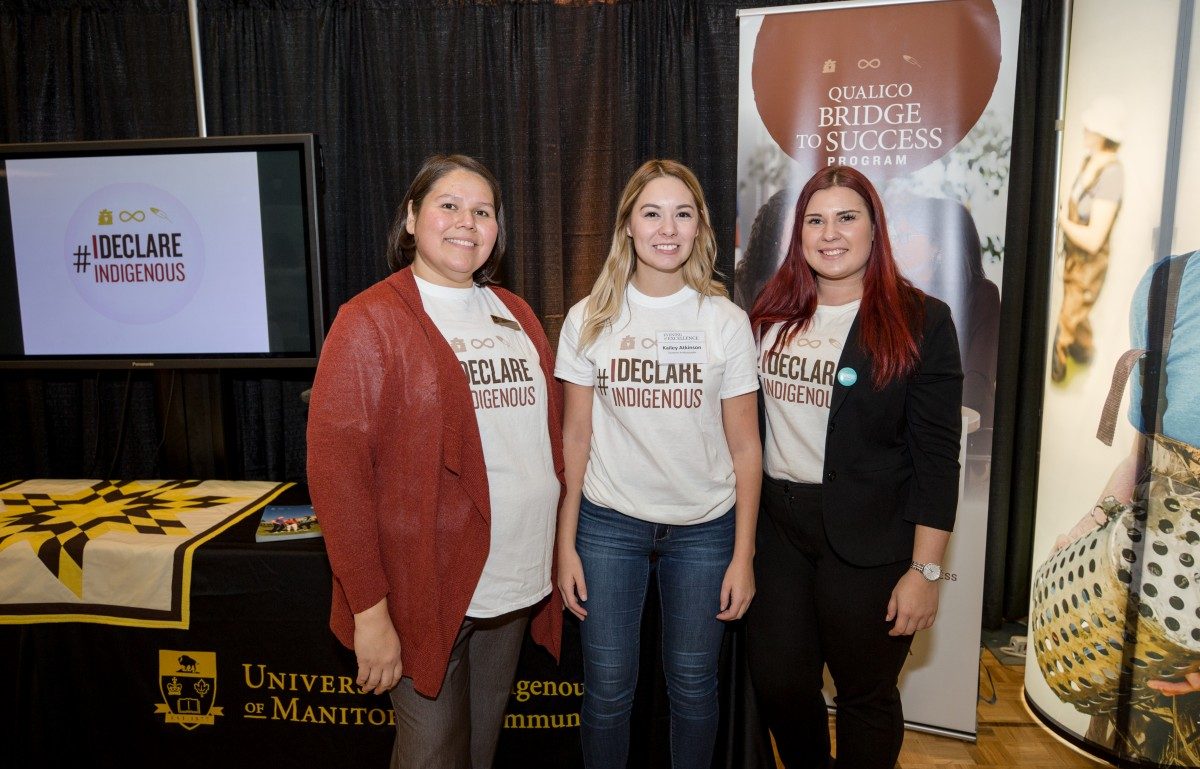 Visit the Indigenous Community area and get your questions answered at Evening of Excellence
Information on programs and more will be available at Evening of Excellence
October 19, 2018 —
On Oct. 30, the University of Manitoba welcomes prospective students to campus for Evening of Excellence, an annual open house event. Family, friends and mature learners are also invited to attend this evening information fair.
Many of the university's academic programs and most non-academic programs and student supports will have booths at the event to provide interested students with information about program options, opportunities and university resources. Another key feature at Evening of Excellence is the opportunity for prospective students to connect with the U of M community and get many of their questions answered. The Indigenous Community area is one booth that hopes to see many new faces at this year's event.
"Indigenous student recruitment officers will be in the Indigenous Community area to answer questions about admissions and the application process. We can also provide direction to support unit and faculty booths within the main area of the event," said Marla Robson, Indigenous Student Recruitment officer.
Indigenous Student Centre (ISC) advisors will also be available to speak to students about admissions, creating an academic plan and their services and programs. Students who are interested in pursuing careers within the Health Sciences will have the opportunity to speak with staff from Ongomiizwin – the Indigenous Institute of Health and Healing.
"Evening of Excellence is a great opportunity to come out, visit campus, see what program options are available, ask questions in person and connect with us one-on-one," said Robson. "We are here to make the journey to university as smooth as possible."
For a look at the type of information students can learn at Evening of Excellence, we asked Robson to outline some of the most-asked questions and highlight their answers:
1) How do I connect with the Indigenous community and stay up to date?
Pick up an Indigenous Viewbook. Information on the programs and services for Indigenous students can be found in the Viewbooks, which will be available at the event. Another important step for students is self-declaring their Canadian Indigenous Identity when applying. Getting added to the Indigenous Student Newsletter e-mailing list also ensures access to information about new opportunities– program announcements, various events, scholarships and bursary information.
2) What resources or programs are available for first-year Indigenous students?
The Indigenous Student Centre (ISC), located in Migizii Agamik, provides many resources to all Indigenous students, including holistic supports, services and opportunities so students feel a sense of belonging, are affirmed in their identities, have meaningful experiences and achieve authentic success. There are also programs within certain faculties such as Engineering, Business and Nursing. And the Access and Aboriginal Focus Program can provide resources for students as they pursue any U of M undergraduate degree.
Information on these programs and more will be available at Evening of Excellence.
3) What if I think of a question after the event? How can I easily get answers or check my application?
The Indigenous Student Recruitment team is dedicated to providing information on degree programs, the application process, admission requirements and the supports and programs available to incoming Indigenous students. For answers to any new questions, or for information on how to get a personalized tour of campus, including Migizii Agamik, contact a member of the Indigenous Student Recruitment team.
For more information on Evening of Excellence and to register, visit the event web page here.