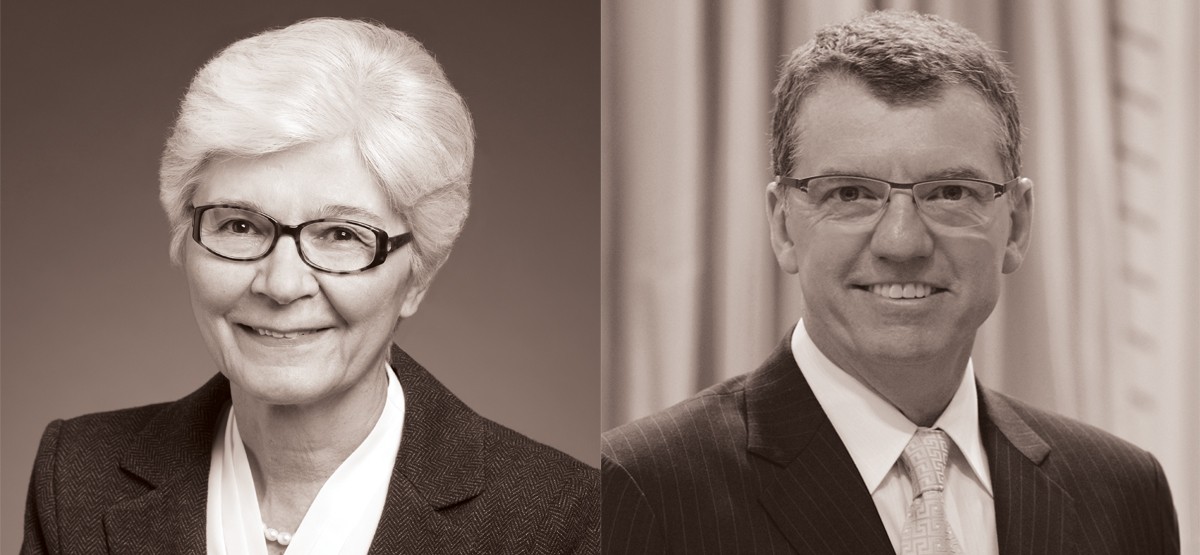 Visionary presidents receive honorary degrees
May 26, 2015 —
At its 136th Annual Spring Convocation, the University of Manitoba will confer honorary degrees on two of exceptional individuals: Dr. Emőke Szathmáry and Dr. David H. Turpin.
Six sessions of the 136th Annual Spring Convocation at the University of Manitoba will be held from May 26-28; the morning session begins at 9:30 a.m. and the afternoon session begins at 3 p.m. Each session will be held in the Investors Group Gym. Each ceremony will be webcast live. Or follow events on Twitter and Instagram using #UMConvocation.
Emőke J.E. Szathmáry, C.M., O.M., LL.D., D.Sc., D.Litt.S., F.R.S.C., F.A.A.A.S.
BA, PhD (Toronto)
Throughout its history, the University of Manitoba has been led by women and men dedicated to the pursuit of knowledge and the building of a dynamic and engaged institution. Distinguished among these leaders is Dr. Emőke Szathmáry, the university's 10th President and Vice-Chancellor. Dr. Szathmáry has dedicated her entire career to the ideals of the academy, to scholarship and to community service.
Born in Hungary, Dr. Szathmáry is a first generation Canadian, having immigrated to Canada as a child in 1951 after living in a displaced persons camp in Europe following Second World War. Through her determination and hard work, she has embodied the Canadian dream – starting a family, earning advanced degrees, distinguishing herself in her field, leading a major research intensive university to new heights, and serving her community as a leader and volunteer. This is what trailblazers do.
Dr. Szathmáry studied physical anthropology at the University of Toronto, specializing in the study of human genetics. Her research addressed the genetics of the Indigenous peoples of North America. Her publications include more than 80 scientific articles and reviews, and she has co-edited three books.
During Dr. Szathmáry's tenure as President of the University of Manitoba, she promoted accessibility and worked diligently to foster respect for students of diverse cultural backgrounds, particularly for the Indigenous community, with whom she has forged a special connection. Under her leadership, Indigenous student enrolment doubled, the number of international students tripled, sponsored research income tripled, a dozen new facilities were built, the research and technology Smartpark was established, and the university successfully undertook a $237-million dollar philanthropic campaign.
She has served no fewer than 15 boards and councils across the country, including the Prime Minister's Advisory Committee on Science and Technology, the International Institute for Sustainable Development, the Pierre Elliott Trudeau Foundation and the University of the Arctic. For her devoted service to Manitoba, she received the 2007 Lieutenant Governor's Medal for Excellence in Public Administration in Manitoba.
So respected in her field, Dr. Szathmáry was named Distinguished Lecturer by her peers at the American Anthropological Association; it is their highest honour recognizing a lifetime of exemplary scholarship. Her life's work has been celebrated across Canada: she has received six honorary degrees, was elected a Fellow of the Royal Society of Canada and made a member of the Order of Manitoba and the Order of Canada.
Dr. Szathmáry's success as a scholar and leader is based on the quality of her character and her steadfast and complete commitment to the positions she has undertaken – professor, researcher, dean, Provost, President and community leader. In bestowing her with this honorary degree, the University of Manitoba recognizes her unwavering dedication to advancing the best interests of this institution and welcomes her officially into the alumni family of the University of Manitoba.
David H. Turpin, CM, FRSC
BSc (UBC), PhD (UBC)
Through his visionary leadership, Dr. David H. Turpin transformed a relatively young Canadian university from regional jewel to international star.
During his tenure as President of the University of Victoria, Dr. David Turpin's vision was clear – develop UVic into one of the best universities in the world. And he did. At the end of his final term in 2013, the University of Victoria was ranked among the best in the world for universities founded within the last 50 years. It was the only Canadian university on the list.
This is what visionaries do.
For more than three decades Dr. Turpin has shaped the definition of what a publicly-funded university should be. Through positions he has held at multiple universities, he pushed scientific exploration, championed the liberal arts, and advanced Indigenous excellence. The University of Manitoba is proud to award an honorary degree to this innovative leader.
Dr. Turpin trained as a botanist and began teaching at Queen's University and then at the University of British Columbia. Throughout his academic career, Dr. Turpin stressed that a liberal arts education is the heart of a university and key to the economic and social well-being of our communities. He has infused this idea into his practices, and his own research interests have expanded to include issues related to post-secondary education, and how our society views universities.
In 1995, Dr. Turpin left the classroom to begin serving as Vice-Principal (Academic) at Queen's University. He proved a gifted leader and in 2000 he took the office of President and Vice-Chancellor at the University of Victoria. Here, in his 13-year service, he radically improved the university's trajectory by bolstering its research, teaching and student services. He was instrumental in establishing the university's internationally-renowned Ocean Networks Canada, a set of two oceanic observatories, which, in keeping with his philosophy, were not just about the science, but also focused on law, culture and social science. Dr. Turpin also placed a special focus on attracting and supporting Indigenous students, establishing programs to meet their specific cultural and academic needs.
Dr. Turpin shares his acumen with governing bodies across Canada. As a result, he has earned many honours and distinctions including Queen's University's highest award for teaching—the NSERC Steacie Fellowship. He was elected to the Royal Society of Canada, and is a member of the Order of Canada.
On July 1, 2015, Dr. Turpin will re-enter the academic realm, serving as the 13th President and Vice-Chancellor of the University of Alberta.